Promotion of employment and self-employment of the population in small and medium-sized towns in the Republic of Belarus, FInal report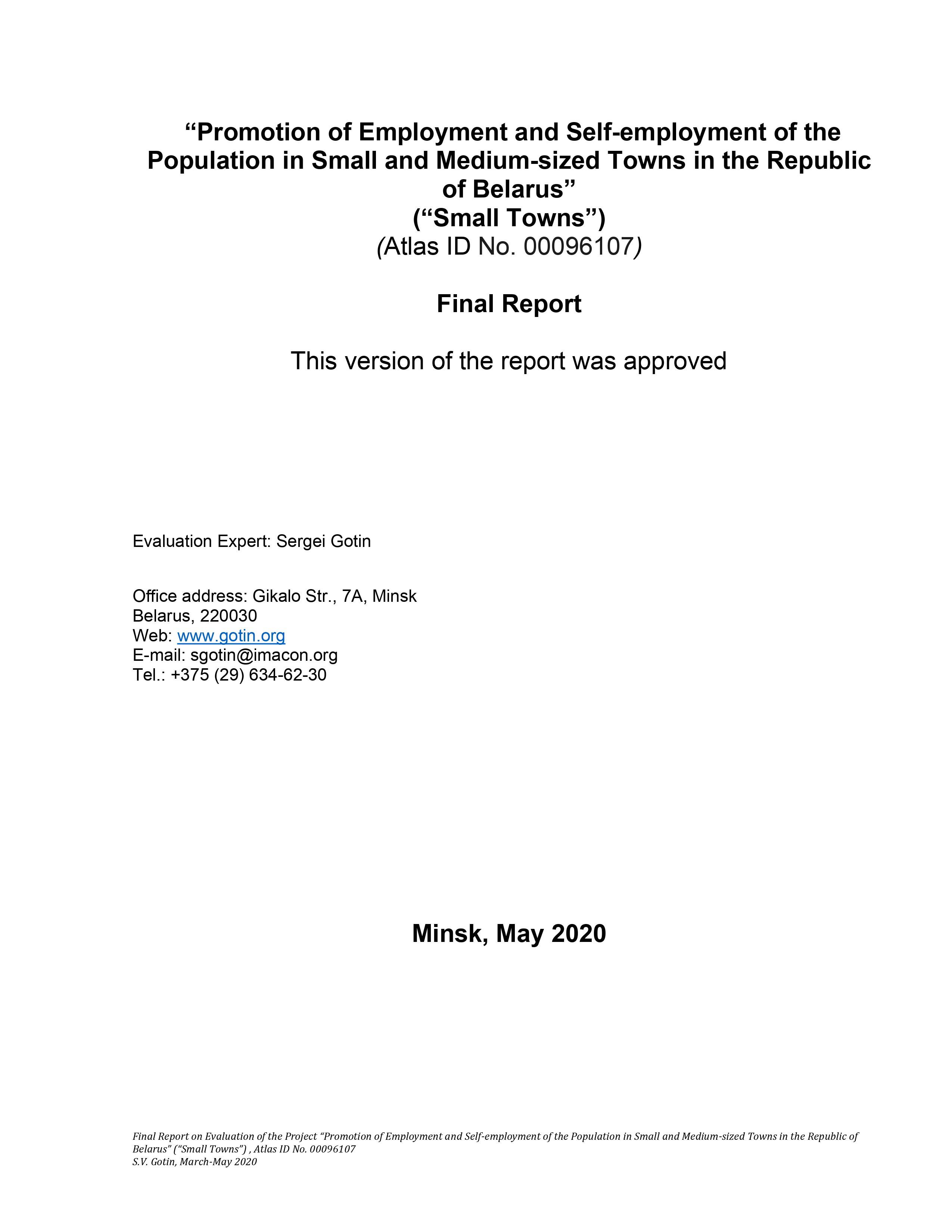 Evaluation Plan:

Evaluation Type:

Final Project

Planned End Date:

12/2020

Completion Date:

06/2020

Status:

Completed

Management Response:

No

Evaluation Budget(US $):

5,561
Title
Promotion of employment and self-employment of the population in small and medium-sized towns in the Republic of Belarus, FInal report
Atlas Project Number:

00090254

Evaluation Plan:
2016-2020, Belarus
Evaluation Type:
Final Project
Status:
Completed
Completion Date:
06/2020
Planned End Date:

12/2020

Management Response:
Yes

Focus Area

:

1. Poverty and MDG
2. Cross-cutting Development Issue
3. Others

Corporate Outcome and Output (UNDP Strategic Plan 2018-2021)

1. Output 1.1. National and sub-national systems and institutions enabled to achieve structural transformation of productive capacities that are sustainable and employment - and livelihoods- intensive

SDG Goal

Goal 8. Promote sustained, inclusive and sustainable economic growth, full and productive employment and decent work for all

SDG Target

8.3 Promote development-oriented policies that support productive activities, decent job creation, entrepreneurship, creativity and innovation, and encourage the formalization and growth of micro-, small- and medium-sized enterprises, including through access to financial services

Evaluation Budget(US $):

5,561

Source of Funding:
Evaluation Expenditure(US $):

5,561

Joint Programme:
No
Joint Evaluation:

No

Evaluation Team members:

| Name | Title | Nationality |
| --- | --- | --- |
| Sergei Gotin | Consultant | |

GEF Evaluation:

No

Key Stakeholders:
Line Ministries; Implementing Partners; UN agencies; CSOs, private sector
Countries:

BELARUS, REPUBLIC OF
Lessons
1.

Implementation of the activities by an experienced partner with national, central-level experience, significantly increases the likelihood of success and sustainability of the results of the activities (example of the pilot areas of Mscislau and Baran).

Entrepreneurship support centers being a part of unitary enterprises require for additional capacity building efforts to ensure their efficiency and sustainability. When planning activities based on such entrepreneurship support centers, it is necessary to reserve additional time and resources for conducting approval procedures with the local authorities or other supervising authorities.

In the event that the inception stage of the Project implementation occurs during the changes in staffing of the position of the Programme Officer or Portfolio Manager, additional involvement of the lead/senior UNDP Programme Officers is required to ensure the continuity and effective use of the working time in communication processes with the national Implementing Partner.



Findings
Recommendations
1

Recommendation 1: To increase the implementation timeframes and budget for such projects with allocation of additional time and administrative resources for selection of pilot regions/towns. Whenever possible, to identify pilot regions at the stage of drafting the Project Document; to stipulate the mechanism for replacing the pilot regions.

2

Recommendation 2: To pay attention to the systemic organizational development of the entrepreneurship support centers, in particular to the development of strategic development plans for the entrepreneurship support centers after the end of support within the framework of the Project. To pay attention to the strategy of supporting entrepreneurship support centers after launching the activities for a longer period of time. Whenever necessary, to pay attention to the strategic planning of SME development at the district/regional level.

3

Recommendation 3: To initiate a new project as follow-up to the evaluated Project. To disseminate the experience of the Project on entrepreneurship development in the regions of Belarus in cooperation with non-profit organizations and associations. To promote partnerships between national and local organizations.

4

Recommendation 4: In the future, when planning such projects, special attention should be paid to planning the work of the Project Implementation Unit, primarily in order to reduce the workload on the Project Manager and Administrative and Finance Assistant. This may be conducted by using the National Implementation Modality mechanism to work with the local partners with appropriate level of organizational development, mechanism for providing sub-grants/holding contests of initiatives, engagement of additional specialists to work in the Project Implementation Unit during the periods of the greatest workload on the team.

5

Recommendation 5: In cases when there is significant amount of construction and installation works envisaged in the Project Work Plan, it is recommended to consider the feasibility of engaging an engineering organization as a contractor to perform the functions of the construction customer.