Economy Wide Integration of Climate Change Adaptation & Disaster Risk Management to reduce Climate Vulnerability of Communities in Samoa (EWACC- TE)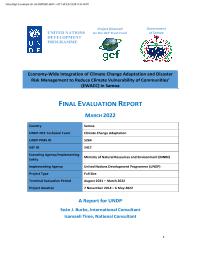 Evaluation Plan:

Evaluation Type:

Final Project

Planned End Date:

02/2022

Completion Date:

03/2022

Status:

Completed

Management Response:

No

Evaluation Budget(US $):

40,000
Title
Economy Wide Integration of Climate Change Adaptation & Disaster Risk Management to reduce Climate Vulnerability of Communities in Samoa (EWACC- TE)
Atlas Project Number:

00079044

Evaluation Plan:
2018-2022, Samoa
Evaluation Type:
Final Project
Status:
Completed
Completion Date:
03/2022
Planned End Date:

02/2022

Management Response:
Yes

Focus Area

:
Corporate Outcome and Output (UNDP Strategic Plan 2018-2021)

1. Output 2.1.1 Low emission and climate resilient objectives addressed in national, sub-national and sectoral development plans and policies to promote economic diversification and green growth
2. Output 2.3.1 Data and risk-informed development policies, plans, systems and financing incorporate integrated and gender-responsive solutions to reduce disaster risks, enable climate change adaptation and mitigation, and prevent risk of conflict

SDG Goal

Goal 13. Take urgent action to combat climate change and its impacts

SDG Target

13.1 Strengthen resilience and adaptive capacity to climate-related hazards and natural disasters in all countries
13.2 Integrate climate change measures into national policies, strategies and planning

Evaluation Budget(US $):

40,000

Source of Funding:
LDCF
Evaluation Expenditure(US $):

26,000

Joint Programme:
No
Joint Evaluation:

No

Evaluation Team members:

| Name | Title | Nationality |
| --- | --- | --- |
| Sean Burke | TE Team Leader | |
| Isamaeli Time | TE Team Expert | |

GEF Evaluation:

Yes

| | |
| --- | --- |
| GEF Project Title: | Economy Wide Integration of Climate Change Adaptation & Disaster Risk Management to reduce Climate Vulnerability of Communities in Samoa (EWACC- TE) |
| Evaluation Type: | Terminal Evaluation |
| Focal Area: | Climate Change |
| Project Type: | FSP |
| GEF Phase: | GEF-5 |
| GEF Project ID: | 5417 |
| PIMS Number: | 5264 |

Key Stakeholders:
Government of Samoa(GoS), Ministry of Finance (MoF), Ministry of Natural Resources & Environment (MNRE), NGOs, CSOs
Countries:

SAMOA
Recommendations
1

Recommendation 1 Summary: Develop a government-wide Learning, Knowledge Exchange and Sustainability effort to facilitate optimal EWACC and CCA-DRM related learning and take-up.

Detailed Recommendation 1: It is recommended that the Government, supported by UNDP, develop a government-wide Learning, Knowledge Exchange and Sustainability effort to facilitate optimal EWACC and CCA-DRM related Learning and Take-up. This should build on the current project focus on maximising knowledge generation and sharing and dissemination during the final project months, but also ideally continue beyond the project, (using as/if needed) a dedicated online platform to support this and/or existing online assets.

Based on existing (and future?) EWACC knowledge and communication consider a future series of discussions across Government
Supporting cross-Ministry reflection and horizontal/cross-cutting thinking and approach – through a formalized knowledge development and learning and sharing programme (e.g., online resource portal, and where possible building on existing government online assets? brown bag lunches?)
Developing summary assessments about the extent to which the barriers identified in the project have been addressed, the extent to which more progress may (or may not) need to be made, and the learning generated in seeking to address each barrier, as well as whether other barriers/challenges emerged that were not initially/sufficiently taken into account.
Possible actions to ensure EWACC sustainability is optimised, including for example work at the level of the conceptual framework for EWACC (see Recommendation 2 below), a specific strategy, modelling and follow-up programme to create a sustainable and scalable CDCRM (see Recommendations 3,4).
With a view to also supporting the development of Government thinking around an Economy-wide approach to CCA and DRM integration, and supporting the discussion and follow up launched by the project's promising work on sustainability planning.

UNDP support during the remainder of the project duration could include acting as a sounding board and providing structuring/conceptual support to the work, for example the overview assessment of the extent to which the main barriers have been addressed/tackled.

2

Recommendation 2 Summary: Over-arching EWACC Sustainability - Consider development of new projects/interventions to support the take up of actions to maximise EWACC's sustained impact.

Detailed Recommendation 2: While EWACC has generated important impact, and learning and/or potential for learning, there is a lot that can be done do further increase its medium-to-long term impact. The project's draft sustainability plan is an important step in this direction, but optimising the sustained impact of EWACC will likely mean a significant number of actions and 'work-ons' that will go beyond the EWACC project end date, while it is also likely that the Government would welcome further support in developing the knowledge, capacities, co-ordination practices, etc. that further anchor an economy-wide approach to climate change adaptation.

To maximise EWACC's sustained impact prospects, it is therefore recommended to develop an over-arching Sustainability Strategy and Plan for EWACC. This would include the existing sustainability planning, post-project actions, as well as the continued development of the EWACC conceptual framework and toolkit/'solutions box' of interventions.

Importantly, it would also include considering new projects to support the take up of sustainability strategy actions, and in this sense this recommendation is a horizontal recommendation, which seeks out specific areas where new project(s)/initiatives could be formulated to support actioning the evaluation recommendations and building on the momentum and results of EWACC.

One example could be specific actions under a new project to support implementation of Recommendation 1 and Recommendation 6 by the Government of Samoa
Support for the continued development of EWACC as a concept/conceptual framework (see Recommendation 5 below), and for specific actions to test and validate approaches.

Taking a strategic and systemic view of EWACC follow-up: As an example, providing an implementation vehicle to provide support for creating a scalable and sustainable CDCRM (Recommendation 4 below, following completion of Recommendation 4 on the CDCRM Strategy Development). A follow-up project could support the work on the strategy development (Recommendation 2), and part of the implementation of Recommendation 4), but ensuring that additional grant funding through a follow-up project is focussed on support to create a systemic and scalable approach, with grant-based funding only being used with reimbursable or other types of funding are not appropriate.

3

Recommendation 3 Summary: CDCRM Sustainability Strategy (Part 1): Develop a medium (3-5) year strategy document (or discussion paper) on how system can be made fully sustainable

Detailed Recommendation 3: it is recommended that the government consider how to develop a medium (3-5) year strategy document (or discussion paper) on how the CDCRM system can be made fully sustainable. While it is understood that plans are under development to build on the CDCRM there is no strategy or plan to explore how the CDCRM system can be made sustainable over the medium term.

This sustainability strategy planning could include:

Sustainability in terms of CDCRM maintenance, testing and updating
Continued impact in terms of expansion to new communities not currently covered
Building dynamic factors that can further strengthen the continued development and maintenance of the system, including for example:

Optimising using of technology to support delivery, community-based management and reporting
Dynamic communication and empowerment, such as a general and issue-specific awards and recognition programmes
Considering how to leverage one of the key strengths and successes of EWACC, that of community-based empowerment and leadership.

Costing a country-wide replication/roll-out of the CDCRM.

4

Recommendation 4 Summary: CDCRM Sustainability Strategy (Part 2): Developing the CDCRM System to become a self-sustaining system

Detailed Recommendation 4: It is recommended that significant thought and effort is given to developing the CDCRM System into a self-sustaining system. The objective would be to create a system that is a cost-efficient as possible, and also taps into a range of ways to self-finance the system through new income generation and wealth creation at the level of communities, making the system more valuable and more financially secure and sustainable.

Within this, areas to consider could for example include:

Building a sustainable/self-sustaining financing ecosystem around key values and assets/capabilities being developed?
Considering how the CDCRM ecosystem can foster its own (self-sustaining) development dynamic, for example:

Income generation activities and financing:
Livelihoods dimensions
Poverty reduction
Delivery of CCA/DRM assets and protection infrastructure - e.g., riparian flood defences - categorization and structuring, new delivery options?
Incentives and obligations
Building a sustainable financing ecosystem
Exploring the potential for a payment for ecosystem/environment services dimension
Exploring how the CCA-DRR nexus dimension could be further developed and strengthened

Research possible funding sources (grants, blended finance, microfinance, loans, guarantees etc.)
Leverage the potential role of technology as empowering factor.

To get this moving, one option might be that UNDP kickstart this by developing a discussion paper/presentation, with ideas and examples of aspects and components that could be considered in follow-on reflection and discussion with the Government of Samoa.

5

Recommendation 5 Summary: Further develop EWACC as a conceptual framework and repository of effective strategies, tools and models to support best-in-class climate change adaptation and disaster preparedness

Detailed Recommendation 5: Set up a conceptual framework and work programme dedicated to fleshing out EWACC as a conceptual framework, including researching, exploring and developing the financing framework for climate change adaptation.

This could include for example:

Developing its economy-wide claim/dimension, including clearer focus on specific sectors of the economy, both vertical and horizontal sectors.
Exploring options to help manage and cover risk, including climate change insurance (as recommended in the current draft of the sustainability exit strategy.
Identifying more clearly the key value proposition, advantages and benefits of an EWACC approach, and strengthening its presentation and communication. For example, it is worth reflecting on whether the current acronym adequately encompasses key dimensions and success factors of the approach, including the work at local/community level and community empowerment and leadership[1]. Including clear components and pillars in the overall EWACC component would help in ensuring a clearer presentation.
Setting out the full range of potential interventions that could inform the EWACC portfolio of interventions (solution/intervention toolkit), ranging from hard infrastructure to adaptation (e.g., riparian protection, income generation support, etc. etc)
Developing key policy synergies and nexus areas, including for example:

How synergies can be leveraged under the CCA-DRR nexus, such as how areas such as income generation support can be a source for improved livelihood and individual (including women) empowerment,
Building out a green economy-CCA nexus
Setting out how EWACC can provide gender-inclusive and women (and youth) empowerment

Considering how specific financial mechanisms or structures might help amplify impact and sustainability of EWACC work (for example, a strong revolving fund dimension to the CDCRM work, linked to the income generation dimension)
Developing a framework to ensure financial considerations inform all climate change adaptation discussion and actions, including not just the costs of specific actions but estimate costs of not implementing actions (i.e., the costs of non-action).
Developing a financing vision and strategy, including as needed a short market study, to identify appropriate/potential financing sources (e.g., classic grant and project-based funding, blending donor financing, private financing, foundations, crowd-sourced funding etc.).

With an EWACC conceptual framework above, further emphasise the potential for the project to empower women and support gender equality, as evidenced in EWACC's results, through dedicated women's empowerment components/pillars.

---

[1] In this respect, for example, an ECSWACC (Economy and Society-Wide Approach to Climate Change), or SEWACC, might be a first step in this process.

6

Recommendation 6 Summary: Explore strengthened horizontal co-ordination and decision-making to support effective and efficient implementation of DRM and climate-resilience interventions

Detailed Recommendation 6: Going forward, it is important to ensure that government cross-ministry and inter-agency communication, co-ordination and decision-making is both effective and efficient. This could include, considering:

Strengthening and simplifying co-ordination, governance and decision-making structures to all for more streamlined cross-ministry and inter-agency co-ordination and faster decision-making. Within this, using technology (e.g., intranet-based dashboard for transparent tracking of implementation) could also help optimise implementation capability.
Staffing and resourcing of projects and interventions should be looked at systematically, where feedback from LTA for example has shown challenges experience in handling the extra EWACC load with the existing staff complement. Government should put in place provisions for a systematic process within government for the implementation resource assessment of new projects under formulation with donor partners, in particular those with hard infrastructure dimensions, including consultation with donors, to ensure assumptions regarding IAs' implementation roles and responsibilities are realistic and adequately provisioned for with regard to resourcing.
Given the experience with delays in EWACC work linked to recent political uncertainty, part of the above reflection should also consider how operational processes and implementation work can be better protected/insulated from political uncertainty.
For IAs, ensure practices/provisioning for sufficient advance dialogue and planning regarding the work and resourcing implications of projects funded by donor partners, given that some IAs have struggled with the additional work demands of EWACC
It is also important to emphasise that this discussion would be influenced in part by the scale and nature of post-EWACC follow-up, including for example the scale of scaling and replication of CDCRM and livelihoods work and the ongoing project work on sustainability planning.

7

Recommendation 7 Summary: Consider greening of the Vaisigano river flood protection wall.

Detailed Recommendation 7: Regarding the Vaisigano river flood protection wall, it is recommended that the government explore how to make the wall as environmentally friendly as possible, and blending in with the local surroundings. One option raised by stakeholder has to be green the wall, which would reduce heat deflection from the wall, (and bring some biodiversity benefits and some limited CO2 reduction benefits. Implementing such a recommendation could also seek to build on EWACC's experience by involving local residents and other local actors. Similarly, this could explore local financing from at least some beneficiaries (e.g., businesses benefitting) along the lines of a payment for ecosystem/environment services, including either direct payments, or voluntary contributions of supplies (e.g., planting inputs, labour etc.)

8

Recommendation 8 Summary: EWACC and gender - Consider further development and replication of EWACC's gender-related work and support for women.

Detailed Recommendation 8: Linked in part to whether UNDP and the Government decide to invest in the development of EWACC as concept (Recommendation 4 above), the project stakeholders should reflect on the very promised gender-related work done under EWACC, and how the gender dimension can be further strengthened, developed and replicated. This could include developing a plan for a significant upscaling and replication of the work on livelihood support, the SBI and related skills development to empower women and girls, and rigorous tracking of the dynamic impact of additional income on women's lives, their families and the local community. Other finance interventions (e.g., testing microfinance products) and mechanisms to support strengthened sustainability could also be considered.