Evaluation of the UNDP Strategic Plan, 2018-2021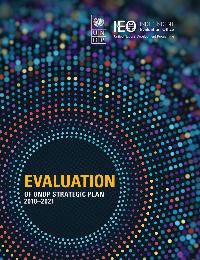 Evaluation Plan:

Evaluation Type:

Thematic

Planned End Date:

06/2021

Completion Date:

03/2021

Status:

Completed

Management Response:

Yes

Evaluation Budget(US $):

250,000
Title
Evaluation of the UNDP Strategic Plan, 2018-2021
Atlas Project Number:
Evaluation Plan:
2018-2021, Independent Evaluation Office
Evaluation Type:
Thematic
Status:
Completed
Completion Date:
03/2021
Planned End Date:

06/2021

Management Response:
Yes

Focus Area

:
Corporate Outcome and Output (UNDP Strategic Plan 2018-2021)

1. Output 1.1.1 Capacities developed across the whole of government to integrate the 2030 Agenda, the Paris Agreement and other international agreements in development plans and budgets, and to analyse progress towards the SDGs, using innovative and data-driven solutions
2. Output 1.1.2 Marginalised groups, particularly the poor, women, people with disabilities and displaced are empowered to gain universal access to basic services and financial and non-financial assets to build productive capacities and benefit from sustainable livelihoods and jobs
3. Output 1.2.1 Capacities at national and sub-national levels strengthened to promote inclusive local economic development and deliver basic services including HIV and related services
4. Output 1.2.2 Enabling environment strengthened to expand public and private financing for the achievement of the SDGs
5. Output 1.2.3 Institutions and systems enabled to address awareness, prevention and enforcement of anti-corruption measures to maximize availability of resources for poverty eradication
6. Output 1.3.1 National capacities and evidence-based assessment and planning tools enable gender-responsive and risk-informed development investments, including for response to and recovery from crisis
7. Output 2.1.1 Low emission and climate resilient objectives addressed in national, sub-national and sectoral development plans and policies to promote economic diversification and green growth
8. Output 2.4.1 Gender-responsive legal and regulatory frameworks, policies and institutions strengthened, and solutions adopted, to address conservation, sustainable use and equitable benefit sharing of natural resources, in line with international conventions and national legislation
9. Output 3.2.1 National capacities strengthened for reintegration, reconciliation, peaceful management of conflict and prevention of violent extremism in response to national policies and priorities
10. Output 3.3.1 Evidence-based assessment and planning tools and mechanisms applied to enable implementation of gender-sensitive and risk-informed prevention and preparedness to limit the impact of natural hazards and pandemics and promote peaceful, just and inclusive societies
11. Output 3.3.2 Gender-responsive and risk-informed mechanisms supported to build consensus, improve social dialogue and promote peaceful, just and inclusive societies
12. Organisational Output 3.3 UNDP contributes fully to the Resident Coordinator function

Evaluation Budget(US $):

250,000

Source of Funding:
Evaluation Expenditure(US $):

250,000

Joint Programme:
No
Joint Evaluation:

No

Evaluation Team members:

| Name | Title | Nationality |
| --- | --- | --- |
| Ana Rosa Monteiro Soares | Lead Evaluator | |
| Yogesh Kumar Bhatt | Associate Lead Evaluator | |
| Amanuel Zerihoun | Associate Lead Evaluator | |
| Sonjuhi Singh | Associate Lead Evaluator | |
| Richard Jones | Associate Lead Evaluator | |
| Michael Reynolds | Evaluation Consultant | |
| Stephen Cutts | Evaluation Consultant | |
| Christine Heyting | Evaluation Consultant | |
| Alexandra Pittman | Evaluation Consultant | |
| Elisabeth Olsen | Evaluation Consultant | |
| Elinor Bajraktari | Evaluation Consultant | |

GEF Evaluation:

No

Key Stakeholders:
Countries:

GLOBAL
Recommendations
1

The UNDP role and value proposition. In the next strategic plan, UNDP should better define its role and value proposition in support of the 2030 Agenda and the COVID-19 pandemic response, with attention to the organization's altered position at the country level following the reform of the United Nations development system; and should anchor its work on its most recognized comparative strengths, with particular focus on principles of inclusiveness and sustainability to build forward better with attention to leaving no one behind.

2

To meet the increasing demands driven by the change in context brought by the COVID-19 pandemic, UNDP work on innovation should prioritize support to partner countries on digital transformation, address administrative bottlenecks that hinder innovation, ensure improvements to knowledge management systems and develop a more deliberate approach to tracking and scaling successful innovations that can accelerate result.

3

Gender equality and women's empowerment as a Sustainable Development Goal accelerator. UNDP should further articulate how to expand and achieve the concrete benefits of integrating gender equality and women's empowerment as a catalytic development accelerator for the 2030 Agenda and the Goals. The Gender Equality Seal process should be recommended to all offices, with efforts to increase financial investment in gender across all areas. UNDP should more adequately equip the organization with staff specialized in gender who are able to implement systems that focus on gender-responsive and transformative results.

4

Global Policy Network and country support platforms. UNDP should make more effective use of its Global Policy Network to improve mobility of expertise, with greater programming rigour through well-defined targets, milestones and effectiveness measures. In addition, a more comprehensive and strategic approach EVALUATION SUMMARY xvii should be promoted for the establishment of country support platforms, by advancing their conceptual framework and criteria for assessment and by providing mechanisms for practical support and guidance to promote portfolio- and systems-based approaches.

5

Results-based management and learning. UNDP should holistically redesign its entire results and performance monitoring and reporting framework and system, with (a) indicators better aligned to the timeliness and utility of data and methods that can help more credibly measure results; (b) more ambitious milestones; and (c) greater focus and guidance for consistently capturing and promoting learning for country offices to improve results and accelerate achievement of the Sustainable Development Goals.

6

Management and operations. To deliver fully on the promise in the Strategic Plan to evolve and innovate its business model, UNDP should fully operationalize adaptive management, additional funding models and financing capabilities to support systems transformation for countries to achieve the Sustainable Development Goals. This should address constraints to the funding of integrated programmes, portfolios, platforms and innovation and allow the organization to move away from operating mainly with projectized funding.

7

People management and capabilities. In recognition that the main asset of UNDP is its workforce, the organization should timely deliver on its "People for 2030" and learning and development strategies that can improve staff capabilities for systems thinking and transformation; reward high performance that is results-focused; and enable an innovative culture within the organization.