Mid Term Evaluation Management of E-Waste and Medical Wastes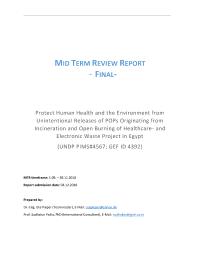 Evaluation Plan:

Evaluation Type:

Mid Term Project

Planned End Date:

12/2018

Completion Date:

12/2018

Status:

Completed

Management Response:

Yes

Evaluation Budget(US $):

20,000
Title
Mid Term Evaluation Management of E-Waste and Medical Wastes
Atlas Project Number:

00083771

Evaluation Plan:
2018-2022, Egypt
Evaluation Type:
Mid Term Project
Status:
Completed
Completion Date:
12/2018
Planned End Date:

12/2018

Management Response:
Yes

Focus Area

:
Corporate Outcome and Output (UNDP Strategic Plan 2018-2021)

1. Output 2.1.1 Low emission and climate resilient objectives addressed in national, sub-national and sectoral development plans and policies to promote economic diversification and green growth

SDG Goal

Goal 9. Build resilient infrastructure, promote inclusive and sustainable industrialization and foster innovation

SDG Target

12.4 By 2020, achieve the environmentally sound management of chemicals and all wastes throughout their life cycle, in accordance with agreed international frameworks, and significantly reduce their release to air, water and soil in order to minimize their adverse impacts on human health and the environment
12.5 By 2030, substantially reduce waste generation through prevention, reduction, recycling and reuse

Evaluation Budget(US $):

20,000

Source of Funding:
GEF, UNDP
Evaluation Expenditure(US $):

20,000

Joint Programme:
No
Joint Evaluation:

No

Evaluation Team members:
GEF Evaluation:

Yes

| | |
| --- | --- |
| GEF Project Title: | Management of E-Waste and Medical Wastes |
| Evaluation Type: | Mid-term Review |
| Focal Area: | Persistent Organic Pollutants |
| Project Type: | FSP |
| GEF Phase: | GEF-5 |
| GEF Project ID: | 4392 |
| PIMS Number: | 4567 |

Key Stakeholders:
Ministry of Environment
Countries:

EGYPT
Recommendations
1

Exit Strategy: A clear exit strategy needs to be developed so that the mechanisms and structures are created during the project implementation to guarantee the end of funding sustainability.

2

Evaluation Recommendation or Issue 2:

Project extension: Based on time delay of the project, the remaining budget and questionable sustainability of the project results, it is recommended that the project is extended without additional budget until September 2022 to have sufficient time frame for substantive testing of pilot centers and for communication of the results and lessons.

Given the long-term efforts needed towards awareness raising and also the need to augment the economic and social aspects of recyclers the project may need to have a second phase. However, such a call can be made during the terminal evaluations.

3

Evaluation Recommendation or Issue 3:

Legal framework: Electronic waste (management and Handling) Rules and Policies to be developed for a comprehensive management of E-Waste in Egypt. The enhancement of HCWM legal framework need to be accelerated to the national level in close collaboration with the line ministries.

4

Evaluation Recommendation or Issue 4:

Capacity building: Insert HCWM training modules into the institutional training of medical staff (nursing schools and medical universities). Further training of inspectors and sanitarians is needed.

5

Evaluation Recommendation or Issue 5:

BEP: The project should play an active role in increasing BEP with focus on the proper segregation of waste – not only in the project hospitals but at least in all HCF of the two target governorates and CUH.

The project results of non-incineration technology in comparison to the environmental risks of the incinerators established by the MoHP should be used to advocate investing in alternative environmentally friendly technologies in future.

6

Evaluation Recommendation or Issue 6:

Asset Management: Develop a systematic process for the central treatment centers of deploying, operating, maintaining and upgrading their assets like waste equipment, infrastructure and transport vehicles.

7

Evaluation Recommendation or Issue 7:

Access to project documents: The evaluators recommend reorganizing the webpage to provide an easier access to project information and to upload useful project materials, such as training materials, specifications of equipment and infrastructure and facility-based healthcare waste management plans in Arabic and English language.

8

Evaluation Recommendation or Issue 8:

Social media and networks: Good project keepsake by share experiences and information with stakeholder, the public and other by frequent use of social networks like facebook and twitter, updating and enhancing of the project webpage (or merge web page with other UNDP GEF project with the similar content) and providing of project video with BEP and BAT in the HCW and E-waste sector.

9

Evaluation Recommendation or Issue 9:

Organizational Structure: Ensuring that the responsible person for HCWM (HWO) is part of the Infection Control Committee. A clear job description of the HWO (tasks and duties) need to be elaborated and the HWO should be certified as such by an independent certification unit. HCWM training modules to be inserted into the curriculum of medical universities and nursing schools.

E-waste management protocol should be included in standard industrial process catalogue and also the material on awareness towards sustainable practice of E-waste management should be included in curriculum of Civil Engineering and other professional courses related to waste management.

10

Evaluation Recommendation or Issue 10:

Certification of HWOs: HWOs need to be trained and certified for their job. Therefore, an independent certification unit / agency needs to be established, which is educating the HWO on basics and updates.

11

Evaluation Recommendation or Issue 11:

Awareness raising: Awareness campaigns on HCWM and E-waste to be conducted in cooperation with Swiss projects, to increase knowledge and sensitize the public on the risks of unsafe waste management.

12

Evaluation Recommendation or Issue 12:

Governmental monitoring: It is important to establishing an independent monitoring authority including monitoring processes and tools / checklists on which the inspectors / sanitarians are trained.

13

Evaluation Recommendation or Issue 13:

Lessons learnt: Capture lessons-learned and project results. The project results will be highly beneficial not only for the replication of this project's results within the country, but also for other countries in the Region.