Fiji Access to Justice terminal evaluation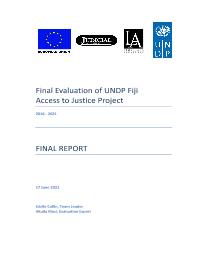 Evaluation Plan:

Evaluation Type:

Final Project

Planned End Date:

06/2021

Completion Date:

06/2021

Status:

Completed

Management Response:

Yes

Evaluation Budget(US $):

20,000
Title
Fiji Access to Justice terminal evaluation
Atlas Project Number:

00092247

Evaluation Plan:
2018-2022, Fiji
Evaluation Type:
Final Project
Status:
Completed
Completion Date:
06/2021
Planned End Date:

06/2021

Management Response:
Yes

Focus Area

:
Corporate Outcome and Output (UNDP Strategic Plan 2018-2021)

1. Output 2.2.3 Capacities, functions and financing of rule of law and national human rights institutions and systems strengthened to expand access to justice and combat discrimination, with a focus on women and other marginalised groups

SDG Goal

Goal 16. Promote peaceful and inclusive societies for sustainable development, provide access to justice for all and build effective, accountable and inclusive institutions at all levels

SDG Target

16.3 Promote the rule of law at the national and international levels and ensure equal access to justice for all

Evaluation Budget(US $):

20,000

Source of Funding:
UNDP
Evaluation Expenditure(US $):

500

Joint Programme:
No
Joint Evaluation:

No

Evaluation Team members:

| Name | Title | Nationality |
| --- | --- | --- |
| Cecil | Evaluator | |

GEF Evaluation:

No

Key Stakeholders:
Judiciary, Legal Aid Commission
Countries:

FIJI
Recommendations
1

Continue to the creation of a comprehensive support system with a dedicated platform on the rule of law for all the stakeholders, and a clear definition of the roles and responsibilities and increased coordination.

2

Support structuration of the work at the community level, in terms of roles and responsibilities, strengthening the resource available at the community level.

3

Support the work for harmonisation between the traditional and formal justice system to avoid conflicts over norms in the communities.

4

Extend sensitization and services to rural areas, especially in the maritime areas.

5

Encourage partnership and cost-sharing arrangements amongst government departments and CSOs.

6

Support quality procedures in administering justice to end user in terms of feedback, explanation of processes and the rights of people.

7

Ensure an accurate assessment of the partners' capacities to implement the output and potential challenges and avoid issues such as the delay in the implementation of a key component of the project.

8

Support the Judiciary department, Legal Aid and Police to meet regularly.

9

Continue the work to support access to justice for the most vulnerable groups.

10

Continue to embed the community advocate in the communities and their collaboration with local CSOs/ CBOs such as women organization. Communities not targeted in the rural communities should have an annual awareness on the legal process, avenues of assistance, rights of individual etc.

11

Strengthen the monitoring of the outcome and impact of the project. Ensure the monitoring of the CMS results to identify key priorities and potential gaps.

12

Continue to support synergies and complementarities with the other projects to maximise the dynamics and efficiency.

13

Continue to support synergies and complementarities with the other projects in the rule of law sector (support to the police, REACH, women empowerment activities), including joint strategic and operational planning, such as sharing workplans, to maximise the dynamics and efficiency. further capacity building of the police, further integration of the perspective of the disabled in projects and interventions to support social inclusion.