Towards a sustainable access to Justice for Legal empowerment in the Kyrgyz Republic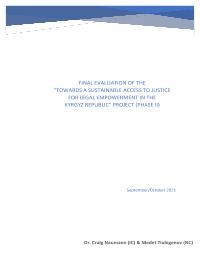 Evaluation Plan:

Evaluation Type:

Final Project

Planned End Date:

12/2021

Completion Date:

12/2021

Status:

Completed

Management Response:

No

Evaluation Budget(US $):

21,360
Title
Towards a sustainable access to Justice for Legal empowerment in the Kyrgyz Republic
Atlas Project Number:

00104271

Evaluation Plan:
2018-2022, Kyrgyzstan
Evaluation Type:
Final Project
Status:
Completed
Completion Date:
12/2021
Planned End Date:

12/2021

Management Response:
Yes

Focus Area

:
Corporate Outcome and Output (UNDP Strategic Plan 2018-2021)

1. Output 3.1.1 Core government functions and inclusive basic services4 restored post-crisis for stabilisation, durable solutions to displacement and return to sustainable development pathways within the framework of national policies and priorities

Evaluation Budget(US $):

21,360

Source of Funding:
Finland
Evaluation Expenditure(US $):

21,360

Joint Programme:
No
Joint Evaluation:

No

Evaluation Team members:

| Name | Title | Nationality |
| --- | --- | --- |
| Medet Tulegenov | National consultant | |

GEF Evaluation:

No

Key Stakeholders:
Ministry of Justice of the Kyrgyz Republic; Parliament of the Kyrgyz Republic
Countries:

KYRGYZSTAN
Recommendations
1

Continue project and expand countrywide to cover all districts by Free Legal Aid (FLA) Centers

Continue programme cycle (Phase III) and consider expansion to all 44 districts to ensure complete and equitable coverage of the country's territory thus ensuring equal access to services for all rights holders (Ministry of Justice (MoJ) of the Kyrgyz Republic; also USAID, if applicable).

Expand the project grant components focusing on rural women and People with Disabilities (PwDs) to other remote regions (e.g., Narin, Talas, Issyk Kul regions) to ensure regional balance (UNDP, donors).

Advocate for the design of a revised framework in order to expand Acees to Justice (A2J), based on a strategic long-term concept note and action plan, with a 10-15 year time horizon, mapping out which additional services, systems, by-laws etc. should be designed and which additional Leave no one behind (LNOB) categories could be also targeted as additional FLA beneficiary groups, in the long run (UNDP).

2

Ramping up the project's output on UN CRPD/Peopel with Disabilities (PwDs) or create a stand-alone CRPD project

Consider ramping up the project's Outcome 2 ("Vulnerable groups targeted by the project, including women and people with disabilities know and exercise increasingly their rights to justice in the selected provinces of the Kyrgyz Republic"); or, alternatively, create a stand-alone CRPD project the focus of which should then shift to implementation and monitoring thereof (Government of the Kyrgyz Republic-Ministry of Health and Social development; UNDP).

3

Design a clear exit strategy. Organize a workshop with the Government and other relevant stakeholders to design a clear exit strategy for UNDP and a related roadmap, as well as a costed action plan including commitments by the Government (such as purchasing of buses, covering maintenance, repairs and fuel expenses etc.) to ensure complete ownership of the initiative by the Ministry of Justice and Government in general, and UNDP.

4

Improve interaction/coordination among all Free Legal Aid (FLA) providers.

Improve interaction/coordination between free legal aid providing lawyers, social workers, district level administrators, planners, CSO representatives, lawmakers and other relevant actors (FLA, Ministry of Justice/MoJ).

Commission a specialized in-depth study to map out potential areas of improvement for FLA coordination among relevant parties including Ministry of Justice, Advokatura, Government agencies, line ministries, court system, Law enforcement bodies, CSO organizations, human rights organizations, office of Ombudsman, Parliament etc. (FLA centers, UNDP).

Design Standard Operation Procedures for the FLA Coordination Council in view of streamlining coordination and service delivery (MoJ, UNDP).

5

Integrated multi-sectoral approach in provision of Free Legal Aid (FLA).

Support the introduction of a systematic, integrated multi-sectorial approach of service provision using FLAs as an entry point (Ministry of Justice (MoJ), other concerned line ministries, municipalities, UNDP via the Access to Justice project or other technical assistance).

Install integrated multisector services through on-site (FLA+) and "Bus of Rural Development" incleding FLA, psycho-social counsel, legal literacy/advice, socio-economic/educational advice, agrarian experts etc (UNDP, FLA).

Expand to legal work in areas beyond free legal aid to enhance the overall quality of legal sector work (incl. building capacities of legal aid providers in additional emerging areas such as business and human rights, environmental rights etc.) (FLA CC, UNDP).

6

Integrated/inclusive rural development strategy. Apply intersectorial/inclusive approach to rural development strategy (Bus of Solidarity, not only Access to Justice) by building on existing best practices, needs assessments in terms of implementation of existing law: service delivery should be focussing on remote areas close to border and provide services in a systematic, comprehensive, integrated fashion (psychological support, health/medical, agrarian development issues (UNDP, Free Legal Aids/FLA Centers).

Switch to an integrated rural development strategy incl. but not limited to, FLA (cf. Georgia etc.) (Government of the Kyrgyz Republic, Ministry of Justice, Ministry of Health and Social developement, other concerned sectoral Ministries, UNDP).

7

Revision of the national budget/co-funding by local budget to allocate full-time specialized staff to Free Legal Aid (FLA).

Advocate for a revision of the national budget so Ministry of Justice (MoJ) can allocate full-time specialized staff to the FLA (UNDP, MoJ).

Advocate for FLAs to be co-founded by local budget of municipalities and local authorities (UNDP).

8

Quality assurance of provided legal aid, Results-based Management (RBM) and Knowledge Management (KM). Digitalization/automatization.

Enhance quality assurance of provided legal aid by introducing longitudinal, qualitative research features to Free Leagl Aid (FLA) allowing to gauge the longer-term effect and impact of the advice and guidance provided (Ministry of Justice (MoJ) -Government of the Kyrgyzstan, donors, UNDP).

Invest in RBM and KM systems (basic monitoring, service delivery performance of institutions/FLAs, lawyers/staff etc. based on direct beneficiary feedback), skills and competencies (MoJ, CSOs, UNDP, donors).

Review monitoring practices and indicators to ensure they add specific value (MoJ/UNDP).

The qualified legal aid registry should introduce a vetting mechanism to screen applicants for identifying the most suitable candidates among lawyers, thus ensuring the best possible quality standards (UNDP, FLA CC, Advokatura).

Consider further automatization/digitalization of the legal aid system (MoJ, UNDP).

9

Capacity building: social workers, paralegals, university students, Free Legal Aid (FLA) staff, Advokatura, sign-language interpeters, etc. on Sexual Gender-based Violence (SGBV), People with Disabilities (PwDs), cybercrime, medical rights, etc.

Enhance the knowledge base in social protection-related matters by investing into educating legal experts through i. pre-service and ii. in-service training provision (re-training and/or refresher courses in psychology etc.) for staff (Ministry of Justice (MoJ), Ministry of Health and Social development (MoHSD), UNDP)

Strengthen primary legal aid human resource pool by training paralegals to also provide pro bono services, and by strengthening the collaboration with legal clinics; and bring any necessary changes to existing legislation regulating the work of paralegals (UNDP, MoJ, FLA CC/FLAs).

Organize exchange of experiences with other countries about best practices and lessons learned from the Acee to Justice project (FLA centers, Bus of Solidarity, talon system etc.) (UNDP, FLA CC/FLAs).

Train experts for specific areas of qualified support at university. Offer specialized trainings by Advokatura (mandatory training centre for in-service training) Introduce basic courses on "exotic"/innovative novel areas of law (cybercrime, medical rights etc.) at university (Advokatura, UNDP).

Train FLA staff on SGBV regarding legal matters and quality of socio-psychological/human interaction (UNDP, FLA CC/FLAs, CSOs).

Re-train sign language experts for legal terminology and update database for legal terminology experts (UNDP, FLA CC/FLAs, CSOs).

Mininistry of Educaton (MoE) should introduce a Decree for systematic legal aid at state-owned universities (voluntary or even mandatory support by law students) (UNDP, FLA CC/MoJ).

Invest in educating experts in social protection via education system (training and re-training). Also, tap into potential workforce for social work by setting up an initiative of the Government of KR (Ministry of Healthcare and Social Protection in a lead role) to re-integrate the elderly into the workforce (e.g., experienced pensioned administration experts) (UNDP, MoSHD).

Include special module/programme on PwD into school curriculum and all uni courses for general sensitization (UNDP).

10

Outreach at the local level (legal awareness raising, Bus of Solidarity trips to all provinces, aksakal courts). Ensure all local self-governments are aware about existence of Free Legal Aid (FLA) centers in their districts where they could redirect people to get legal support, and ensure there is related sufficient communication between the Ministry of Justice (MoJ) and local governments (UNDP, FLA CC, MoJ).

Expand outreach of Bus of Solidarity to all seven Oblasts (beyond Chuy and Osh); and advocate for increasing the number of buses as the many settlements are remote (in mountains) and far away from the district center (UNDP, FLA CC/FLAs).

Support and formalize the network of women volunteers (UNDP, CSOs, FLA CC).

Investigate the potential of leveraging the "aksakal" local elders councils for Access to Justice (MoJ, MoHSD, UNDP, academia).

Coordinate work of Ail Akmatu/municipality services for victims of domestic violence, local committees, and Aksakal courts. Assess if and how the Council of Aksakals can be capacitated to then become involved to resolve issues by preventing and de-escalating any tensions at domestic and/or municipal level. Also, update the law regarding Aksakal courts to authorize them to provide advice and resolve "lower-level disagreements/disputes" within communities at the intra-/inter household level, do preventative work, include processes of local level decision making and planning and to involve youths and CSOs (UNDP, MoJ, FLA CC).

11

Cooperation and engagement with various subject matter experts (legal clinics, new talents, pensioners, street laweyrs). Ramp up cooperation with Universities to upgrade the role of legal clinics and increase the output of qualified lawyers and para-legals (Ministry of Justice/MoJ, Ministry of Education/MoE, UNDP).

Support MoJ in designing a quota-based mechanism to ensure the engagement of various qualified subject matter experts from relevant Government agencies (MoJ, FLA CC, UNDP).

Support the Government in identifying additional incentive(s) and the options for related reforms that would allow to attract new talent to expand the pool of qualified staff and lawyers to ensure provision of FLA.

Mobilize experienced "pensioners" for FLA and social services (GoKR, MoJ).