Evaluation of UNDP Country Programme Action Plan 2016-2018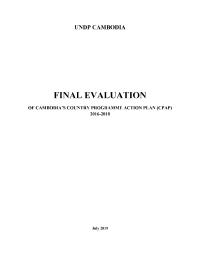 Evaluation Plan:

Evaluation Type:

Country Programme Evaluation

Planned End Date:

02/2019

Completion Date:

07/2019

Status:

Completed

Management Response:

Yes

Evaluation Budget(US $):

60,000
Title
Evaluation of UNDP Country Programme Action Plan 2016-2018
Atlas Project Number:
Evaluation Plan:
2016-2018, Cambodia
Evaluation Type:
Country Programme Evaluation
Status:
Completed
Completion Date:
07/2019
Planned End Date:

02/2019

Management Response:
Yes

Focus Area

:
Corporate Outcome and Output (UNDP Strategic Plan 2018-2021)

1. Output 1.1.1 Capacities developed across the whole of government to integrate the 2030 Agenda, the Paris Agreement and other international agreements in development plans and budgets, and to analyse progress towards the SDGs, using innovative and data-driven solutions
2. Output 1.1.2 Marginalised groups, particularly the poor, women, people with disabilities and displaced are empowered to gain universal access to basic services and financial and non-financial assets to build productive capacities and benefit from sustainable livelihoods and jobs
3. Output 1.3.1 National capacities and evidence-based assessment and planning tools enable gender-responsive and risk-informed development investments, including for response to and recovery from crisis
4. Output 1.4.1 Solutions scaled up for sustainable management of natural resources, including sustainable commodities and green and inclusive value chains
5. Output 1.6.1 Country-led measures accelerated to advance gender equality and women's empowerment
6. Output 2.1.1 Low emission and climate resilient objectives addressed in national, sub-national and sectoral development plans and policies to promote economic diversification and green growth
7. Output 2.2.2 Constitution-making, electoral and parliamentary processes and institutions strengthened to promote inclusion, transparency and accountability
8. Output 2.2.3 Capacities, functions and financing of rule of law and national human rights institutions and systems strengthened to expand access to justice and combat discrimination, with a focus on women and other marginalised groups
9. Output 2.3.1 Data and risk-informed development policies, plans, systems and financing incorporate integrated and gender-responsive solutions to reduce disaster risks, enable climate change adaptation and mitigation, and prevent risk of conflict
10. Output 2.4.1 Gender-responsive legal and regulatory frameworks, policies and institutions strengthened, and solutions adopted, to address conservation, sustainable use and equitable benefit sharing of natural resources, in line with international conventions and national legislation

Evaluation Budget(US $):

60,000

Source of Funding:
TRAC
Evaluation Expenditure(US $):

48,000

Joint Programme:
Yes
Joint Evaluation:

No

Evaluation Team members:

| Name | Title | Nationality |
| --- | --- | --- |
| Elinor Bajraktari | Evaluation Team Leader | |
| Lilia Ormonbekova | Gender Evaluation Specialist | |
| Sovith Sin | National Evaluator | |

GEF Evaluation:

No

Key Stakeholders:
Council for the Development of Cambodia; Minsitry of Environment; National Council for Sustainable Development; Minsitry of Women's Affairs; Nationla Committee for Sub-national Democratic Development, Associationo of Sub-national Administration Council; Cambodian Mine Action and Victim Assistance Authority; Ministry of Agriculture; Ministry of Water Resources; Development Partners and Civil Society partners.
Countries:

CAMBODIA
Lessons
1.

This evaluation draws the following three major lessons from the experience of UNDP Cambodia:

For a CO to create depth and be sustainably positioned in a particular area, it takes continued engagement and effort over many years. The process does not happen overnight and is not contingent on the amount of resources available initially. It is rather dependent on a commitment to engage in that area and taking a long-term approach focused on establishing sound foundations. UNDP Cambodia has created this depth in the areas of climate change and management of natural resources where its contributions have been significant. Projects like FCPF or CCCA have been running for several years and in different phases, which has allowed UNDP to build trust with the relevant partners and develop the necessary expertise and track record in this area.
Another lesson can be drawn with regards to the structuring of the CO's programme section. Generally speaking, there are two formats in UNDP COs – one in which policy analysis and advisory functions are integrated with programme implementation under one unit (the previous CO model) and another in which policy and programme implementation functions are split (current model). Each model has certain advantages and disadvantages, which are discussed in this report. But eventually what matters is how well coordinated these functions between or within the units and whether roles and responsibilities are clearly defined and respected.
As for gender equality, whereas the country's strategic frameworks contain respective aspirations and plans, interviews conducted during the evaluation data collection phase showed diversity of opinions with regard to gender norms. It appears that there are still opportunities to strengthen the understanding of the definition of gender among Government and sub-national stakeholders. This can be done by careful approach and innovative thinking, for instance, by starting with strengthening gender within areas the Government is particularly interested in (i.e. economic growth). Considering UNDP as an important development partner, one still may assume that given the CO's limited resources, its contribution to transformative changes in gender equality are yet to be seen. Therefore, it is of crucial importance to join efforts with UN agencies and development partners in prioritizing gender-related challenges and consolidating efforts on a few areas, without dispersing on small scale interventions and pilots.



Findings
1.

Programme Relevance

Overall, UNDP country programme is aligned with Cambodia's Rectangular Strategy and the National Strategic Development Plan (NSDP 2014-2018), as well as sectoral strategic plans in areas where UNDP is working. The programme is also aligned with Cambodia's policy frameworks and strategies specifically focusing on gender equality and women's empowerment or referring to these areas as key for the country's development. UNDP has also helped Cambodia meet its international commitments, as a signatory to major international and regional agreements. A number of UNDP projects have been designed and have been implemented to address specific issues related to Cambodia's commitments to international obligations.




Tag: Relevance Gender Equality Women's Empowerment Policies & Procedures Programme/Project Design

2.

Programme EffectivenessIn terms of effectiveness of activities, four of the eight outcome targets identified in the CPAP document had been met at the end of the programme cycle. At the output level, seven of 21 targets set in the CPAP were met by the end of the programme. In total, out of 30 CPAP targets only 12 were achieved by the end of 2018. Five gender-related output targets were not achieved by the end of the CPD.




Tag: Natural Resouce management Effectiveness Gender Equality Women's Empowerment Capacity Building Coordination Technical Support

3.

Programme Efficiency

In the current cycle, the CO has eliminated the programme clusters, consolidating them into a programme unit and policy unit. This shift has involved two major changes. First, the previous multiple-thematic "clusters" that constituted the programme have been consolidated into a unified poverty-reduction programme intended to provide greater programmatic focus (whether this focus has been there will be discussed further in this report). Second, programming has taken a more "policy-based" approach, whereby interventions are developed in line with an on-going policy dialogue with the government. In organizational terms, this approach has led to a CO structure which consists of the current two programmatic components – "Programme and Results" and "Policy and Innovations" units. The programme unit is primarily responsible for overseeing the implementation of projects. By contrast, the policy unit is primarily responsible for providing policy support to government partners (this includes support in the areas of SDGs, social protection, national development planning, waste management, circular economy, payment for ecosystem services, etc.). It also has responsibility for resource mobilization and development of partnerships, as well as advocacy and communications. The creation of these two units seems to have the potential to free programme analysts from advisory and PR/communications duties and make it easier for programme officers to deepen their technical expertise in the areas they cover and foster more effective cooperation between the different projects. However, this has created some uncertainty with regards to how programme development is coordinated with programme implementation which the CO should address in the coming cycle.




Tag: Efficiency Gender Equality Human and Financial resources Policies & Procedures Results-Based Management Coordination

4.

Programme Sustainability

With regards to sustainability, one key issue identified in this evaluation is the challenge of weak implementation of policies, strategies and laws. Weak implementation has an impact on the sustainability of UNDP projects supporting policy reforms because in such a situation projects have a hard time turning project outputs (such as policies, regulations, studies, etc.) into sustained action leading to improved outcomes. Despite some good practices in the UNDP projects, there is room for further work on supporting authorities to focus more on the implementation of laws and regulations on the ground. At the level of project design, the CO could take a more systematic approach to the support it provides to national partners, covering the whole policy-making spectrum, including implementation. Of particular importance are the sustained efforts to consistently advance gender equality in all areas of interest to the government and where UNDP operates: this requires engagement with and enhancing gender capacity of all stakeholders (government and non-government, and internally for UNDP staff) starting from CPD design and individual project conceptualization stage and evolving into clear exit strategies. The CO should also strive to reach at least 15% mark of budget allocations to project activities aimed at gender equality and women's empowerment.




Tag: Sustainability Policies & Procedures Capacity Building Technical Support

5.

UNDP's Positioning

Cambodia's achievement of middle-income status in 2016 and decreasing financing from certain development partners in response to government restrictions for civil society will present an increasing challenge to UNDP in the coming programme cycle. This evaluation suggests that the CO's best response to this situation would be a three-pronged strategy consisting of the following priorities:

Leveraging success and good standing in the areas where the CO is already well-established to further strengthen partnerships with traditional partners on the basis of competence, results and cost-effectiveness.
Explore new areas where UNDP could strengthen its presence on the basis of its comparative advantage (i.e. democratic governance, energy efficiency, advocating for gender equality, service delivery, etc.).
Engaging non-traditional sources of funding by presenting them with attractive options of cooperation.




Tag: Relevance Sustainability Local Governance Strategic Positioning

6.

4.1.1. Relevance to Country Needs and Priorities
Assessing the relevance of the CO programme against national priorities and strategies requires an understanding of how these priorities and strategies are defined and pursued by the national stakeholders.
At the highest strategic level, the government has articulated its long-term development aims in Vision 2030, a roadmap towards upper-middle-income status, and Vision 2050, when Cambodia aspires to become a high-income country. This vision is operationalized through two overarching development strategies – the Rectangular Strategy (RS)25 and National Strategic Development Plan (NSDP), which integrate the Sustainable Development Goals into development priorities. In 2018, the government adopted an updated version of the Rectangular Strategy 4 (RS4) for 201923,26 which sets out development priorities and policy to secure sustainable and inclusive growth.




Tag: Relevance Local Governance Policies & Procedures Strategic Positioning Country Government

7.

4.1.2. Relevance to Country's International Commitments UNDP has also helped Cambodia meet its international commitments, as a signatory to major international and regional agreements. A number of UNDP projects have been designed and have been implemented to address specific issues related to Cambodia's commitments to international obligations. For example, the DRIC project has helped authorities meet the obligations emanating from Cambodia's accession to the Convention on the Rights of Persons with Disabilities (CRPD), the FCPF projects have supported Cambodia's participation in the REDD+ activities under the United Nationals Framework Convention for Climate Change (UNFCCC), whereas the 3Rio project has provided direct support the implementation of the three Rio conversions which Cambodia has already ratified.31 The programme also positions UNDP as a strategic partner to the government in its efforts to adapt and implement the Sustainable Development Goals in the transition process to upper-middle-income status through sustainable growth and elimination of poverty by leaving no one behind.




Tag: Climate Change Adaptation Relevance Policies & Procedures Country Government UN Agencies Disabilities

8.

4.1.3. Relevance to UN's and UNDP's Mandate and Strategy
In the CPAP document, the UNDP programme is structured in alignment with the United Nations Development Assistance Framework (UNDAF 2016-2018).
The entirety of UNDP activities for the 2016-2018 period is organized under three outcome areas (described in the previous sections of this report), which correspond to two UNDAF outcomes.




Tag: Relevance UN Agencies

9.

4.2. EFFECTIVENESS
This section provides an assessment of achievements of the CO in the period in question. The first part examines the design of the CPAP document and its Results and Resources Framework (RRF). The second part compares the commitments the CO had made at the beginning of the programme with what it had actually achieved at the end. It also provides a broad overview of UNDP's contributions to the country's development process.




Tag: Resilience building Effectiveness Programme/Project Design Results-Based Management

10.

4.2.2. Achievement of Outcomes and Main Contributions
As part of the "One-UN" reform agenda, UNDP did not report separately on its annual progress through review meetings with wide participation of stakeholders. Instead, UNDAF annual review meetings served this purpose.

Annex V summarizes UNDP's achievements against the results framework laid out in its 20162018 CPAP. It should be emphasized that the achievements in the table were reported by the CO on the basis of their monitoring and reporting tools and were not independently verified by the evaluator in the course of this assignment (an independent collection or verification of detailed quantitative information did not fall under the scope of this evaluation).




Tag: Effectiveness Impact

11.

4.3.1. Operational Efficiencies Programme's Organizational Structure
In response to the Mid-Term Evaluation of the preceding programme cycle which recommended that UNDP Cambodia should move from a project-based approach to a policy-focused approach, the CO revamped its organizational structure in 2016 by eliminating the programme clusters and consolidating them into a programme unit and by establishing a policy unit, which was initiated as an experimental "policy project".66 The motivation for this change was that a focus on highlevel policy advice to the government responded more effectively to the changing country context (fast economic growth, shrinking development assistance, higher level of complexity and sophistication of policy environment, etc.). The need for the creation of the policy interface for engaging with the government was based on the recognition that if poverty-reduction interventions are to be sustainable, the development policies recommended and supported by UNDP must assist in ensuring that the "right" institutional, governance and market-based mechanisms are put in place, and are working both efficiently and effectively to deliver the desired outcomes. Therefore, the CO aimed to adopt a more "policy-based" approach to programming, where programmes are developed in line with an on-going policy dialogue with the government.




Tag: Efficiency Operational Efficiency Policies & Procedures Project and Programme management Coordination

12.

4.3.2. Quality of the Human Resource
UNDP's single most important assets are its people. The quality of the individuals who deliver its activities is crucial for the quality of its work, as well as its reputation, competitiveness, partnerships, fundraising ability and ultimately its value proposition. There are multiple links between the quality of UNDP's human resource and the efficiency of its work.
The assessment of the quality of the human resources employed by the programme revealed that overall it is adequate and in line with programme requirements. CO staff are well-qualified individuals who work in challenging circumstances. Many of them have previous experience with implementing UNDP projects and are proficient with UNDP operational rules and procedures. Further, the DIM project teams seem to be well-managed and led by competent managers, which have been with the UNDP for quite some time and have developed their skills and contacts with the government. Also, the project technical advisors or chief technical advisors supporting the NIM projects have good technical knowledge and experience in the areas they cover (i.e. climate change, water management, etc.) and were praised by a number of partners during interviews for this evaluation.




Tag: Effectiveness Human and Financial resources Operational Efficiency Project and Programme management

13.

4.3.3. Programme Depth and Synergies
Another angle from which to assess the efficiency of the country programme is by examining the extent to which activities under different projects have been coordinated and synergetic with each other. From an efficiency perspective, it is important to understand how project activities have reinforced each other and the degree to which the programme has functioned as one.
As has already been mentioned, the consolidation of CO activities into a unified programme was intended to provide greater focus on poverty reduction and greater synergies. The previous sections of this report have already highlighted the fact that the poverty-reduction focus of the programme has not been clear, especially given the lack of an explicit ToC that identifies the mechanisms and channels through which a programme focused primarily on climate change affects multidimensional poverty. The question that will be explored in more detail in this section is whether the CO's new programmatic approach has led to increased synergies (and, by definition, better efficiencies) of its activities.




Tag: Project and Programme management Bilateral partners Civil Societies and NGOs Coordination

14.

4.3.4. Collaboration with UN Agencies and Development Partners Collaboration with UN Agencies
The CPAP document states that "using finance as an integrator for the Goals, UNDP can provide a platform for other United Nations organizations to participate in innovative collaborations." To what extent has UNDP collaborated with the sister UN agencies in the 2016-2018 cycle and what have been the effects of that collaboration?




Tag: Gender Equality Women's Empowerment UN Agencies Disabilities Youth Coordination

15.

4.4. SUSTAINABILITY
While several factors shape the sustainability of UNDP's programme, the focus of this report will be on those aspects that require more attention from the CO. The areas that will be reviewed in this section are: i) policy implementation; ii) pilots, replication, and institutionalization; iii) cofinancing by the government and private sector; and, iv) information sharing and awareness raising.





Tag: Sustainability Policies & Procedures Country Government Private Sector

16.

4.4.2. Pilots, Replication and Institutionalization
UNDP's programme has had a significant focus on piloting and demonstrating innovative solutions to specific problems, with the expectation that if successful they will be replicated, scaled up and institutionalized. The key idea here is that UNDP is not in the business of itself solving Cambodia's problems, but helping national stakeholders identify systemic solutions to these problems.




Tag: Relevance Local Governance Bilateral partners Country Government Capacity Building Disabilities

17.

4.4.3. Co-financing by the Government and the Private Sector
The 2016-2018 programme has also involved commitment of co-financing by government entities or the private sector, especially in the case of GEF-funded projects.82 Co-financing is an indication of commitment and ownership from the partners. But it is also an important aspect of sustainability. It is important that UNDP projects be placed on a sound footing with sustainable financing provided by the state or the market.




Tag: Resource mobilization Human and Financial resources Country Government Private Sector

18.

4.4.4. Information Sharing and Awareness Raising
A number of projects have had components related to information-sharing and awareness-raising around issues of climate change, management of natural resources, gender equality, rights of PwDs, youth employment, mine awareness, etc., with large budgets on communications and information sharing. This evaluation was not able to estimate the amount of money spent on awareness raising activities, but the amount must be quite significant relative to the total budget spent. While many of these activities are useful and serve a clear purpose, this is probably a good time for the UNDP to take a more strategic approach in this area. Taking the work on information sharing and awareness one notch up will help the CO strengthen its impact and image in the country.




Tag: Climate Change Adaptation Effectiveness Gender Mainstreaming Women's Empowerment Human and Financial resources Knowledge management Bilateral partners Country Government

19.

CHAPTER 5: STRATEGIC POSITIONING
This section analyzes UNDP's comparative advantage and its positioning in the country's development context relative to its comparative advantage. It also examines the partnerships' strategy that UNDP could pursue and identify sources of funding which the CO could tap into for its next programme cycle.




Tag: Strategic Positioning Bilateral partners Civil Societies and NGOs Country Government UN Agencies

20.

5.2. POSITIONING AND RESOURCE MOBILIZATION
As has been discussed in Chapter 3 of this report, UNDP's portfolio of projects in the 2016-2018 period has been primarily oriented towards environmental protection (climate change and the management of natural). This can be seen in Figure 12 below where the share of environmental projects in the total programme budget is about 50%. The other area of focus of the programme is what is called in this report "Rights of Vulnerable Groups", which is a group of projects targeting PwDs, women and youth. The share of this group's budget to the whole programme budget is about 20%. The rest are projects that have been already discussed in this report such as cassava, mine action, local governance, development effectiveness, etc.




Tag: Climate Change Adaptation Natural Resouce management Resource mobilization Women's Empowerment Strategic Positioning Disabilities Youth

21.

Rights of Vulnerable Groups
Another area of UNDP engagement was in addressing inequalities and exclusion by supporting the capacities of government and civil society organization to enhance rights, voice and participation of vulnerable and marginalized groups. UNDP interventions addressed rights-based challenges, including structural barriers, faced by those with disability (DRIC and A2J projects), women and girls (PSLWGE), youth (UNJP/YE and MIY/Klahan9), and those vulnerable to poverty, economic exclusion, and disability due to the threat of mines (CfRIII).




Tag: Effectiveness Capacity Building Disabilities Jobs and Livelihoods Youth

22.


Gender-responsiveness in the CPAP document
CPAP guidance (2011) stipulates the inclusion of sex-disaggregated data, as well as that on vulnerable groups and regional disparities, in the situation analysis. The respective part of the CPAP contains references to improving the nutrition status of women and children and to women being particularly dependent on natural resources for livelihoods and domestic responsibilities. The narrative also notes the cooperation between the Ministry of Women's Affairs and UNDP, especially in terms of strategic policies and plans on gender equality. The situation analysis could have benefited from inclusion of sex-disaggregated data and gender analysis, in particular in the existing narrative describing the situation with regard to employment, poverty, people living with HIV and their social protection, households depending on forests, etc.




Tag: Effectiveness Women's Empowerment Food Security Jobs and Livelihoods Youth

23.

Design of the CPAP Results Framework
This report's Annex V shows the CPAP's Results and Resources Framework (RRF), which identifies the expected outcomes and outputs, as well as the set of indicators and targets as they were specified at the beginning of the programme cycle (with minor modifications made more recently).36 These indicators and targets underpin the commitments made by UNDP Cambodia anf the UN family for the programme period.37




Tag: Environment Policy Effectiveness Monitoring and Evaluation

24.

Design of Project Documents
Also, at the project level, there are some challenges with regards to the use of evidence-based RBM practices. Some of the project documents reviewed for this evaluation have weak RRFs with inadequate targets and indicators which do not meet the SMART criteria. A number of project evaluations conducted by the CO have pointed out this problem – in particular, the evaluation reports for the 3Rio, CEDEP and ACES projects.40 The issue of weak of project indicators was also raised in the Poverty Thematic Evaluation. Weak project RRFs present a challenge for activity planning, implementation and monitoring.




Tag: Effectiveness Programme/Project Design

25.

Gender-responsiveness in Project Documents
In accordance with UNDP Quality Standards for Programming,41 "a gender analysis should be integrated [into a programme/ project document] to fully consider the different needs, roles and access to/control over resources of women and men; appropriate measures should be taken to address these when relevant." As result of a desk review of CO's project documents (see Annex VII for details), it became evident that about third of the ProDocs (6 out of 20 consulted) contain gender analysis, with most of the documents falling under thematic areas that traditionally target gender issues, such as improvement of civil services, youth employment, poverty reduction.




Tag: Effectiveness Monitoring and Evaluation Programme/Project Design Project and Programme management

26.

Resource Planning for Gender Equality and Women's Empowerment
Besides gender-responsive programme priorities and gender-sensitive measuring of progress towards outcomes, CPAP and CPD guidance require COs to assign gender marker to all UNDP supported outputs in the Results and Resources Framework, in line with the UNDP Gender Equality Strategy. CPAP does not contain gender marker ratings, although individual projects have assigned gender markers (see Table 13 below for details). Similarly, CPD 2019-2023 monitoring and evaluation section does not contain reference to gender marker to be used to monitor CP expenditures and improve planning and decision-making for gender equality, whereas projects have gender markers assigned at appraisal stage.




Tag: Effectiveness Women's Empowerment Results-Based Management

27.

Quality of Evaluations
It should also be noted that the CO has had a low coverage of its projects with evaluations. Only seven of the 21 projects have had some kind of evaluation, and these are primarily projects funded by GEF which requires mid-term and terminal evaluations for most of the projects it funds. More projects, including non-GEF ones, were included in the evaluation plan, which was not completed in the period (i.e. SRL, FCPF2, EWS, PSLWGE, CoWES, UNJP-YE, and Inclusive Governance). Further, some of the evaluations that were reviewed for this outcome evaluation were found to be lacking in quality in certain aspects – i.e. not meeting some of the basic UNDP criteria for evaluations.43 Examples of these are the mid-term evaluation reports of the 3Rio and MIY/Klahan9. Although they provide good information about the projects, the arguments, statements and conclusions they put forward are not too concise and straightforward.




Tag: Effectiveness Monitoring and Evaluation Oversight

28.

Gender-responsiveness in the CPD 2019-2023
To analyze the trends of gender-responsiveness in strategic planning, the evaluation team compared CPAP and CPD narrative applying a gender lens. CPD guidance (2018) specifies the need for the programme rationale to "systematically identify relevant gender dimensions of critical development issues (gender analysis should precede the drafting of programme rationale). CPD narrative provides information on Gini coefficient, and contains a separate paragraph on gender equality issues prioritized by the Government, namely, gender-based violence, enrolment in tertiary education, economic empowerment and participation in public and professional life. Other thematic dimensions do not identify gender challenges.
Whereas there is sex-disaggregated data in three instances in the programme rationale (completion rates of lower secondary education, physical and sexual violence by intimate partner, and participation in informal employment), overwhelming majority of rationale's statistical data is not disaggregated by sex. CPD highlights data needs and capacities for SDGs monitoring, and the CO commits to promote data disaggregation and support to the Government in policy-relevant research agenda to address data gaps.




Tag: Effectiveness Women's Empowerment

29.


Women's Political Participation and Representation in Civil Service, and Institutional Set-up
UNDP initiated discussions with the Ministry of Civil Service and its Gender Mainstreaming Action Group on measures to increase women's representation in civil service (a Memorandum of Understanding with the Ministry is to be signed); and has been providing technical support in updating Cambodian Gender Assessment aimed at promoting evidence-based advocacy. In 2018 the Assessment included an analysis of women in public service and leadership, which will inform the development of future gender strategies.
In 2016, UNDP's project on Association of Councils Enhanced Services engaged 360 women as senator councillors, district and provincial officials over a national forum on women's political participation.




Tag: Effectiveness Women's Empowerment

30.


Development Effectiveness
UNDP supported the Ministry of Planning to map the SDG goals, targets and indicators, and to develop the Cambodian Sustainable Development Goals (CSDG) framework, which was approved by the cabinet in 2018.61 The CSDG framework was in turn used to inform the drafting of the National Strategic Development Plan (NSDP) 2019-23, another process which was supported by UNDP. NSDP incorporated 50% of the indicators from the CSDG. It should also be mentioned that gender considerations are central to the CSDG framework.62 The Goals are being integrated with national plans, through UNDP support to the Council for the Development of Cambodia (CDC) and the Ministry of Planning.
UNDP has also had a long-term involvement in supporting development effectiveness in Cambodia. In this cycle, the focus of this work was on strengthening the system for tracking and expanding development financing. To this end, the CO commissioned a Development Finance Assessment aimed at assisting with the establishment of systems for mobilizing and managing sources of development finance.




Tag: Effectiveness Strategic Positioning UN Agencies Agenda 2030

31.


Climate Change and Management of Natural Resources
At the policy level, UNDP has contributed to governance reform in the environment sector by supporting planning and budgeting in climate action, subnational capacity for climate adaptation action on the ground and the operationalization of forest management safeguards and strategies. It helped strengthen key national institutions in the environmental sector, such as the Ministry of Environment and the National Council for Sustainable Development (NCSD).44




Tag: Climate Change Adaptation Natural Resouce management Effectiveness

32.


Gender Contributions in the Area of Climate Change and Management of Natural Resources
Throughout 2016-2018, in the area of environment, CO advocated for and provided technical expertise for gender considerations to be included in the Environmental Code and in the National Protected Area Strategic Management Plan. The latter stipulated women's representation in consultation and decision-making; design of gender criteria for identification of environmental management zones; provision of opportunities for livelihoods from payments for environmental services that consider capacities of women; and inclusion of gender equity principles and indicators in monitoring and evaluation. In addition, a Gender Action Plan on Watershed Management/Ecosystem Services Protection was developed in 2018 and implemented in a target community.




Tag: Climate Change Adaptation Effectiveness Women's Empowerment Indigenous people

33.

CO's Gender Institutional Structure and Capacities
In 2014, the CO underwent the UNDP Gender Equality Seal certification process and received a "high silver" award. As a result, a Gender Seal Action Plan was developed in 2016, with establishment of Gender Focal Team being one of the action points. Currently, the CO has a multidisciplinary gender focal team (GFT) chaired by Resident Representative. The team has Terms of Reference and annual work plan (for 2018 and 2019).




Tag: Effectiveness Gender Equality

34.

Budget Execution Rates
Budget execution rates show the proportion of a project's resources that has been spent at a certain point in the project's lifetime. Inefficient projects are typically inadequately planned or have delays in expenditure which result in higher amounts of spending occurring at accelerated rates closer to project end dates. This typically leads to hurried decisions and hastened implementation which is rarely efficient. Also, project extensions lead to higher administrative costs which reduce the overall efficiency of the intervention. Table 15 below shows budget execution rates for each project in the period 2016-2018 (cumulative)




Tag: Efficiency Gender Equality Human and Financial resources Operational Efficiency Project and Programme management

35.

Theory of Change
This discussion leads us to the issue of the programme's Theory of Change (ToC), which was at the discussion of the Poverty Thematic Evaluation commissioned by the CO in 2016. As of now, the programme does not have a strongly-articulated ToC that identifies in clear terms pathways of change that lead from activities to the achievement of the overarching goals. As Box 2 below (taken from UNDP's Poverty Thematic Evaluation of 2016) shows, the programme's ultimate goals are strongly related to poverty reduction. On the other hand, CPAP also outlines that UNDP interventions will build resilience, strengthen the voice & participation of women, persons with a disability (PWD) and other marginalized and vulnerable groups, promote the upgrading of value chains and sustain development finance. What is missing in this picture is a clear articulation of how activities in these four dimensions (areas) contribute to the reduction of multidimensional poverty.34 Furthermore, while in practice, there are many interlinkages between the projects, both in terms of design and implementation, these interconnections are not explicitly identified and articulated in the CPAP document as part of the ToC.




Tag: Effectiveness Theory of Change Jobs and Livelihoods Poverty Reduction
Recommendations
1

Results-focused operations: The CO should further strengthen its focus on results. There is a need to focus beyond "traditional activities" and look into the process of change at the level of behavior and institutions.

2

Going beyond policy formulation to address implementation: The CO should pay closer attention to the problem of implementation, identified in this report. When designing and implementing activities, the CO should assess them in relation to their implications for the implementation of policy. The focus should be not only on form (how a draft law or strategy looks like), but also on functionality (how it can be executed and what effects it is going to yield). Implementation requires measures that go beyond the passing of laws and strategies. The CO should also strengthen communications and link them more effectively to results to identify a more effective approach and arrangement for how it communicates with partners and stakeholders.

3

Positioning and Resource Mobilization: The CO should consider developing a Resource Mobilization Strategy which may include the following three elements: (a) Leveraging success and good standing in the areas where the CO is already well-established to further strengthen partnerships with traditional partners on the basis of competence, results and cost-effectiveness; (b) Explore new areas where UNDP could strengthen its presence on the basis of its comparative advantage; and (c) Engaging non-traditional sources of funding by presenting them with attractive options of cooperation.

4

Programme Integration: The CO should address coordination and collaboration at the programme and project levels more systematically. At the programme level, the CO should strengthen collaboration between the policy and programme unit across all areas, but in particular with regards to programme development. Mechanisms of coordination and cooperation between units and clear roles and responsibilities on the development of new projects should be established. The CO should also strengthen its communications, starting with a systematic review of the area and the identification of key measures. The CO should also establish more effective mechanisms and incentives for cooperation between projects.This may include not only regular coordination meetings between projects, but also integrated frameworks for project planning and implementation where feasible. In locations outside of the capital where UNDP has more than one project running, the CO should identify ways of strengthening project synergies. Where the potential for integration is significant, the CO could consider an area-based approach that will allow it to integrate more effectibvely a range of cross-cutting issues. Stronger synergies could also be forged with development partners at the sub-national level, which may also provide funding opportunities.

5

Awareness Raising: The CO should take a more systemic and strategic approach to awareness-raising. As a first step, the CO should ensure that information sharing and awareness raising activities are driven by a clear understanding of the behavior that is being targeted. The end goal of these activities should not just be to raise the awareness of the target group, but to change a particular behavior which is well identified in advance. This requires a careful identification of the behavior that the activity is intending to promote and the agents whose behavior will be changed. Further, it will be important to recognize that the channel through which the information will be carried matters enormously and should be chosen strategically. It is important to identify whose opinion matters for the target group and how that opinion can be constructed and used to influence behavior. It is also important to recognize more explicitly the role of social norms in behavioural change and understand what shapes the social norms in a particular community. Social norms are a powerful instrument that can be harnessed to induce behavioural change. Such change of approach towards awareness-raising activities will require a new direction by the CO leadership and resources for research and training of staff.

6

Gender-responsive programming and implementation: Results-based and gender-responsive programme design and budget are crucial for implementation of activities that equally take into account the needs of women and men. It is therefore recommended, through the process of regular CPD review, to design the Country Programme's ToC that includes a detailed description of CO's intended realistic contribution to gender equality and women's empowerment, with related risks and assumptions. Gender equality should be equally mainstreamed across CPD Outputs. Between 33-50% of CPD indicators in the Results and Resources Matrix should allow for measuring changes in gender equality and women's empowerment. At least 15% of CPD's budget should be allocated to activities with gender equality being principal. Government, other partners and civil society stakeholders, including those representing the most vulnerable groups of population and women's groups, should participate at regular reviews of CPD progress and Results and Resources Matrix, including by providing feedback on CO's gender-targeted interventions and their monitoring. The CO should strive to apply the same process with regard to every project's design, including budgeting, and institutional set-up, such as composition and agenda of steering board meetings.

UNDP is recommended to develop a Gender Strategy for the remaining CPD period and strive to renew its Gender Seal award. Gender Focal Team's tools and agenda should equally target programme and operations matters, with GFT meetings regularly attended by CO's senior management to facilitate decision-making. To sustain collective gender knowledge and capacity, the CO should consider creation of a dedicated gender analyst/specialist that would provide or facilitate technical expertise on all thematic areas UNDP is engaged into; advise project gender-sensitive design, M&E, and reporting; identify potential synergies and actors that can contribute with innovative gender-related knowledge and skills (e.g. blogs by women-meteorologists). As a consideration the post can be pool-funded by CO's projects or sponsored by UNV or UN Junior Professionals Programme. CO's senior management and staff are recommended to further champion and advocate for gender equality and women's empowerment in all thematic areas by using evidence of successfully implemented gender-targeted projects. CO's communication on gender should be diversified; it is also recommended to publish respective senior management's op-eds (not only for traditionally gender related occasions), including in Khmer language, and through youth-friendly communication tools (e.g. Facebook, Snapchat). CO should strive to strengthen engagement with women equally across all projects, both at national level and in the field, and invest in long-term strategies of breaking gender stereotypes.