Protected Area Network Management and Building Capacity in Post-Conflict South Sudan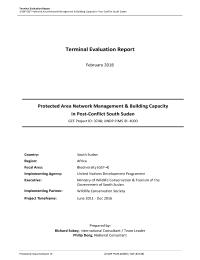 Evaluation Plan:

Evaluation Type:

Final Project

Planned End Date:

01/2018

Completion Date:

12/2018

Status:

Completed

Management Response:

Yes

Evaluation Budget(US $):

60,000
Title
Protected Area Network Management and Building Capacity in Post-Conflict South Sudan
Atlas Project Number:

00061441

Evaluation Plan:
2016-2018, South Sudan
Evaluation Type:
Final Project
Status:
Completed
Completion Date:
12/2018
Planned End Date:

01/2018

Management Response:
Yes

Focus Area

:
Corporate Outcome and Output (UNDP Strategic Plan 2018-2021)

1. Output 1.4.1 Solutions scaled up for sustainable management of natural resources, including sustainable commodities and green and inclusive value chains

SDG Goal

Goal 13. Take urgent action to combat climate change and its impacts
Goal 15. Protect, restore and promote sustainable use of terrestrial ecosystems, sustainably manage forests, combat desertification, and halt and reverse land degradation and halt biodiversity loss

SDG Target

13.2 Integrate climate change measures into national policies, strategies and planning
15.1 By 2020, ensure the conservation, restoration and sustainable use of terrestrial and inland freshwater ecosystems and their services, in particular forests, wetlands, mountains and drylands, in line with obligations under international agreements

Evaluation Budget(US $):

60,000

Source of Funding:
GEF
Evaluation Expenditure(US $):

30,000

Joint Programme:
No
Joint Evaluation:

No

Evaluation Team members:

| Name | Title | Email | Nationality |
| --- | --- | --- | --- |
| Philip Deng | National Consultant | dengajang@yahoo.com | |

GEF Evaluation:

Yes

| | |
| --- | --- |
| GEF Project Title: | Protected Area Network Management & Building Capacity in Post-Conflict South Sudan |
| Evaluation Type: | Terminal Evaluation |
| Focal Area: | Biodiversity |
| Project Type: | FSP |
| GEF Phase: | GEF-4 |
| GEF Project ID: | 3748 |
| PIMS Number: | 4000 |

Key Stakeholders:
World Conservation Society, Ministry of Wildlife Conservation & Tourism of the Government of South Sudan
Countries:

SOUTH SUDAN

Comments:

Evaluation was succesfully completed in January 2018.
Lessons
1.

Lessons from and synergies with other projects

The project design was prepared by WCS with UNDP in-mind, with both having significant in-country experience. Synergies with other projects incorporated into the design included the 'USAID Boma Jonglei Landscape project'.



Findings
1.

3. FINDINGS

3.1. Project Strategy

3.1.1 Project Design

Lessons from and synergies with other projects
The project design was prepared by WCS with UNDP in-mind, with both having significant in-country
experience. Synergies with other projects incorporated into the design included the 'USAID Boma Jonglei
Landscape project'.




Tag: Programme Synergy Programme/Project Design

2.

Risks
Three risk tables are presented in Annex 8 with TE comment. They are the active UNDP Atlas, the original
Prodoc risk table (2010) and the final report risk table (2017). Presented here is the Prodoc Results
Framework risk table with TE comment.




Tag: Programme/Project Design Risk Management

3.

3.1.3 Results Framework Indicators & Targets


The result framework was mainly logical, practical and feasible within the project timeframe as originally
designed, however there were a number of issues with the logframe, mainly in terms of the indicators not
being so SMART (Specific, Measurable, Attributable, Realistic/Relative, Timebound). The main problem is
that they are not easily measurable. Suggestions are provided

In addition, there is little evidence of any approval of changes in the results framework. E.g. the switching
of Zeraf GR to other PAs, with Zeraf still being reported on the end of the project.




Tag: Challenges Results-Based Management

4.

Gender analysis
A gender assessment was not carried by the project as it does not target woman and/or girls as direct
beneficiaries. For the TE, a very limited number of women were identified which limited the first-hand views
that could have been expressed on the livelihood aspects of the project, or concerning a reduction in hunting
due to livelihood interventions. However, from documentation, it is clear that women were included during
environmental awareness training and in livelihoods projects when possible.
The 2011-12 APR/PIR reported - The project has given women the opportunity to participate where possible,
most notable during the last 12 months was the inclusion of 6 women (5 from Lakes State and 1 from Warrap
State) among the 46 participants in the SNP 'Officer & NCO training' that took place in May 2012. The
potential for enhancing inclusion of women in all activities will continue to be assessed as implementation
continues. As socio-economic surveys progress and community partnerships are designed around SNP,
particular emphasis will be on identifying innovative ways to engage with women.
From 2012-16, a total of 23 women (8%) benefited from trainings for community conservation and livelihood
projects across the PAs. In addition, out of 3,142 individuals, 880 (28%) were women who received direct
economic benefit from the project at the field sites.
The Final PIR (2017) reported - The project is one of the biggest employers of the local communities on shortterm
contracts at its field sites. The project ensures that a certain percentage of the employees are women.
In addition, the project strives for women to be part of any natural resource working and/or management
committee.




Tag: Gender Equality Gender Parity Women's Empowerment Jobs and Livelihoods Capacity Building Women and gilrs

5.

3.2. Project Implementation

Project Implementation: According to the given five categories (IA or EA coordination & operational matters, partnership arrangements & stakeholder engagement, finance & co-finance, M&E systems, and adaptive management (work planning, reporting & communications)

Overall Rating: Moderately Unsatisfactory

Justification: Implementation of most of the categories was not effective with both the IA and the IP exhibiting significant shortcomings in terms of coordination, operational management and engagement with the national partner. M&E systems were not effective. Planning and spending control was left to the IP without detailed accountability to the IA or the IP's supporting government partner.Overall, constructive engagement between the key project stakeholders (UNDP, WCS and MWCT) broke down early in the project, due to a lack of management oversight by UNDP. The circumstances included: UNDP restructuring and lack of directed leadership; a poor WCS-MWCT relationship due to the WCS method of attempting to only work at ministerial level; and civil unrest. Efforts to stabilize and finalise the project since mid-2015 have been much better, with the MTR (Dec 2015) and TE (November 2017), and an expected final PSC meeting and closure report in early 2018.




Tag: Challenges Implementation Modality Monitoring and Evaluation Project and Programme management Country Government UNDP Management UNDP management Coordination

6.

3.2.1 IA and EA Coordination & Operational Management


GEF Implementing Agency (UNDP) coordination with the Executing Agency / Implementation Partner
Project Inception Workshop & Project Inception Report
An inception workshop was held June 2011, however there was no project inception report prepared as per the Prodoc requirement.




Tag: Project and Programme management Coordination

7.

Project Steering Committee (PSC)

The Prodoc (p65) stated that 'the MWCT will nominate a high-level government official who will serve as its representative on the PSC and that the MWCT representative will chair the PSC. The Local Project Appraisal Committee (LPAC, April 2010)15 – called for the IA (UNDP) project manager to delineate the roles of the executive, supplier and beneficiary. This meant that the membership, roles and responsibilities of the PSC should have been finalized, recorded, and distributed to interested parties. Evidence of this was not provided by the IA. [UNDP and WCS attended this meeting, but not MWCT] Thus, there was no formal establishment of the PSC or their roles, which would have helped in directing a mutually beneficial relationship between the three parties – UNDP, WCS and MWCT. In practice, the PSC was never given a mandate and acted as an ad hoc group with fluctuating membership.




Tag: Implementation Modality Oversight Project and Programme management

8.

Nov 2012 PSC Meeting

In 5 ½ years, there was only one annual PSC meeting (Nov 2012), and that was 1 ½ years after the start of the project. The meeting was to review Year 1 spending (assumed to be June 2011-end 2012) and endorse the 'Year 2' workplan & budget (Years 1 ½ to 2 ½ covering the Year 2013) for US$1,004,30016. There was no partner endorsement mentioned in the minutes. [Attendance: UNDP 5, MWCT 11, WCS 7, other 9]

Follow-up Coordination meetings

March 2013 – The three NPs mentioned; no mention of Zeraf GR. [UNDP 3, MWCT 7, WCS 6, other 1]
May 2013 - SNP - Community Engagement - Socio-economic surveys and awareness raising activities completed in/around the borders of SNP17 ; Estimated that nearly 3,000 people reached, including community leaders, local politicians, and wildlife forces [UNDP 4, MWCT 7, WCS 5, other 1]
Aug 2013 – no comments by UNDP recorded [UNDP 3, MWCT 6, WCS 4, other 5]

That was it. There was one PSC meeting after 17 months and three lessor coordination meetings in the following three quarters. Thus, there was no oversight for the first 17 months of the project, then oversight for 10 months, then again, no PSC oversight for the following 40 months. It appears clear that the PSC functioned inadequately with weak leadership. Even when the MWCT split, the Ministry of Interior & Wildlife Conservation continued with the wildlife conservation mandate, with the same undersecretary, director generals and departments, thus this should not have been an impediment18.




Tag: Implementation Modality Oversight Project and Programme management Country Government UNDP Management UNDP management

9.

UNDP Coordination in context
In 2013, UNDP was re-organised from three operating units, down to two with the project coming under the new remit of the Human Development & Inclusive Growth Unit (HDIGU). The restructuring also meant that, whereas the project had previously had a dedicated project manager (who left to join UNEP in February 2014), it became more so, one of a number of portfolio projects, to be managed more generally within the new unit. The new unit manager was also assigned programmatic duties19. Added to this in July 2015, the re-organisation replaced international with national unit team leaders, who were to be aided by Advisors - the former international team leader in this instance.




Tag: Project and Programme management UNDP Management UNDP management Coordination

10.

In December 2013 civil conflict broke out20. The political situation after this, meant that UN staff operations were partly restricted to Programme Critical 1 and 2 (Life-saving programs and operations) movement only (UN Grey Alert). However, the IP was not under the same restriction, especially its local CSO partners in the field. From this point onwards, there was also a reluctance by international NGOs to engage with government, however conversely the UNDP mandate was to engage with government21. This should have been identified by the project leaders (IA and IP) as an opportunity to develop a strategy whereby UNDP could engage with the MWCT on behalf of the IP, and the IP to formulate 'safe' field operations with their CSOs. However, PSC or other meetings with MWCT and partners were not held in this fashion.




Tag: Implementation Modality Strategic Positioning Country Government UNDP Management UNDP management Conflict

11.

There were also a number of other factors which contributed to stifle project PSC annual reviewing, planning, and 'approval'22 of mutually agreed activities. UNDP could have stepped in to coordinate and manage these PSC meetings from 2014 onwards (i.e. annual PSC meetings for end 2013, end 2014, end 2015, and end 2016), which was needed. (see also Annex 12) UNDP themselves were partly compromised during the early – mid part of this period23 in being a GEF-6 PA project IA candidate (along with UNEP), and MWCT as a possible NIM24 partner (or WCS as the IP again). Due to weak management, UNDP (and the IP) failed to separate out this distraction, especially the in-fighting between MWCT and WCS concerning implementation (funding) control of this proposed GEF-6 project. There are a number of reports (including the GEF UNDP MTR) that relate to WCS's struggling relationship with MWCT from 2014 onwards. A working environment instilled by UNDP as the overall project controller was not put in place. Indeed, support from GEF itself could perhaps have been better utilized.




Tag: Global Environment Facility fund Project and Programme management UNDP Management UNDP management Coordination

12.

Execution Agency / Implementing Partner operational management & support to MWCT / other stakeholders The IP (WCS) agreement with their supporting partner (MWCT) was based on: the GEF project letter of endorsement from the Ministry of Environment, Wildlife Conservation & Tourism (June 2008); and WCS's long-standing MoU with the government (2007), which outlined the relationship of the two parties. However, obviously missing, was an actual WCS cooperation agreement with MWCT for the PAN project to detail the working relationship and the individual roles and responsibilities. The lack of a mandated PSC compounded this problem. For example, MWCT – did not fully understand their role, which was compounded by staff changes and added expectations to manage the budget.




Tag: Challenges Partnership Project and Programme management Coordination

13.

Due to conflict in December 2013, and upon the request of USAID, the IP developed a Crisis Action Plan25. It indicated that WCS would be reserved in its engagement with government ('the extent to which we can workwith government at the central and state levels will depend on the evolving situation and we will adaptively adjust activity planning accordingly'). Most of the communication between USAID and WCS on this aspect of program engagement was verbal. However, from July 2016, the 'do-not-engage with central government' instruction became more explicit. This 'directive' (from USAID as a major funder of WCS and co-financer of the GEF project and with which WCS agreed) had its impact on WCS program implementation. However, although the directive did not apply to the GEF project, it obviously swayed engagement. During this middle period of the project, there were also many senior ministry staff and advisors with differing views and alliances, which resulted in a lack of beneficial decisions for the project being made. At the time of, and according to, the MTR, the SSWS was a troubled organisation, split into ethnic factions, with jealousies, xenophobia, and corruption linked to the conflict situation. In this situation, the IP opted to work with a smaller selection of SSWS / stakeholders, however this alienated others within SSWS, resulting in a lower impact of activities in the field.




Tag: Communication Implementation Modality Project and Programme management Country Government Conflict

14.

From the MCWT point of view

The project severely lacked a working 'collaborative management' method. There were few 'checks and balances' by UNDP, and the project had no working system of accountability.
Partly, due to the WCS historical way of working at top ministerial government levels only, the project suffered from a lack of inclusion of appropriate MWCT technical staff in communications, decisionmaking and capacity building.
The time taken to prepare park management plans by the IP was too long and more support from the MWCT should have been requested. For comparison, Nimule NP management plan was prepared by MWCT in three months. MWCT has technical capacity with a reported >50% of technical staff holding tertiary education qualifications




Tag: Challenges Rule of law Human and Financial resources Project and Programme management

15.

Operational Management in Summary

Overall, constructive engagement between the key project stakeholders (UNDP, WCS and MWCT) broke down early in the project, partly due to a lack of management oversight by UNDP and their lack of control of their IP. The circumstances could be listed as: UNDP restructuring leading to a lack of active responsibility, especially from 2014 onwards; a poor WCS-MWCT relationship that developed; ministerial changes, which affected the IP's method of working at this level; and civil unrest. Efforts to finalise the project since mid-2015 have been better, with the MTR (Dec 2015) and TE (November 2017), and an expected final PSC meeting end 2017 and closure report in early 2018.




Tag: Challenges Oversight Project and Programme management Country Government UNDP Management UNDP management

16.

3.2.2 Partnership Arrangements & Stakeholder Engagement

The partnership arrangement between UNDP, WCS and MWCT was difficult. The partnership arrangement of WCS working directly with SSWS was good, however missing the MWCT 'line of control' at PA Directorate level alienated MWCT. The partnership of the IP working with the SSWS in Juba with the dog sniffer team has been successful. The IP work with four CSOs, described as partnerships, who are sub-contractors (sub-grantees) to the IP. The partnerships that have worked are the CCSPs at five or six locations in BNP and BaNP. These have been supported by the CSOs:

Community Empowerment for Progress Organization (CEPO) in western Badingilo, Gemeiza/Mangalla and Lirya
Peace & Development Collaborative Organization (PDCO) eastern Badingilo (Lafon)
Anyuak Recovery Trust (ART) in Pochalla, Boma
Open Source Development Initiative (OSDI) in Nyat/Boma

These local CSOs were tasked with improving local livelihoods around the PAs thus reducing dependence on hunting. The project also contributed to capacity building of these CSOs. The training report indicates CSO training delivery as follows: ART in December 2013; CEPO, ART & PDCO being trained by WCS in March 2015; and OSDI in November 2016. Thus, the role of the CSOs should have been built into the project design and implementation much more at a much earlier stage. The project failed to initiate livelihood work (with or without a CSO) in SNP. The full list of stakeholder parties is described in Annex 9.




Tag: Challenges Implementation Modality Partnership Jobs and Livelihoods Capacity Building

17.

3.2.3 Finance & Co-finance

Finance

The IP did not breakdown the GEF Trust Fund budgets beyond the Outcome levels per year. UNDP project budgets are usually divided down to output level. The GEF funds have been accounted for, with audits undertaken. Invoicing was in the same format according to accounting codes (international or local consultants, contractual services, travel, supplies, miscellaneous, training workshop, & conferences). Thus, the tracking of outputs by spending in order to gauge the level of activity / input was not possible. The breakdown of planned and actual expenditures by year is provided in Annex 4.




Tag: Global Environment Facility fund Government Cost-sharing Human and Financial resources

18.

Due Diligence - Audit Reports

Audit 2011 – no findings noted; Audit 2012-14 (3 years) – within budget spending limits.
Audit 2016 (End of Project) – single source procurements were used is some instances, such as for the purchase and training for the sniffer dogs from Europe. This additionally concerns the remaining project assets valued at US$0.74m yet to be handed over to UNDP (non-compliance of Article 7 of the PCA). (see also Annex 12)26.




Tag: Human and Financial resources Monitoring and Evaluation Procurement

19.

Co-financing

Minutes of LPAC Meeting (April 2010) indicated: 'There is no duplication with the USAID funded areas, with all activities being complimentary. The USAID funding targets Boma, Badingilo and Zeraf. It does not cover capacity development at central level'. USAID co-financing was accounted for under USAID reporting systems, which has meant that there has been no accountability for possible double funding, bearing in mind many of the activities for the two projects (BJL and PAN projects) are the very similar to say the least. Only WCS's internal monitoring, accounting and reporting would be able to determine the level of separation and donor value for money. Accounting of these co-financed funds managed by the IP have not been provided to the TE team.

The MCWT reported that project NP ranger / staff salaries were paid throughout the project period. However, the government contribution US$1m was not properly discussed by the project proposer (WCS) at the design stage, thus apart from standard staff salaries, there was zero government funds available to support the project. The MWCT Co-financing letter (prodoc p76) confirms the $1m in-kind support via staff salaries. The co-financing is presented as Annex 3.




Tag: Government Cost-sharing Human and Financial resources

20.

3.2.4 M&E Systems – Design & Implementation

M&E Systems – Design & Implementation

Overall quality of M&E – Moderately Satisfactory

The main M&E method was to approve annual workplans and budgets and to scrutinize / endorse spending from the previous year. This was to be the main role of the PSC, even if the final approval of plans lay with UNDP's own agreement with government (Ministry of Finance). However, the PSC only functioned as an ad hoc group with floating membership. The main M&E methods for the IP and IA, were annual report and PIR report (which ran mid to mid-year) respectively which were primarily written as narratives. Tracking the progress of indicators against targets was not effective.




Tag: Monitoring and Evaluation Programme/Project Design

21.

Project M&E systems

The MTR (2015) reported that UNDP should have been more pro-active in monitoring the project, especially after December 2013 / early 2014. UNDP's response was that due to restructuring, less time and no funds were available to undertake this task. Despite this and the 'country-in-conflict' situation, UNDP had a contractual obligation to GEF to manage and monitor the project. The partner MWCT and their SSWS, have been passive in their engagement with the project since July 2013 (due to conflict, political upheaval and disagreement with the IP) and as a result have not fulfilled their monitoring role. UNDP did not establish a centralised project management filing system for the project.

The project M&E systems (available to UNDP) did not include at a minimum - spreadsheets to cumulatively show the project stage of implementation against the target indicators, nor for example:

training courses by type (for officials, local stakeholders for conservation or for livelihood activities); number of participants at trainings disaggregated by gender
beneficiaries from project interventions at national and local / PA level
status of CCSPs
budgeting and spending down to Output, not just Outcome level




Tag: Challenges Human and Financial resources Monitoring and Evaluation UNDP Management UNDP management

22.

MTR/TE

The MTR was late (December 2015), so was undertaken 4 ½ years into a 5 ½ year project. The management response should have been uploaded to UNDP evaluation office corporate system, but was not prepared until the TE in November 2017, 1 year after the MTR and has not been seen by the TE. The TE was conducted 1 year after end of the project, or 6 ½ years from project start. The final PSC meeting should be 3 months after the TE, but has been undertaken before this TE report.




Tag: Implementation Modality Monitoring and Evaluation Project and Programme management

23.

Tracking Tools and Scorecards

The METT baseline was undertaken in November 2009 with an interim scoring near project end in November 2016 and again soon after project completion in March 2017. The basic results are reported in section 3.3.1 – Overall Result – Achievement of Objective. They are also located within Annex 1. The UNDP capacity and financial scorecards are also reported there.




Tag: Monitoring and Evaluation Results-Based Management

24.

Complementary aspects of M&E systems under GEF-4 UNDP PAN project and USAID BJLP

WCS ran a parallel M&E reporting system, answering to both the USAID Boma Jonglei Landscape Project (BJLP) and to this GEF-4 PAN project which included the BJLP as part of its complementary funding27. For USAID, WCS produced a Performance Monitoring Plan (35pp) – 2009-11 and extended in 2012. Part of the BJLP Annual reports contained a M&E section – so for example the accumulated survey / patrol effort reported for 2017 is consistent with that reported for PAN. The CSOs working for the BJLP were the same as those working for PAN.




Tag: Global Environment Facility fund Monitoring and Evaluation

25.

USAID BJL Project - Performance Monitoring Plan indicators:

Three key indicators with defined targets:

No. hectares in areas of biological significance under improved management
Number of people with increased economic benefits derived from sustainable natural resource management and conservation
Number of km. patrolled (+ catch per unit effort & encounter rate) by wildlife forces and hours coverage by aerial patrols (custom)

From 2017, three further indicators were employed:

Number of people trained in sustainable natural resources management and/or biodiversity conservation
Number of laws, policies, or regulations that address biodiversity conservation and/or other environmental themes officially proposed, adopted, or implemented
Number of people that apply improved conservation law enforcement practices

Data on the above indicators has been collected and reported to both USAID and UNDP as needed




Tag: Monitoring and Evaluation Results-Based Management

26.

3.2.5 Adaptive Management (Work planning, Reporting & Communications)

Work planning

Workplans and budgets were prepared for: 2012 (which included the latter half of 2011), 2013 (the only plan provided to the TE which shows Ministry of Finance endorsement), 2014, 2015, and 2016. The involvement of MWCT for discussion and management of the previous years' activities and spending in each case appears to have been minimal.




Tag: Implementation Modality Project and Programme management

27.

Reporting

Annual Reports

WCS produced annual reports (2014-16 were accessed by the TE), which provided sufficient detail from the IP point of view, however the critical oversight on these reports appeared minimal. The main problem with the annual reports and virtually all other project reports is that the political and civil unrest dialogue is intertwined with the project activities narrative. This has made separation and distilling out of the project achievements time consuming and difficult for the TE team. The 2016 annual report was taken by the TE as one of the main project reports that provided detail for the achievement against indicators, as the IP final report is only a summary report. The usual format for UNDP would be to produce standard Atlas-format Annual Progress Review Reports (APRs), however only the 2012 APR in Excel format was identified.




Tag: Challenges Implementation Modality Oversight Project and Programme management

28.

Project Implementation Reviews (PIRs)

NDP reporting was focused on PIRs (prepared by the IP & IA). They covered the periods: to June 2011-12, June 2012-13, June 2013-14, June 2014-15, June 2015-16, and June 2017 (cumulative)28. Two PIRs are highlighted in the context of the changing political and civil situation during the project.

Pre-initial civil unrest - For the PIR June 2013-14, which effectively covered the first three years of the project, the UNDP responsible programme officer and advisor, rated the project as 'Satisfactory'. Mainly PA site-based activities are reported. It included comments on adaptive management being undertaken in the form of the IP 'Crisis Response Plan' formulated as a reaction to the outbreak of civil unrest in December 2013. GEF funds spent to-date were reported at US$2,331,267 (61% of the total US$3,820,000) by end of project Year 3, with one year to go at the time.
Intermittent civil unrest - For the final PIR June 2017 (which includes the cumulative status as well as the previous period June 2015-16), the report intertwines PA site activities with political and civil unrest issues. The general ledger of expenditures reported GEF cumulative disbursement (30 June 2017) to be US$3,790,714 (99%). UNDP again rated the project as 'Satisfactory'.

The PIR contents were largely prepared by the IP and so tended to report all their individual activities in detail, but as with most of the project reports, they don't follow very closely the actual progress against the project indicators in proportional targeted terms.




Tag: Implementation Modality Oversight Project and Programme management Conflict Social cohesion

29.

Parallel reporting structures

GEF and UNDP have somewhat overlapping reporting structures (UNDP APRs and PIRs; GEF or UNDP Tracking Tools; and GEF MTR and TE.
WCS have also been reporting to USAID (USAID Sudan - Conservation of Biodiversity Across the Boma- Jonglei Landscape of Southern Sudan - Performance Monitoring Plan, March 2009)




Tag: Monitoring and Evaluation Project and Programme management

30.

Communications

Communications between the IA, the IP and the government partner MWCT have been limited. This is not only due to the security situation since December 2013, changes in government and UNDP management change, but also due to the poor relationship of the IP with their government partner. (see also Annex 12)




Tag: Challenges Communication Country Government UNDP Management UNDP management

31.

3.3. Project Results

The TE analysis was undertaken at three levels of the project results framework - Objective, Outcome and Output. This was guided by the indicators and targets set at each level. Success is also built upon achievement of the Outputs, according to 'framework logic.' The Objective and Outcome levels include a rating according to UNDP GEF guidance as described in section 1.5. The IP provided two tables:

Progress towards Objective and Outcomes (Indicator-based) which is described in Annex 1, and
Progress towards Outputs which is described in Annex 2

According to TE guidance, these tables are rated and commented on. Further text is now detailed.




Tag: Monitoring and Evaluation Results-Based Management

32.

3.3.1 Overall Result – Achievement of Objective

Objective at the Objective Indicator Level (Overall Result)

Objective: Secure the foundation for biodiversity conservation in the post conflict development of South Sudan through enhanced management effectiveness of the PA estate

TE Rating: Moderately Satisfactory

Justification: There were moderate shortcomings. The project is expected or has achieved most of its relevant objectives but with moderate / significant shortcomings. The main shortcoming is considered the lack of capacity development (working in close partnership with all levels of government wildlife offices), despite improved management of the PA estate. Whilst a number of the indicators at Outcome level do lead towards attaining the project objective, many deliverables remain unapproved by the government partners (e.g. wildlife law and two management plans produced by the project). There were four indicators at objective level




Tag: Challenges Effectiveness Capacity Building

33.

PA network coverage (ha) and PA area under improved management

Total PA coverage remained at 8.5 million hectares (m ha), with an estimated six million ha under improved management (2.5 m ha in BNP, 2 m ha in BaNP, and 1.5 m ha in SNP). However, the project design did not qualify what 'improved management' meant. The TE thus assessed 'improved management' on a scale of 1- 5: with 1 indicating same as before, or without the project; 2 indicating some improvement in conservation management; 3 indicating a moderate improvement in conservation management having some impact; 4 indicating good improvement in conservation management having noticeable impact; and 5 indicating strong improvement in conservation management having strong impact. Views according to this scale were garnered from interviewees and recorded below in brackets

Overall MWCT (3-4) – citing infrastructure, vehicles and successful K9 unit; MWCT (2) – park infrastructure limited to offices without accommodation; MCWT / CITES office (3); UNEP (4 for 1st two years)
BNP Senior government official (2-3) - management issues due to re-definement of administrative boundaries, payment of county rangers, civil unrest, and sheer logistical challenge. Reports indicate only very low-level control of hunting and livestock
BaNP CSO (4-5 before Dec 2013, 4 now). Reports indicate reduced hunting, improved livelihoods, improved local security
SNP Senior park staff (4) – project continued despite outbreak of civil conflict end-2013. Reports indicate a level of hunting and livestock control
Other PAs – Lantoto and Shambe NPs were partially supported (e.g. wildlife survey) instead of Zeraf Game Reserve

Six million ha out of a very substantial target of 8.9 m ha were put under improved management, representing 68% achievement. Thus, the objective was partially achieved. These responses indicate a fairly positive picture in the project attaining its overall objective.




Tag: Effectiveness Institutional Strengthening

34.

Financial Sustainability for PAs

A UNDP scorecard. From a base of 5%, and with a target of >20%, the project reported 8% indicating that financial sustainability has not been attained.




Tag: Sustainability Human and Financial resources Sustainability

35.

Capacity development for PAs

Based on the UNDP Scorecard:

The scores indicate that institutional and individual capacity was not sufficiently developed by the project. One of the opportunities missed in the first two years was developing, the two management plans for BaNP and BNP and the strategy for SNP, as collaborative working plans, and to implement them from the beginning of 2014-2016 (i.e. in the last 3 years). The un-realised or proposed investment aspects of these plans could have been separated out. Systemic capacity was built in terms of the approved wildlife and tourism policies and the draft wildlife and tourism laws, although the scoring doesn't reflect this. It was also built in terms of wildlife law enforcement techniques and anti-trafficking measures.




Tag: Capacity Building Institutional Strengthening

36.

GEF Management Effectiveness Tracking Tool (METT) for four key PAs

The METT indicates a moderate improvement in management effectiveness, but below target29. These METT results are in accordance with the UNDP Capacity scorecard, in terms of change.




Tag: Effectiveness Project and Programme management Technology

37.

3.3.2 Effectiveness – Achievement of Outcomes 1-3

Effectiveness - Outcome 1 at the Outcome Indicator Level

Outcome 1: Capacity building for PA management improved

The overall TE rating for these four indicators is Moderately Satisfactory

Justification: The four indicators are individually graded:

Encroachment of PA estate reduced – Moderately Satisfactory
PA Network strategic plan adopted & implemented – Moderately Satisfactory
Policy regulations for PA network – Moderately Satisfactory
Staff competencies / skills matching position – Moderately Satisfactory




Tag: Effectiveness Capacity Building

38.

PA Network strategic plan adopted & implemented

(Baseline - No plan; Target - Plan adopted and in place)

In 2015, the government produced a 'Three Year Strategic Workplan for Wildlife Conservation 2015-18' (SSWS, 31pp). It has ten objectives30 and contains ten strategic programs each with their own activities, objectives and indicators. The IP produced a 3-page concept note and outline table of contents, but it was not taken further. This document should have been seen as a priority (in place as the 2nd task in the logframe) in building the IP relationship with MWCT in pursuit of achievement of the project objective (enhanced management of the PA estate) and this 1st Outcome – Capacity building for PA management. However, WCS did indeed have a strategic conservation plan (as outlined in a powerpoint presentation, June 2017) called - 'Strategic Approach of Program to Conflict Mitigation, Conservation, and Natural Resource Management', but unfortunately this was not translocated into a meaningful collaborative document with MWCT (see Annex 12 for a list of the 13 objectives). Reported achievement by the IP included: inclusion of PA boundary map into the of state mining portal cadastral map section; and PA network (with extensions and proposed new PAs) presented to the UNEP World Database of PAs31. Whilst these actions are indeed building blocks, they were not translated as part of a coherent strategy that MWCT could understand. For example, there is no mention of PA extensions in the ministry strategy, indicating the gulf in understanding. It is a pity that the IP and their government partner could not work together. In deed it raises clear questions with regard to the management control of the GEF- 6 conservation project32.




Tag: Natural Resouce management Site Conservation / Preservation Strategic Positioning Capacity Building

39.

Policy regulations for PA network

The two policies that were drafted pre-project have been adopted by government. The two laws have been designed / re-drafted, but not adopted by government, despite being presented to Ministry of Justice over two years ago. The IP should have utilised UNDP support to push these bills through to the Council of Ministers (see also recommendations).




Tag: Justice system Advocacy Policy Advisory

40.

Staff competencies / skills matching position / job description

Baseline <5%; Target >25%. No figure for achievement was provided, however this was a large task if you consider the staffing of four PAs and a number of key central level staff required training and matching to new job descriptions. The project training plan was not fully integrated with the MWCT training plan. A number of PA staff training courses were undertaken with the details in Annex 5. These include courses for national level and PA site level staff. The reported types of training included: SSWS staff training in management planning; wildlife contraband identification, intelligence gathering & legal processes; aerial surveys; ivory store management and ivory inventory; and sniffer dog handling and operations.




Tag: Human and Financial resources Capacity Building

41.

Outcome 2: Site management of four PAs strengthened (seven indicators)

Levels of illegal hunting of important wildlife species in target PAs

(Baseline - Significant commercial poaching occurring in each of the four PAs; Target - Poaching levels reduced by 50% for key and endangered wildlife species below baseline levels at project start) Illegal hunting in BNP has not stopped. In BaNP, it has been reduced, and in SNP it has been reduced through patrol and awareness. Reported achievement included: strengthened monitoring and law enforcement capacity of the SSWS in four PAs; extension of intelligence networks with collection and analysis of intelligence data, leading to legal processes. Such information should form part of a log or record of actions which should have been included in the M&E system.




Tag: Wildlife Conservation Monitoring and Evaluation Technology Capacity Building

42.

Management Plans & Strategies

(Baseline - Boma management plan in draft; Target – BNP and BaNP management plans adopted & being implemented; Zeraf and SNP preliminary management strategies adopted & being implemented) The project has produced a comprehensive 10-Year plan for BaNP (2nd draft), however the handover and local ownership of the plan has yet to be completed. The project has produced a 5-Year plan for BNP which is incomplete and lacks finalisation, handover and endorsement by the MCWT. For SNP, there is only a 16- page strategy, which falls short of expectation.




Tag: Natural Resouce management Ownership

43.

Boma and Badingilo NPs gazetted, with their boundaries demarcated. Zeraf GR extended

(Baseline - Boma boundaries proposed in early 1980s, Badingilo boundaries proposed in 1980s, No PA boundaries demarcated; Target - All PA boundaries demarcated, including Zeraf extension) Gazetted means 'recognized under statutory civil law' (IUCN definitions of PAs). Legal gazettement has not been completed; nor delineation nor demarcation of boundaries33. The BaNP boundary extension was discussed by the Council of ministers and the gazetting of this park is part of its management plan.




Tag: Natural Resouce management Rule of law

44.

Area patrolled by SSWS

(Baseline - Law enforcement monitoring (LEM) piloted in BNP; Target – LEM systems in place generating spatial and quantitative data (updated from Inception)) Patrols have served to document conservation threats based on the project-created LEM system. The patrol efforts were supported by the establishment, refurbishment and maintenance of PA infrastructures including wildlife headquarters, administrative units and ranger posts and the deployment of vehicles, GPS, cameras and communication equipment in the PAs and wildlife corridors. Patrol / survey effort is reported: 40,073 km by foot; 68,552 km by vehicle; & 285,612 km by air.




Tag: Natural Resouce management Wildlife Conservation Innovation Technology

45.

PA authority (SSWS) meetings with local stakeholders

(Baseline - occasional at Boma, None elsewhere; Target - coordination mechanisms established and meet regularly) The PA authorities in BNP, BaNP and SNP are located close to the local stakeholders (local authorities and communities) and interactions have taken place on a regular basis. However, the number of meetings held between the PA authorities (i.e. the SSWS park administrators and rangers) and stakeholders has not been logged by the IP in an accessible M&E format despite this being one of the areas that the IP has been active in.




Tag: Civic Engagement Communication Civil Societies and NGOs National Institutions Private Sector

46.

Community partnership agreements with PAs

(Baseline – 0; Target – 2)

The project has established six 'community conservation security partnerships (CCSPs)'. See also map – Annex 13, which shows the location of the CCCPs – existing and proposed.

The IP subcontracted four CSOs to undertake community conservation and livelihood activities. Reported achievement incudes: partnership activities in two PAs (BNP and BaNP) with four CBOs:

- Community Empowerment for Progress Organization (CEPO)
- western Badingilo - Peace and Development Collaborative Organization (PDCO)
- eastern Badingilo - Lafon - Anyuak Recovery Trust (ART) - in Pochalla, north-east Boma
- Open Source Development Initiative (OSDI) in Nyat, south-east Boma

Each of these four CSOs provided a short report of activities undertaken which included in some cases, activities cancelled due to civil unrest.
What is missing from these CSO agreements is the role of the PA authorities which is needed for sustainability. Even if product funds could not have been directly provided to PA staff, these agreements should have stipulated SSWS ranger involvement (which did occur) within the training or other aspects of these agreements.




Tag: Site Conservation / Preservation Partnership Social cohesion Jobs and Livelihoods Civil Societies and NGOs

47.

Pilot ecotourism projects established

(Baseline – 0; Target – 2)

Conservation tourism was largely not possible after the 1st 2 ½ years of the project. However, the project produced a technical report – tourism strategy (see Annex 5)




Tag: Site Conservation / Preservation Tourism

48.

Outcome 3: Sustainable financing for PAs (four indicators)

Sustainable financing options designed

(Baseline – 0; Target – 3)

The project partially explored sustainable financing, but many standard options such as eco-tourism were not considered viable. In terms of direct funding, there is the sister USAID Boma Jonglei Landscape Project, and the upcoming GEF-6 PA project for the Sudd & Nimule National Park. However, the direct method of preparing project proposals for/with other donors was not taken further. WCS has a long-term agreement with MWCT which could support WCS to leverage NGO development funds at least on the livelihood aspects of PA projects. Reported achievement of options included: Ecotourism (which was viable until civil conflict began), REDD+, ecosystem service payments and Climate Green Fund projects discussions. However, the TE feels the IP was on the wrong track here, and should have been working on:

- Complementary livelihood projects from development NGOs
- Conservation easements or mitigation payments from oil companies34




Tag: Ecosystem services Extractive Industries Site Conservation / Preservation Tourism Green Climate Fund Resource mobilization Business Model Jobs and Livelihoods

49.

Business plans developed for the PAs

(Baseline – 0; Target – 4)

The IP produced a National Tourism Strategy (88pp, 2015), which was adopted by MCWT, however practicalities and financing of the plan in the short term are uncertain35. Budgeting of the two management plans (MPs) has been undertaken for capital and operational costs. However, these MPs should have had actual-funded working operations, separated out from future proposed-funded operations (i.e. investment planning).




Tag: Tourism Business Model Strategic Positioning

50.

Operational budget for PA management

(Baseline - US$40m operational / capital; Target – Increased funding to PA management)

The government budget to the PA network since 2013 has significantly fallen due to lack of oil revenue and civil conflict. There was little evidence of a coherent project strategy for support to MWCT for PA management at central level.




Tag: Extractive Industries Human and Financial resources Conflict

51.

Private sector participating in partnerships

(Baseline – 0; Target - 2 groups)

Natural Resources Management Group (NRMG) - The NRMG is an ad hoc cross-sectoral / inter-ministry group without mandate. It stems from the USAID programme support and its' BJL project, but has largely existed intermittently without support since 2013, and with limited authority other than that which the NRMG members carry, as for example undersecretaries of the ministries. The link to the project was tenuous, apart from canvassing for environmental impact considerations to be taken into account where they concerned wildlife or the PA network. The NRMG played a role in stopping the road construction of the Gerikidi – Pibor road through Badingilo NP. The NRMG has become more active again in 2017. A wildlife - extractive industries conference held in 2017. Whilst the event occurred after the project, it brought together representatives of the oil and mining industries – state and private – together with conservationists. Equator Principles, standard International Finance Corporation (IFC) guidelines, and Environmental & Social Impact Assessments (ESIAs) were included on the agenda. The IP did not sufficiently institutionalise their links with the private sector.




Tag: Extractive Industries Natural Resouce management Partnership Private Sector

52.

3.3.3 Achievement of Outputs

The presentation here is based on Annex 2. This section provides further text.

Outcome 1 (Capacity building) at the Output Level (6 Outputs)

Systematic PAs conservation strategic plan developed for the management of the PA network

The reported achievement included: The IP has continued analyzing and collating information from GPS/tracking, aerial surveys, and socio-economic surveys to inform the country-wide PA network assessment. The assessment has been to:

Provide a synthesis of existing knowledge regarding the status of the most important biodiversity values, as well as the most serious threats to biodiversity
Identify the optimal distribution and design of the nation's PAs and wildlife corridors in order to, ensure the long-term conservation of the country's most important biodiversity values.

Whilst the TE has noted this, the expectation of the project design was that a 'strategic plan' would be developed first with the partners, so that everyone would be working in agreement over the following four years. Thus, the survey effort, collating of data and making of proposals for PA gazettement should have become component parts of the strategy.




Tag: Biodiversity Communication Partnership Strategic Positioning

53.

Policy and regulation framework based on selected IUCN categories developed

Of note, the IP reported – 'The production of the draft National Tourism Regulations means that the Directorate of Tourism has accomplished the development of drafts of its key policy and legislation documents (South Sudan Tourism Policy – approved in 2012; South Sudan Tourism Authority Bill – undergoing the 3rd review; National Tourism Regulations – awaiting approval). Once the Tourism legal frameworks become statute, they will create a foundation for the tourism industry through sustainable natural resource management.'

Procedures to safeguard local community rights, address and prevent potential displacement problems, and promote development of benefits for local communities most directly impacted by PAs

The project developed CCSP forum groups with the dual purpose of wildlife conservation and peace building.




Tag: Tourism Wildlife Conservation Rule of law Peace Building

54.

The project has worked with four CSOs. From 2011-13, the project focused more on conservation awarenesss agreements and training, working with two CSOs to begin with – ART in BNP and CEPO in BaNP. The training completion table provides more detail (Annex 5). Here the IP reports on CCSPs and livelihood activities for four pilot areas:

- Pochalla pilot area, Boma - In mid-2015, there was civil unrest that halted work of the CSO - Anyuak Recovery Trust (ART) in the implementation of CCSPs. In early 2016 discussions were held to begin to deliver CCSP activities, including the Livelihoods Small Grant Program (LSGP), however in March 2016 inter-communal violence broke out again. For the work that had been done, the women's group was acknowledged to have achieved better results than expected.
- Nyat pilot area, Boma - In March 2016, WCS formed an agreement with the CSO - Open Source Development Initiative (OSDI) 36 to implement the CCSPs in Boma. The purpose was to: conduct wildlife conservation and sustainable natural resource management, and form CCSPs; and support the implementation of BNP Management Plan37.
- Gemeiza/Bala Pools pilot area, Badingilo NP - In 2016, despite the insecurity along Juba – Bor road on the western boundary of Badingilo NP, the project continued to interact with the community leaders in Gemeiza and Mangalla, and the SPLA to coordinate project activities.
- Lafon pilot area, BaNP - In early 2016, the CSO PDCO and WCS were involved in gathering intelligence on poaching, wildlife trafficking, conflicts and insecurity. Activities later included conservation awareness, wildlife protection, CCSPs, and alternative livelihoods.




Tag: Natural Resouce management Site Conservation / Preservation Wildlife Conservation Awareness raising Capacity Building

55.

PA planning and monitoring unit created in the MWCT, staff trained, PA management planning criteria designed and piloted

There is no indication of a PA planning and monitoring unit being established within the MWCT. Training of staff is previously reported under the relevant Outcome 1 indicator. During 2016 in particular, in addition to staff / ministerial changes at national level, the project needed to adapt to a changing and volatile situation at the project sites:

- BNP - management planning sessions were held with park warden and deputy. Issues included: illegal gold mining; commercial charcoal production inside BNP; killing of elephant and ivory trafficking - by civilians, SPLA, Cobra faction soldiers and other armed groups; and deforestation.
- Management planning in Badingilo NP focused mainly on the western sector, particularly on law enforcement operations.
- SNP was affected by general insecurity, and management planning was reduced to a minimum.




Tag: Natural Resouce management Human and Financial resources Monitoring and Evaluation Institutional Strengthening

56.

Technical and institutional capacity of MWCT increased to manage and monitor the PA network

As an example - A 10-day training (April 2016) was organized to strengthen wildlife anti-trafficking initiatives and law enforcement monitoring by the park rangers. It also covered the legal requirements and processes related to wildlife crime.




Tag: Wildlife Conservation Capacity Building Institutional Strengthening

57.

MWCT communications strategy designed to promote PAs and wildlife conservation

The project developed a local awareness campaign, but on a limited scale. The IP focused more on a campaign at national & international level, with varying levels of collaboration with their partner MWCT. However, due to the security difficulties in the field, publishing extensive number of articles in the international arena could be seen as an example of adaptive management by the IP, especially post 2013.

Conservation Awareness Materials / Media presentations

SMS Text Messaging via Mobile networks - with project support, the MWCT began a nationwide monthly campaign messaging on wildlife conservation via mobile phone networks. All MTN and Vivacell network subscribers received the messages38
WCS South Sudan Facebook page (www.facebook.com/wcs.southsudan)
WCS twitter account @WCSSOUTHSUDAN to disseminate conservation messages and information
Eight posters regarding the conservation of wildlife, and illegality of wildlife trafficking – visibility with GEF logo
Twelve newsletters (March 2013-17)39 – visibility with the GEF logo
The last annual report of WCS lists over 100 media articles and presentations

Maps

The number of differing types of maps produced by WCS should be acknowledged, however the visibility of the GEF logo in comparison to the USAID logo is poor, which is simply down to the design of the respective logos.




Tag: Wildlife Conservation Communication Strategic Positioning Awareness raising

58.

Outcome 2 (PA Site Management) at the Output Level (7 Outputs)

PA management plans for BNP and BaNP, with management strategies developed for SNP and Zeraf

The output has a direct indicator and is therefore mainly reported in the previous section (Achievement of Outcome 2)

Badingilo National Park Management Plan - (BaNP MP) management plan was 'completed' in 2015 (i.e. it took 4 ½ years to prepare), but remains without presentation to local government. Also, due to the political fragmentation of administrative boundaries (2015) and civil unrest (2016), local consultations have not been conducted. In September 2016, the IP met with the MWCT technical committee for the BaNP MP who indicated their wish for the proposed extension to be adopted. WCS agreed, with a plan to conduct community consultations. The exact same discussion on delivering a local consultation was heard during the TE final workshop in November 2017 with the same conclusion that it should be done. Thus, there was one full year with no action taken on this, which unfortunately again has indicated a lack of close collaboration, and procrastination, especially where it involved the IP and its national partner, the MWCT working together.

BNP MP - has also undergone similar delays, latterly reported as due to a change in the MWCT Director of PAs & Wildlife (March 2016), however during the TE in November 2017, the Director of PAs (who had previously been working with the project as the MWCT Training Director), indicated that the plan had not even been submitted to him. TE believes that this also indicated a reluctance on behalf of the IP to constructively engage with the MWCT. (see management role of UNDP and recommendations section).




Tag: Natural Resouce management Challenges Project and Programme management Strategic Positioning

59.

PA and buffer zone boundaries assessed and participatory redefinition commenced, leading to Boma and Badingilo NPs and the extension of Zeraf Reserve being legally gazetted

An assessment of PAs boundaries was undertaken with extensions and changes proposed by a MWCT – WCS technical committee, however these proposals were not fully debated or communicated to the responsible government office within the MWCT. The verification process was halted due to MWCT / SSWS administrative constraints (not specified) and security issues in the field.




Tag: Implementation Modality Project and Programme management Security

60.

Basic infrastructure established for BNP, BaNP and SNP management and operations

New PA administrative facilities were built and new ranger stations were constructed. These include: 3 administrative headquarters; 4 ranger posts; 2 garage workshops; 1 standalone toilet block; and WCS infrastructure (1 administrative office; 2 storehouses; and a tent platform). Park roads have been constructed or rehabilitated. Two airstrips have been prepared (1 km each).




Tag: Infrastructure Operational Services

61.

Capacity and technical expertise of field-based PA management staff improved, work plans developed and implemented

An example of capacity building at BaNP - Operational planning included the deployment of rangers, improvement of Bala HQ and Gerikidi ranger post, and technical support from the IP for field operations including provision of patrol food rations, fuel for patrol vehicles, and maintenance of law enforcement vehicles. See training delivered – Annex 5.




Tag: Capacity Building Operational Services

62.

Stakeholder participation (local, State) and capacity increased to support PA management

National / Transboundary level

Wildlife Anti-trafficking strategy (WCS, 2015) - The K9 sniffer dog unit was part of the strategy to support SSWS. Logistical the requirements were put in place to acquire and maintain two dogs. The dogs arrived in January 2016 together with 2 expert trainers. During the selection process, 3 SSWS and 1 WCS staff were selected to undertake the specialized training with the dogs. The first phase of training for 6 weeks was held Jan-Feb 2016. In March 2016, the dog unit with full logistical support from the IP began work. There have also been prosecutions for Illegal wildlife hunting (e.g. SNP leopard, hippo and elephant).
Ivory Stock Management - In 2016, WCS and Stop Ivory continued to improve the database for management of confiscated wildlife items and the development of management manual. The database is running, although the procedural manual remains in draft.
Elephant Protection Initiative - In December 2016, South Sudan joined the initiative.
Transboundary collaboration - with DRC, Garamba National Park - In early 2016, communication and information exchange between SSWS / Lantoto NP and Garamba NP was reinforced as the poaching of elephants and other wildlife continued to be severe.




Tag: Wildlife Conservation Transborder Partnership Institutional Strengthening

63.

Local Communities

Conservation education and outreach has been undertaken in secure areas. The awareness has been conducted by: screening wildlife conservation documentary films produced by WCS and others; a comparison of wildlife conservation pictures from within / outside the country; and focus group discussions with communities in and around the PAs. The WCS staff and community mobilizers from the four CSOs (ART, CEPO, PDCO and OSDI) have received refresher training on delivering conservation messages through the video screenings, pictures and group discussions. The awareness has targeted the communities on the western and eastern boundaries of BaNP, and Boma areas (Nyat and Pochalla) due to: the high conservation importance of these areas; being in proximity to higher human population densities; and the prevalence of illegal bushmeat trade and trafficking in wildlife parts including ivory. E.g. In Nyat, three communities used to hunt, including two groups of livestock keepers but since SSWS have been confiscating guns (~7 times/ / year) and the project initiating LSGP activities (such as to create more livestock meat for market by supporting a butcher), the incidence of hunting has been reduced. In SNP, the threats included hunting with guns and wildlife crop damage from elephant and hippo. The challenges included: a lack of patrols and ranger stations; wildlife seasonally (end of rainy season) residing in north-east outside the park which still needs protection and a wildlife corridor to be developed. However, SNP have brought under control the seasonal / random movement of cattle, and reduced hunting inside the park. Hunting outside the park remains an issue, as cattle traders / raiders hunt wildlife for meat as opposed to slaughtering their own animals. In BNP, cattle control has been initiated around the park headquarters, however this only represents about 5% of the total cattle being herded in the park40 .




Tag: Site Conservation / Preservation Wildlife Conservation Communication Education Awareness raising

64.

Community based partnerships designed & piloted aiming at developing benefits / opportunities

Training Results (Beneficiary numbers)

For 2017, BJLP reports41 an accumulated 1,176 beneficiaries (378 W, 798 M) from livelihood activities and employment. The estimated multiplied value is considered six times this, with each direct beneficiary having an average of six members in their household. Thus 7,056 people are reported to have increased economic benefit derived from sustainable natural resource management and conservation. These figures (which do not include SNP or Lantoto where livelihood activities were not undertaken) should be taken as the GEF-4 PAN project beneficiary numbers42 . Similarly, the number of participants trained in sustainable natural resources management and/or biodiversity conservation is put at 1,181 (390 W, 791 M). The number of people that apply improved conservation law enforcement is reported as:

The number of rangers, or law enforcement agents who have gone patrolling and arrested wildlife law breakers, or seized guns, or wildlife products is 188
The number of community mobilizers, individuals, or members from our antipoaching/ anti-trafficking network who have reported incidences of poaching, trafficking, habitat destruction is 85




Tag: Site Conservation / Preservation Wildlife Conservation Civic Engagement Justice system Partnership

65.

Local Conservation & Community Development Training Delivered

During the project period 495 people were trained under the project (WCS Training Overview.xls). Concerning gender, of these only 25 (5%) were recorded as women. These 25 women were trained under CCSPs / LSGP in small scale poultry production in Lafon (19); in sustainable fishing / marketing cooperatives in Gemeiza, Mangalla & Lirya (4); and a 6-month training course at Mweka wildlife college in communitybased wildlife management (2). However, livelihood training post-project in 2017 (until end Sept. 2017) appears to have increased considerably with 702 participants trained including 238 (34%) women. These courses have primarily been undertaken by the four CBOs with the livelihoods trainings in this period presented below:




Tag: Site Conservation / Preservation Wildlife Conservation Gender Parity Jobs and Livelihoods Capacity Building

66.

CSO livelihoods delivery results

Badingilo

CEPO – Gemeiza/Mangalla - CEPO activities have continued to focus on supporting the fishing groups along the Nile River, on the western boundary of BaNP in Gemeiza and Mangalla payams for the communities to actively participate in conservation (- 22 drying racks, 5 boats, nets with support from UNIDO, cooperative fishing group). In addition, CEPO is developing the capacity of communities in Lirya on the southern part of BaNP on fish marketing. Seven saving and lending schemes have been established and have become sustainable.
PDCO – Lafon - Capacity building for beneficiary groups was launched in early 2016 in Lafon Administrative Area, BaNP. PDCO conducted a small-scale poultry farming training for identified LSGP groups with 43 direct beneficiaries (19 W, 24 M). Two hundred households have indirectly benefitted from poultry farming and are less nomadic. As a result, bushmeat is no longer on sale on the Juba road.
Peace-building activities in BaNP have also been important (e.g. two conflicting tribes given one boat to share), and together with the other livelihood activities along the river, security has generally improved.




Tag: Livestock Peace Building Capacity Building Operational Services

67.

Boma

ART – Pochalla - Despite the challenges, ART community mobilizers and leaders engaged on sensitizing the local communities on the importance of wildlife protection and conservation. Regular meetings have been held between ART leadership and the community leaders focused on monitoring wildlife and human security, monitoring of poaching and wildlife trafficking, and peace building amongst the Anyuak communities.
OSDI – Nyat - In early 2016 the main focus was to engage a new CSO called OSDI based in Boma to work with communities around BNP. OSDI has prepared for implementation of conservation compatible livelihoods activities in and around BNP. This is through the expansion of the LSGP to communities. The aim of LSGP is to address the issues of food insecurity in three communities. Saving and lending schemes have been created for four groups (cattle, crops, bead-making and honey). The cattle and goat group who are supported by a butcher and the crop group have stopped hunting. Fragmentation of political boundaries has however increased community tensions.

These more comprehensive rural development agreements with the CSOs were only witnessed by the TE for 2015-16. And whilst some activities (training and piloting) were initiated earlier in BNP with ART and BaNP with CEPO in 2013 (and reported in the annual 2014 report) the overall scale appears to be too little, too late to have a significant impact. Such work should have been implemented on a larger scale within the first 2.5 years of the project (2011-13).




Tag: Agriculture Food Security Wildlife Conservation Security Social cohesion Jobs and Livelihoods Micro-credit

68.

Proposals to mobilize community alternative livelihoods and sustainable development funding sources to benefit and enhance income generation for key communities living near and in PAs

The Livelihoods Small Grants Program (LSGP) engages local communities to identify and develop projects for realizing tangible benefits from conservation and sustainable natural resource management. In 2014, support for two CSOs (ART operating in Pochalla, northeast of BNP, and CEPO in Gemeiza/Mangalla, western BaNP) was begun. In early 2015, PDCO was selected to implement the LSGP in the Lafon area, eastern BaNP. In early 2016, the IP hired OSDI to implement livelihood projects in BNP.
In BNP, the project has supported livelihoods and livestock management as part of the Pibor Development Initiative and in and around the park headquarters.
The IP has explored various options for alternative livelihoods that are different from the traditional projects (food security via distribution of seeds and tools, fishing, pastoralism). These include: Gum Acacia in the Jonglei Acacia habitats in Ayod; Shea butter in Boma and Pochalla; Natural wild coffee on the Boma plateau; and Natural honey in SNP.




Tag: Natural Resouce management Site Conservation / Preservation Wildlife Conservation Small Grants Programme Jobs and Livelihoods

69.

Outcome 3 (Sustainable Financing) at the Output Level (4 Outputs)

There were four Outputs that directly matched the indicators under the Outcome 3, so they are only briefly reported here (see also previous section):

Assessment of sustainable financing mechanisms for PA network, with technical support from the WCS Sustainable Conservation Finance Department

Limited evidence of WCS New York headquarters' support

MWCT and GoSS capacity developed to access potential sustainable finance management for PAs developed based on financial options analysis

Only sustainable tourism options partially developed, however it is extremely common for most of the profits from tourism to not go towards either local livelihoods or conservation43
PA business plans developed: including guidelines developed, capacity built and systematized and preliminary business plans for 4 pilot sites. A missed opportunity here for the project to work with international NGOs in supporting local government in rural development planning processes (- being accessed by development / reconstruction NGOs / others to initiate internationally funded development activities in and around the project pilot PA sites

Dialogue with private sector extractive industry in relation to PA management, assessment of key threats / opportunities, and partnership potential outlined for the four PAs

Again, largely a missed opportunity here in creating a meaningful dialogue with oil or mining companies re. payments for conservation easements – the WCS head office financing department should have provided support. In fact, 2011-12, the IP held discussions with Total Oil company, but these were not taken further.




Tag: Extractive Industries Site Conservation / Preservation Tourism Wildlife Conservation Resource mobilization Partnership Private Sector

70.

3.3.4 Efficiency

Was the project implemented efficiently, in-line with international and national norms and standards? The TE guidance defines efficiency as 'the extent to which results have been delivered with the least costly resources possible.' The TE findings were generally that the IP focused heavily on gaining baseline biodiversity information for large mammals. This involved comparatively expensive spending on maintaining an aircraft and conducting aerial surveys (0.285 million km flown ~ flying from London to Sydney 17 times). The approved Prodoc did not envisage the high effort to conduct aerial surveys, apart from using such methods to re-confirm pre-project biodiversity numbers and to support boundary determination for the selected PAs44 . The project also had a more immediate focus on supporting rangers and stopping illegal wildlife hunting which should be considered as cost effective. However, sustainability often rests on creating institutional capacity and delivering the building blocks for these institutions to work with (e.g. new legislation, strategies and management plans), which was an area the project was only partially successful at. Lastly, working on integrated conservation and development – i.e. livelihoods improved in return for conservation support, only really started in 201445, which was rather late. There was a lack of explanation as to how the accounting for the GEF Trust Fund was separated from the accounting of the complimentary USAID funds (US$12.77m) 46 when project activities were largely alike.

Efficiency Rating – Moderately Unsatisfactory




Tag: Biodiversity Site Conservation / Preservation Wildlife Conservation Efficiency Jobs and Livelihoods Institutional Strengthening

71.

3.3.5 Relevance

The project was relevant to national environmental and developmental priorities and was in line with GEF biodiversity priorities for terrestrial ecosystems. The objective concerned laying the foundations for biodiversity conservation through the improved management of the PA estate, in a post-conflict situation. However, retrospectively it is clear that apart from 2011-13 (1st 2 ½ years), the conflict situation returned intermittently until project end in 2016 (the last 3 years). Thus, the project circumstances totally changed politically, and indeed had an impact on the all project partners (UNDP, the IP and the government counterpart). The partners and IP undertook activities that were still possible in context of civil unrest, and largely a collapse in governance and the economy. The IP who despite their best efforts, often just had to return to what they knew and could do best which was wildlife monitoring and working with rangers whenever possible. They also supported PA management, conservation awareness and local engagement of stakeholders, piloting CCSPs and livelihood interventions, anti-wildlife trafficking, and policy and legislation development.

Relevance Rating – Relevant




Tag: Biodiversity Site Conservation / Preservation Wildlife Conservation Relevance Global Environment Facility fund Partnership Jobs and Livelihoods Private Sector

72.

3.3.6 Country Ownership & Mainstreaming

Country Ownership

The country ownership of the project is questionable. Certain aspects or deliverables have been taken onboard by the MWCT / SSWS. The wildlife and tourism policies has been adopted, and their subsequent laws are expected to be promulgated. The two management plans need to be endorsed by MCWT as project deliverables. However, on the whole, the project remains a package of knowledge, closely held by the IP, not least due to the lack of capacity and institutional resources (computers, databases) at the MWCT.

Mainstreaming

Biodiversity mainstreaming often involves applying biodiversity conservation to cross-sectoral plans and regulations. Mainstreaming is actually only mentioned once in the Prodoc with respect to Land Use Planning regulations. The project has a mapping GIS database relating to conservation – which should be of use to national cadastral services and the extractive ministries. However, these maps need to be in the domain of the responsible national partner, once they have the resources to administer them 47 . The project mainstreamed biodiversity conservation into the draft tourism law (chapter 11 – wildlife conservation).




Tag: Biodiversity Natural Resouce management Site Conservation / Preservation Tourism Wildlife Conservation Rule of law Ownership

73.

4. SUSTAINABILITY

Sustainability: According to the four GEF risk categories (financial, socio-economic, institutional & governance, and environmental), present status and the future

Rating: Moderately Unlikely

Justification: There are significant risks, but due to progress made by the IP, the building blocks are being put in place, even if the country ownership is still lacking. It also depends on the recommendations of the TE taken-up, otherwise the risk would be considered severe.

The Atlas risk and the Risk log tables outline the risks (see section 3.1 project design). The future is largely unknown due to on-going political instability and civil conflict. Many of the advances made by the project are not sustainable without further donor funds.




Tag: Sustainability Ownership Conflict Social cohesion

74.

4.1. Financial Risks to Sustainability

South Sudan is in financial dire straits. National funds are not present and there is an outstanding oil pipeline rental bill with annual arrears for 2015-16 estimated at US$291 million to pay Sudan48 . On-the-ground the IP reported: PA staff being paid 6 months in arrears (April/May salaries received in November); no state funds to visit PAs (fly-ins – paid by WCS); and limited mechanism to pay PA staff - WCS flies in salaries to project PAs. Hopefully, these are all short-term problems. Project Outcome 3 was designed to address financial sustainability, however practical avenues were largely not explored (leveraging development funds from international NGOs by for example using GEF funds as 'seed money', or leveraging conservation funds from extractive – oil and mining companies in the form of conservation easements – either 'wildlife managed rights of way' or significant payments for biodiversity offset alternatives if there were no mitigation options). The IP has supported the development of a GEF-6 biodiversity project. As an example of continuing donor funds for conservation, WCS reported during the TE mission that the US FWS is to provide US$0.3m (2017-19) for WCS to implement a project in SNP titled – 'Strengthening protection & PA management for the key elephant population in SNP'. This will ensure continuation of the work started under the GEF project and allow for its assets to continue running (vehicles, generator, HF radio) and infrastructure to be maintained and managed49 . The project also produced a National Tourism Strategy (2015), although the practicalities and financing of the plan in the short term remain uncertain. PA infrastructure planned by WCS includes seven further ranger stations, including one in the Shambe / Sudd region.




Tag: Sustainability Global Environment Facility fund Resource mobilization Human and Financial resources Risk Management

75.

4.2 Socio-economic Risks to Sustainability

The country is in a dire situation. The risk at present is donor fatigue with the high cost, high danger level, and under-funded humanitarian relief programme. Most donors are unable to move from conflict resolution and disaster relief to socio-economic recovery and development modes. The situation is six million people food-insecure, two million internally displaced, two million in camps in neighbouring countries according to OCHA50 . The sustainability and scale of impact of the CSOs was difficult to fully assess due to security limitations on the TE. Whilst the local schemes developed by the project have shown some promise, then need to be implemented on a more comprehensive scale by professional international development NGOs, with their own complimentary funding. This needs to be explored much more by the UN agencies. There is some continued activity such as with Farm Africa in BaNP.




Tag: Disaster Recovery Sustainability UN Agencies Conflict Conflict resolution

76.

4.3. Institutional Framework & Governance Risks to Sustainability

The overall objective and Outcome 1 of the project were focused on building institutional capacity and building the planning / legal framework for PA conservation. At present, MWCT is a restructured ministry (April 2016) in a temporary compound, and subject to the political – security turmoil with financial hardship in the country. MCWT are unable to govern their PA network. Communication remains largely via HF radio and without internet – email. What is required for future sustainability is for WCS to develop a much more mature professional working relationship to be fostered with MWCT, and accept the latter's frailty and failures, as well as the fact that ultimately conservation success will be down to national responsibility, motivation and political willpower. There remains a need for key conservation partners, such as WCS to continue work at a national strategic level and train others to teach the management work at the PA site level. For the latter as an example of institutionalising capacity, this could be developing the curricula with leaders of college conservation courses.




Tag: Sustainability Ownership Conflict Institutional Strengthening

77.

4.3. Environmental Risks to Sustainability

As USAID and WSC see a long-term future in South Sudan, and as WCS hold technical 'conservation keys', they will be able to unlock PA conservation programmes again when the conditions are suitable. Furthermore, WCS are involved in the next large-scale PA project (under GEF-6) and have a secure relationship with USAID as well as having their own conservation funds (from New York).

International support & complementary projects

National Biodiversity Planning to Support the implementation of the CBD 2011-20 Strategic Plan in South Sudan by development of the first National Biodiversity Strategy & Action Plan (NBSAP)

Is a 3-year GEF-5 Enabling Activity. The project form was prepared in 2013, but to be submitted to GEF early in 2018. The plan is expected to be in line with CBD's Aichi targets. The implementation arrangement is expected to be DIM – i.e. UNDP in cooperation with the MoEF, with MoEF to nominate a National Project Director to chair the PSC The proposal mentions collaboration and synergies with an 'environment cluster group' on an ad-hoc basis. The group is chaired by the MoEF (who also act as the Country GEF Focal Point), and UNDP acts as a Secretariat. Members include all development partners in the environment sector, including UNEP, FAO, World Bank, AfDB, USAID, JICA, DFID, EU, and relevant ministries (and will possibly be linked to the NRMG)

GEF-6 UNEP - Capacity Development in Reducing Illegal Wildlife Trade & Improving PA Management Effectiveness - Includes a WCS grant of US$2.45m, making them the largest cash 'donor'.

The IP final report focuses on gains made at local level:

SSWS staff skills (PA management, law-enforcement / anti-trafficking, community engagement, survey of wildlife populations and management. As highlighted in various IP reports is that these staff often get moved, thus the sustainability risk or issue was whether the training program (and materials / manuals produced) should have been better integrated with the national level wildlife training programme.
CSOs / communities' capacity in NRM and alternative livelihoods – Whilst the project made a belated start, the scale of livelihood options (despite socio-economic surveys being undertaken), was limited.
National level / CSOs & communities' capacity in to understand conservation – The efforts made in raising awareness are expected to be lasting, if institutional structures (county and local village leaders) and law enforcement (an active ranger service with judicial support) remain in place




Tag: Biodiversity Natural Resouce management Site Conservation / Preservation Wildlife Conservation Sustainability Programme Synergy Capacity Building Institutional Strengthening

78.

5. IMPACT & CATALYTIC EFFECT

Impact: According to the three GEF categories (Significant, Minimal or Negligible), present status and towards the future

Rating: Significant

Justification: The project has made a significant positive impact, with respect to understanding the baseline for wildlife conservation and developing some of the PA governance structures (wildlife law and demonstrated management at three parks).




Tag: Wildlife Conservation Impact Rule of law

79.

5.1. Impact

Measuring impact requires assessing the pathway from project outcomes to expected impacts51. The overall objective was an improved management effectiveness of the PA estate. The results and impacts were:

Improvement in ecological status

- Some improvement, but present conditions for PA strengthening are not good
- WCS reported the decline in wildlife numbers slowed down to near being stabilised (2011-13), but are since declining faster again due to conflict – (see Annex 5 - Aerial Surveys of Wildlife & Human Activity)

Reduction in stress on ecological systems

- In some instances, but traditional pastoralist systems disrupted with new groups with weapons. BNP – numbers of cattle rising
- Lack of coordinated planning for wildlife and PA protection, except for the project delivering practical interventions - PA infrastructure; supporting patrols and wildlife crime prosecutions

Overall the impact has been improved management of part of the PA estate.

The three Outcomes were: 1 - capacity built; 2 – management of four parks strengthened; 3 - sustainable financing options prepared. The expected impacts and results were:




Tag: Biodiversity Ecosystem based adaption Natural Resouce management Wildlife Conservation Impact

80.

Capacity Built

Regulatory and policy changes at regional, national and/or local levels

International / Regional Level

UNESCO Membership 2016 with a draft application for the Boma-Badingilo NPs to become a World Heritage Site
CITES observer status – project has supported the national representative to attend meetings
Horn of Africa Wildlife Law Enforcement Network supported
Interpol Wildlife Law Enforcement Agency supported
Transboundary links established (Cross African Parks Network in Garamba Park, Democratic Republic of the Congo – the project working with DRC in Lantoto; and links with Ethiopia on the border with the proposed extension of BNP to go to this border)

National Level

Wildlife Conservation & Protected Area Policy (2012)
Tourism Policy adopted (2012)
Wildlife Conservation & Protected Areas Law (draft, 2015) - remains with Ministry of Justice
Tourism Law (draft 2012)
National Tourism Strategy (2015) – Adopted by MCWT
Strategic Workplan for Wildlife Conservation (2015-18) – partner produced
National Strategy for Combatting Wildlife Trafficking (draft, 2015) - in technical report format
Law Enforcement Monitoring manual (draft 2016) - in technical report format
National Biodiversity Strategy Action Plan - supported

Local Level

6 Community Conservation Security Partnerships, with a further 5 planned52 Training Delivered – From 2007-17, the IP has trained 1,470 wildlife staff and other stakeholders in conservation techniques, CCSPs and integrated conservation & development actions (i.e. alternative livelihoods). The result has been: a legal framework for wildlife conservation established; and wildlife staff capacity built mainly at three parks; and local conservation partnerships developed in and around two national parks. The impact is that illegal hunting of wildlife has been significantly reduced from the baseline pre-project.




Tag: National Regional Local Governance Capacity Building Policy Advisory

81.

Management of four parks strengthened

The results included: infrastructure at three parks established; two management plans and one park strategy prepared; administrative and ranger patrol systems established at three parks. The impact has been to provide a strong demonstration of PA management for the future work of the MWCT and their SSWS.

Sustainable financing options

The result was mainly linked to funding for future conservation projects. The impact on a wide scale has been minimal.

Comment on Impact

The project's logic and intended impacts did not change, however many of the risks and assumptions dramatically changed, indeed new risks also arose, which in turn meant added new and changed assumptions. This meant that the scale of project operations was severely curtailed, however the IP continued to adapt and work through three years of periodic and intense civil unrest / conflict.




Tag: Natural Resouce management Impact Sustainability Human and Financial resources Conflict Institutional Strengthening

82.

5.2. Catalytic

Effect Scaling up

- The CCSPs are in a process of being scaled up from six partnerships to 11 partnerships. Further scaling up, to create a network should be considered as part of a future MWCT strategic plan.
Seven added ranger stations are planned to be built
The follow-on GEF-6 PA project is an example of scaling up
The K9 Sniffer Dog Unit became operational in March 2016 and could be scaled-up for Rumbek, Nimule, border etc, if funding was available for more dogs to be purchased, maintain and place them in operations.
There is a need to significantly scale up the alternative livelihood activities, but as with most scaling up activities, they need to be institutionalised.
There were no CCSP or livelihood activities in SNP – this park should be seen as a priority for this activities in the future in order to consolidate the work undertaken there. -
The project envisaged support to four PAs. Three PAs were actively supported, with some support to Lantoto NP, which now should be seen as a scaling up location

Replication (outside of the project)

- BNP and BaNP management plans could be used as template for Shambe, Lantoto NP and others, however future plans should separate out funded operational planning and activities from investment planning
The CCSPs could be replicated in other countries experiencing conflict

Demonstration

The project has provided a demonstration of improved management at three PAs, and a demonstration of a PA management plan with investment and operational costs.
The CCSPs are a strong demonstration of local collaboration on conservation and biodiversity protection
The project provides a demonstration to other NGO wildlife projects (e.g. FFI in the west of SNP and in some game reserves) -
The project has developed a survey / patrol methodology for foot, vehicle and by air. This is partly thanks to WCS who run their own Cesna aeroplanes. The patrols report using GPS/camera in BNP, BaNP, SNP and Lantoto NP, which allows for both wildlife counts and wildlife crime to be evidenced.
The project established a Law Enforcement Monitoring system, which included as a wildlife antitrafficking strategy, and a wildlife product sniffer dog unit.




Tag: Natural Resouce management Wildlife Conservation Sustainability Partnership Sustainability Jobs and Livelihoods Civil Societies and NGOs
Recommendations
1

Future projects require stronger leadership from the UN and from government partners. This means
in practical terms that PSCs should have a clear mandate with roles and responsibilities and that the
particular UN agency should take the lead in this, as well as in organising (and co-chairing) the PSC
meetings themselves.
1. Recommendation:

Future projects require stronger leadership from the UN and from government partners. This means
in practical terms that PSCs should have a clear mandate with roles and responsibilities and that the
particular UN agency should take the lead in this, as well as in organising (and co-chairing) the PSC
meetings themselves.
Management Response:
[Added: 2018/12/07]
[Last Updated: 2021/01/10]
UNDP will lead setting up of the project governance structure- project steering committee or project board that will ensure the provision of solid project oversight and guidance to project implementation
Key Actions:
Key Action

Responsible
DueDate
Status
Comments
Documents

Set up of project board, or project steering committe for new GEF supported projects implemented by UNDP.




[Added: 2018/12/07]

[Last Updated: 2021/08/06]

UNDP

2020/12

Completed

There is presently no ongoing GEF funded projects. However, UNDP is developing project proposals which are expected to generate resources around 2019/2020, but the CO didn't get the fund. So the recommendation is closed and it will opened again if the CO get fund from GEF.

History