Protected Area Network Management and Building Capacity in Post-Conflict South Sudan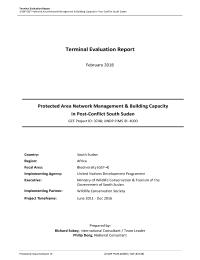 Evaluation Plan:

Evaluation Type:

Final Project

Planned End Date:

01/2018

Completion Date:

12/2018

Status:

Completed

Management Response:

Yes

Evaluation Budget(US $):

60,000
Title
Protected Area Network Management and Building Capacity in Post-Conflict South Sudan
Atlas Project Number:

00061441

Evaluation Plan:
2016-2018, South Sudan
Evaluation Type:
Final Project
Status:
Completed
Completion Date:
12/2018
Planned End Date:

01/2018

Management Response:
Yes

UNDP Signature Solution

:
Corporate Outcome and Output (UNDP Strategic Plan 2018-2021)

1. Output 1.4.1 Solutions scaled up for sustainable management of natural resources, including sustainable commodities and green and inclusive value chains

SDG Goal

Goal 13. Take urgent action to combat climate change and its impacts
Goal 15. Protect, restore and promote sustainable use of terrestrial ecosystems, sustainably manage forests, combat desertification, and halt and reverse land degradation and halt biodiversity loss

SDG Target

13.2 Integrate climate change measures into national policies, strategies and planning
15.1 By 2020, ensure the conservation, restoration and sustainable use of terrestrial and inland freshwater ecosystems and their services, in particular forests, wetlands, mountains and drylands, in line with obligations under international agreements

Evaluation Budget(US $):

60,000

Source of Funding:
GEF
Evaluation Expenditure(US $):

30,000

Joint Programme:
No
Joint Evaluation:

No

Evaluation Team members:

| Name | Title | Email | Nationality |
| --- | --- | --- | --- |
| Philip Deng | National Consultant | dengajang@yahoo.com | |

GEF Evaluation:

Yes

| | |
| --- | --- |
| GEF Project Title: | Protected Area Network Management & Building Capacity in Post-Conflict South Sudan |
| Evaluation Type: | Terminal Evaluation |
| Focal Area: | Biodiversity |
| Project Type: | FSP |
| GEF Phase: | GEF-4 |
| GEF Project ID: | 3748 |
| PIMS Number: | 4000 |

Key Stakeholders:
World Conservation Society, Ministry of Wildlife Conservation & Tourism of the Government of South Sudan
Countries:

SOUTH SUDAN

Comments:

Evaluation was succesfully completed in January 2018.
Lessons
1.

Lessons from and synergies with other projects

The project design was prepared by WCS with UNDP in-mind, with both having significant in-country experience. Synergies with other projects incorporated into the design included the 'USAID Boma Jonglei Landscape project'.



Findings
1.

Achievement:

Objective: Secure the foundation for biodiversity conservation in the post conflict development of South Sudan through enhanced management effectiveness of the PA estate

TE Rating: Moderately Satisfactory

Justification: There were moderate shortcomings. The project is expected or has achieved most of its relevant objectives but with moderate shortcomings. The project isn't going to achieve some of its key global environmental objectives.

The main shortcoming is considered the lack of capacity development (working in close partnership with all levels of government wildlife offices), despite improved management of the PA estate.

Whilst a number of the indicators at Outcome level do lead towards attaining the project objective, many remain unapproved by government partners (e.g. wildlife law and two PA management plans)

Outcome 1: Capacity building for PA management improved

The overall TE rating for these four indicators is Moderately Satisfactory

Justification: The four indicators are individually graded:

Encroachment of PA estate reduced – Moderately Satisfactory
PAs Strategic Plan adopted & implemented – Moderately Satisfactory
Policy regulations for PA network – Moderately Satisfactory

Staff competencies – Moderately Satisfactory

Outcome 2: Site management of four key PAs strengthened

The overall TE rating for these 7 indicators is: Moderately Satisfactory

Justification: There are seven indicators individually graded:

Illegal hunting of wildlife species - Satisfactory
Management Plans & Strategies – Moderately Satisfactory
Boma and Badingilo NPs gazetted - Unsatisfactory
Area patrolled by SSWS and the IP - Satisfactory
Engagement with local stakeholders – Moderately Unsatisfactory
Partnership agreements - Moderately Unsatisfactory

Pilot ecotourism projects established – Unsatisfactory

Outcome 3: Sustainable financing for PAs

The overall TE Rating for these 4 indicators is: Moderately Unsatisfactory

Justification: There are four indicators individually rated:

Sustainable financing mechanisms - Moderately Unsatisfactory
Business plans developed for the PAs - Moderately Unsatisfactory
Operational budget for PA management – Unsatisfactory

Private sector partnerships - Moderately Unsatisfactory



2.

Efficiency

The project heavily focused on gaining baseline biodiversity information for large mammals. This involved comparatively expensive spending on aerial surveys. The project document (Prodoc) did not envisage a high effort to do this, apart from to re-confirm pre-project biodiversity numbers and to support boundary determination for the selected PAs. Gazetting, extensions and boundaries were not considered as a priority on the government side.

The project had a more immediate focus on supporting rangers and stopping illegal wildlife hunting which should be considered as cost effective. However, sustainability often rests on creating institutional capacity and delivering the building blocks for these institutions to work with (e.g. new legislation, strategies and management plans), which was an area the project was only partially successful at. Lastly, working on integrated conservation and development – i.e. livelihoods improved in return for conservation support, only really started in 2014/15, which was too little too late.

There was a lack of explanation as to how the accounting for the GEF Trust Fund was separated from the accounting of the complimentary USAID funds (US$12.77m) when project activities were largely alike.

Efficiency Rating – Moderately Unsatisfactory



3.

Relevance:

The project was relevant to national environmental and developmental priorities and was in line with GEF biodiversity priorities for terrestrial ecosystems.

The objective concerned laying the foundations for biodiversity conservation through the improved management of the PA estate, in a post-conflict situation. Apart from 2011-13 (first 2 ½ years), the conflict situation returned intermittently through until project end in 2016 (the last 3 years). Thus, the project circumstances changed dramatically, and indeed had an impact on the IP who despite their best efforts, often just had to return to what they knew and could do best – wildlife survey and working with rangers whenever possible.

Relevance Rating – Relevant



4.

Implementation

Project Implementation: According to the given five categories (Implementing Agency - IA or Executive Agency - EA coordination & operational matters, partnership arrangements & stakeholder engagement, finance & co-finance, M&E systems (see next), and adaptive management (work planning, reporting & communications)

Overall Rating: Moderately Unsatisfactory

Justification: Implementation of most of the categories was not effective with both the IA and the Implementing Partner - IP exhibiting significant shortcomings in terms of coordination, operational management and engagement with the national partner. Planning and spending control was left to the IP without detailed accountability to the IA or the IP's supporting government partner



5.

M&E Systems – Design & Implementation

Overall quality of M&E - MS

The main M&E method was to approve annual workplans and budgets and to scrutinize / endorse spending from the previous year. This was to be the main role of the PSC, even if the final approval of plans lay with UNDP's own agreement with government (Ministry of Finance). However, the PSC only functioned as an ad hoc group with floating membership. The main M&E methods for the IP and IA, were annual report and PIR report (which ran mid to mid-year) respectively which were primarily written as narratives.

Tracking progress of indicators against targets was not effective. There were no standard percentage completed figures for example.

M&E at Design - MS

During the LPAC meeting to locally appraise the project (2010), the requirement to fully establish the PSC with roles and responsibilities was made, however, this was never achieved.

M&E Implementation - MS

The IP produced annual reports and the IA produced Project Implementation Reviews (PIRs



6.

Sustainability

Sustainability: According to the four GEF risk categories (financial, socio-economic, institutional & governance and environmental), present status, and towards the future is assessed.

Overall Rating: Moderately Unlikely

Justification: There are significant risks, but due to progress made by the IP, the building blocks are being put in place, even if the country ownership is still lacking. It also depends on the recommendations of the TE taken-up, otherwise the risk would be considered severe. The future is largely unknown due to on-going political instability and civil conflict. Many of the advances made by the project are not sustainable without further donor funds.

Financial Risks to Sustainability - MU

South Sudan is in financial dire straits. Project Outcome 3 was designed to address financial sustainability, however practical avenues were largely not explored (leveraging development funds from international NGOs by for example using GEF funds as 'seed money', or leveraging conservation funds from extractive – oil and mining companies in the form of conservation easements – either 'wildlife managed rights of way'). The IP has supported the development of a GEF-6 biodiversity project.

Socio-Economic Risks to Sustainability - MU

The country is in a dire situation. The risk at present is donor fatigue with the high cost, high danger level, and under-funded humanitarian relief programme. The donors are unable to move from conflict resolution and disaster relief (six million people food-insecure, two million internally displaced, two million in camps in neighbouring countries according to OCHA) to socio-economic recovery and development modes.

The sustainability and scale of impact of the CSOs was difficult to fully assess due to security limitations on the TE. Whilst the local schemes developed by the project have shown some promise, they need to be implemented on a more comprehensive scale by international development NGOs, with their own complimentary funding. This needs to be explored much more by the UN agencies.

Institutional Framework & Governance Risks to Sustainability -MU

The overall objective and Outcome 1 of the project were focused on building institutional capacity and building the planning / legal framework for PA conservation. At present, MWCT is a restructured ministry (April 2016) in a temporary compound, and subject to political turmoil, with financial and security hardships. MCWT are unable to govern their PA network. Field communication is often via HF radio and without internet – email in many instances.

For future sustainability, WCS need to develop a much better working relationship with MWCT, and accept the latter's frailty and failures, as well as the fact that ultimately conservation success will be down to national responsibility, motivation and political willpower. There remains a need for key conservation partners, such as WCS to continue work at a national strategic level and train others to teach the management work at the PA site level.

Environmental Risks to Sustainability - ML

As USAID and WSC see a long-term future in South Sudan, and WCS hold many of the technical 'conservation keys', they will be able to unlock the 'PA network building programme' again when the conditions are suitable. Furthermore, WCS are expected to implement part of the next large-scale PA project (under GEF-6). They have a secure relationship with USAID, as well as having their own conservation funds.



7.

Impact

Impact: According to the three GEF categories (Significant, Minimal or Negligible), present status and towards the future

Rating: Significant

Justification: The project has made a significant positive impact, with respect to understanding the baseline for wildlife conservation and developing some of the PA governance structures (wildlife law and demonstrated management at three parks).

The overall objective was an improved management effectiveness of the PA estate. The results and impacts were: Some improvement ecological status, but present conditions for PA strengthening are not good; WSC reported the decline in wildlife numbers slowed down to near being stabilised (2011-13), but are since declining faster again due to conflict; Reduction in stress on ecological systems - In some instances, but traditional pastoralist systems disrupted with new groups with weapons. For BNP, the numbers of cattle are rising.

PA infrastructure has been built. There have been supporting patrols and wildlife crime prosecutions. Overall the impact has been improved management of part of the PA estate.

The three Outcomes were: 1 - capacity built; 2 – management of four parks strengthened; 3 - sustainable financing options prepared. The expected impacts and results were:

Capacity Built - The result has been: a legal framework for wildlife conservation established; and wildlife staff capacity built mainly at three parks; and local conservation partnerships developed in two national parks. The impact is that illegal hunting of wildlife has been significantly reduced from the baseline pre-project.

Training Delivered – From 2007-17, the IP has trained 1,470 wildlife staff and other stakeholders in conservation techniques, community conservation security partnerships and integrated conservation & development actions (i.e. alternative livelihoods).

Management of four parks strengthened - The results included: infrastructure at three parks established; two management plans and one park strategy prepared; administrative and ranger patrol systems established at three parks. The impact has been to provide a strong demonstration of PA management for the future work of the MWCT and their SSWS.

Sustainable financing options - The result was mainly linked to funding for future conservation projects. The impact on a wider scale has been minimal.

Comment on Impact - The project's logic and intended impacts did not change, however many of the risks and assumptions dramatically changed, indeed new risks also arose, which in turn meant added new and changed assumptions. This meant that the scale of project operations were severely curtailed, however the IP continued to adapt and work through three years of periodic and intense civil unrest / conflict.



Recommendations
1

Future projects require stronger leadership from the UN and from government partners. This means
in practical terms that PSCs should have a clear mandate with roles and responsibilities and that the
particular UN agency should take the lead in this, as well as in organising (and co-chairing) the PSC
meetings themselves.
1. Recommendation:

Future projects require stronger leadership from the UN and from government partners. This means
in practical terms that PSCs should have a clear mandate with roles and responsibilities and that the
particular UN agency should take the lead in this, as well as in organising (and co-chairing) the PSC
meetings themselves.
Management Response:
[Added: 2018/12/07]
[Last Updated: 2018/12/07]
UNDP will lead setting up of the project governance structure- project steering committee or project board that will ensure the provision of solid project oversight and guidance to project implementation
Key Actions:
Key Action

Responsible
DueDate
Status
Comments
Documents

Set up of project board, or project steering committe for new GEF supported projects implemented by UNDP.




[Added: 2018/12/07]

UNDP

2020/12

Not Initiated

There is presently no ongoing GEF funded projects. However, UNDP is developing project proposals which are expected to generate resources around 2019/2020. The recommendaiton will be implemented once the projects have been initiated.

History