Mid-term Evaluation of the Making Access Possible (MAP) programme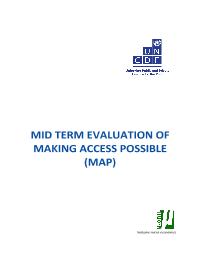 Evaluation Plan:

Evaluation Type:

Others

Planned End Date:

12/2019

Completion Date:

03/2020

Status:

Completed

Management Response:

Yes

Evaluation Budget(US $):

142,260
Title
Mid-term Evaluation of the Making Access Possible (MAP) programme
Atlas Project Number:
Evaluation Plan:
2018-2021, UNCDF
Evaluation Type:
Others
Status:
Completed
Completion Date:
03/2020
Planned End Date:

12/2019

Management Response:
Yes
Corporate Outcome and Output (UNDP Strategic Plan 2018-2021)
Evaluation Budget(US $):

142,260

Source of Funding:
Evaluation Expenditure(US $):

142,260

Joint Programme:
No
Joint Evaluation:

No

Evaluation Team members:

| Name | Title | Nationality |
| --- | --- | --- |
| Sanjay Sinha | Financial Inclusion and Asia Expert (Myanmar and Nepal) | |
| Chris Statham | Country associate - Malawi | |
| Peter Nzebile | Country associate – Burkina Faso | |
| Nara Hari Dhakal | Country associate - Nepal | |
| Frances Sinha | Team Leader | |

GEF Evaluation:

No

Key Stakeholders:
Countries:

GLOBAL

Comments:

The Making Access Possible (MAP) programme is a multi-country initiative intended to support the development of national financial inclusion roadmaps and strategies in partner countries through the generation and use of evidence–based country financial inclusion diagnostics. The roadmaps identify the key drivers of financial inclusion within each country and provide a set of recommended practical actions tailored to each country that can be implemented by governments and key actors from the private sector and the donor community. These actions are expected to support the expansion of access to, or consolidating the provision of, financial services for individuals and micro and small businesses in partner countries.

The MAP approach places an understanding of the consumer at the core of its approach. It uses the quantitative FinScope Consumer Survey - in combination with different qualitative research approaches - to gather a wealth of in-country consumer data which can be used to identify and propose solutions to country-specific problems, based on insights into the country context, the supply environment and regulatory frameworks, and consumers' and households' needs, behaviour and preferences. Among other things, the detailed evidence bases that MAP is able to generate by disaggregating the target population equips governments to focus interventions, while also demonstrating to investors market potential and weaknesses.
Lessons
1.

Clearly define success beyond the delivery of an action plan or strategy, or putting in place a system for data collection. Strategies and systems with often under-capacitated government partners need follow up and support, particularly in an LDC context, if they are to deliver value. Whether a strategy is implemented, how data is actually used, is no less important than the initial work of putting these in place.



2.

Whilst working effectively with (LDC) governments, respecting local sovereignty and authority, it is necessary to have a strategy in place to avoid or circumvent long delays. One requirement is to understand basic policy requirements in advance – ie. government approval will depend on a fit with its existing policy mechanisms, and in Asia having documents well translated into the local language.



3.

A stakeholder engagement framework and process needs strong planning with technical support so that it is effective and seen to be useful enough for stakeholders to participate actively, and indeed cover their costs of participation. Engaging with stakeholders through workshops and meetings is a technical skill (ensuring strong agendas, active participation and contribution, good minuting and follow up) and requires resources.



4.

A strong Monitoring component of M&E with consistent and careful reporting on activities and implementation with a feedback loop into programme management, is as important as tracking (Evaluating) the 'high level' results (supply and demand indicators for financial inclusion). For a programme like MAP that aims to provide an evidence base for effective policy making, the need for strong monitoring applies both to the phases of intervention, and to tracking policy developments following the intervention.



5.

Whatever methods are employed for global advocacy as well as training and communication, ensure that there is a feedback mechanism on take-up, and perception of quality and usefulness. A communication strategy needs to be dynamic – with quick follow up, short pieces and engagement with the target audience/users.



6.

These are all aspects that require resources, and many programmes have to manage within a limited budget, at any rate to start with. Given a resource constraint, it seems better to adjust strategically and prioritise within the resources available, which is likely to mean starting small, and expanding coverage incrementally. MAP was initiated in a number of countries at the same time before it had consolidated on processes and guidelines for what happens after the roadmap. With hindsight, we think there should have been a careful testing of Output 2 before expanding on output 1 in more countries. At the same time, based on the financial analysis we have undertaken for this evaluation, putting financial monitoring systems in place to include partner and parallel funding, is important to keep track of actual and relative costs.



7.

Data is now seen to be the 'new gold' – both demand and supply side, with new data sources becoming available (geospatial, fintech transactions, other 'big data' based on financial service transactions). Conducting a good demand survey should not depend on a single branded tool. It will be important to maintain quality and consistency but there are new opportunities emerging to combine different tools for data capture (e.g. geospatial mapping, mobile surveys, transactions data); keeping up to date, with effective segmentation, analysis, reporting, dissemination and use will be a continuing challenge that needs attention and skills. The aim should be to integrate gender disaggregated data – alongside other important disaggregations (at least rural/urban/geospatial) - across all data sets, demand side and supply side. Supply side disaggregation will require attention and effort to see what can be feasibly introduced and what changes are necessary in technologies and systems.



Findings
1.

Relevance and Quality of the Design

MAP was an innovative design responding to policy interest. The deliverables are designed to be comprehensive and robust, and as such are well appreciated by key country users, but diagnostic reports are also noted to be over-long and costly. A process of stakeholder engagement was planned and piloted to build adaptability to different country contexts and requirements, along with local ownership. Cost and time issues were raised during the pilot but not addressed in the design which was also not clear about what happens after the roadmap, nor was this piloted. The time frame overall was not realistic and there were assumptions around UNCDF/FIPA implementation support, synergies and funding, as well as links to UNDP - that have only partially worked out. The design includes reference to gender and consumer protection, and different market segments for inclusion, but there is no reference to human rights and vulnerable populations, nor a clear gender strategy for women and youth economic empowerment. MAP's approach to data collection and use with stakeholder coordination appears partially relevant for UNCDF's evolving strategy for FI.



2.

Efficiency

Achievement of outputs is relatively efficient considering 2/3 of numerical targets have been achieved with under ¼ of the expected management resources and under half the total expected funding. Financial resources for the PMU have been managed pragmatically. Publications are of a high quality, but cost and time of in-country deliverables have been issues continuing from the pilot phase. Operations and programme monitoring have been weak. Parallel in-country funding has not been monitored.The governance structure has not supported clear accountability – by the programme to FIPA and vv. M&E of roadmap implementation (Output 2) has been initiated since 2017 and is a work in progress. MAP's technical partners (FMT, Cenfri) have made strong technical contributions, but there have been issues of inflexibility of approach within MAP and inability to realise synergies with other UNCDF programmes.



3.

Effectiveness

MAP has raised policy maker and stakeholder awareness around the relevance and use of an evidence base for policy making, achieving the outcome of an 'enabling environment' for donor alignment in country and accelerated market development for FI. But It has been challenging for national governments to manage stakeholder coordination effectively for roadmap implementation and monitoring. MAP's contribution to country capacity to design and set up diagnostic studies of their inclusive finance markets can be seen in a couple of country initiatives to repeat or refresh MAP with Government approval and full funding by local bilaterals/donors. A second round represents a significant opportunity to build on lessons from the first round. Nevertheless, transfer of skills (for the MAP deliverables) has been somewhat limited in the countries visited.

Reporting against NFIS targets (even supply side data and policy implementation) has been limited. For this evaluation, a format was developed so that progress on implementation of the roadmap/NFIS' 80+ recommendations, could be (qualitatively) defined and assessed. Including 'work started', progress is around 60% in SADC, 43% in Asia, across different priorities for FI; less if we apply a stricter definition of substantial progress. There appears to be good consensus on outreach to underserved regions and population segments but more attention will be necessary to build consensus on gender equity issues and strategies.

Whilst there has been experience sharing between MAP partner countries, issues identified have not been fully followed up. MAP publications and learnings post roadmap have not been disseminated effectively at the global level.



4.

Likely Impact

There is substantial evolution in market development systems for financial inclusion. MAP has been a part of this, providing a clear framework of reference and evidence basis. Contribution analysis in focus countries suggests that this has supported and reinforced existing initatives for market development but can also trigger specific initiatives in the private sector. Trends data for FI in Myanmar based on the FinScope refresh shows higher than expected growth (despite low progress on action plan targets) suggesting a considerable momentum within the sector, which MAP has been a part of. However, World Bank Findex data on comparable indicators shows a much lower degree of progress. The capacity to support market development is affected by: the ability/initiative of country level MAP teams, the fit between roadmap priorities and development partner agendas, the relationship between development partners and private sector players, private sector capacity and funds available for new initiatives.



5.

Sustainability of Programme Results

In the countries visited, stakeholder assessment is low for Government having the capacity to take forward the MAP process, and for effective structures for coordination being in place. The authority, interest and continuity of the focal point for FI in the government is variable, whether in the Ministry of Finance or the CB. Key challenges remain. The main resources will continue to be from development partners, who are contributing and a second round of MAP in some countries reflects stakeholder commitment to continue and improve. The programme has demonstrated the importance of continued follow-up with on-going technical assistance (with appropriate funding), if recommendations/actions are to be implemented and tracked.



Recommendations
1

Management welcomes the findings and recommendations from the Mid Term Evaluation Report and is committed to evolve the MAP program based on those recommendations. Management welcomes the evaluation's assessment that MAP was a timely and significant initiative - at a time when there was strong international and regional endorsement of developing national financial inclusion strategies (NFIS) - highlighting UNCDF's forward-looking approach to market development. The combination of the constituents of the MAP approach - a comprehensive diagnostic incorporating a robust evidence base (in-depth demand and supply side data) combined with broad based stakeholder engagement and consultation to build local relevance and buy-in, as well as government ownership - was new and distinct, continuing to be relevant today. Management also acknowledges that the environment in which the MAP program was developed has also considerably changed, with the acceleration of digital finance solutions. The evaluation is quite useful and important for UNCDF to examine our diagnostics within the context of our "Leaving No One Behind in the Digital Era" strategy as well as the forthcoming report of the Digital Financing of the SDGs Task Force. We're at a very exciting and daunting moment as digital is transforming the financial sector as well as the data and diagnostic tools available. The evaluation provides the opportunity to be forward looking as we consider our wider vision of digital economies and the range of tools in the rapidly evolving data and diagnostics space. When MAP started, it filled an important gap that existed at the time. Now, as the space has moved, we need to be more agile, and also have more tools and options to respond quickly to the shift countries are managing at any given point in time.

2

The new opportunities in West Africa and with the Myanmar refresh will be a good area to seek to apply the lessons from this evaluation. In Myanmar there is funding available, in West Africa look at linkages with BCEAO. Specifically the programme needs to work on in-country communication/dissemination, stakeholder processes, supporting government capacities and monitoring. And ensure there are the skills within UNCDF to do this. In Nepal too, a strong and interactive engagement with the World Bank to maximise the programmatic implications of the new household survey would be beneficial. [FIPA management, MAP hub]

3

Build transparency around costs within the programme – and monitor costs more closely, including parallel funding. Technical partners should be required to share full cost details, even if work is not commissioned directly by UNCDF.

4

Commission a separate study to examine and try to benchmark the costs of national market surveys for financial (or other) services, taking into account appropriate sampling and quality of analysis

5

If there is a refresh or repeat, make the process leaner, less monopolistic in terms of technical support, have a more deliberate approach to identifying local consultants ensuring contextual knowledge of financial inclusion, be more adaptive and quicker in the delivery of reports. As part of this, it should not be necessary to depend on a branded survey. Ensure quality – but the demand survey does not have to be Finscope, at least outside SADC. Retain the key elements of Finscope (essentially a robust sample focusing on people's access, use and perceptions of financial services, allowing for key segmentation analysis), but: make sure the segments are contextually the key ones, think of leaner periodic options – applying technology wherever feasible, align the indicators of a core questionnaire with updated international definitions of financial inclusion, drawing on relevant indiators from other survey processes, so as to enable cross-country comparison and eliminate current mis-matches in the key data sets. Look at ways of building alternative capacities for this. [FIPA management, more widely drawing on skills of FIPA teams, including MAP hub]

6

In the market analysis, build in a strong, clear analysis of gender disparities and the barriers to women's access and use, so as to develop more empowering strategies to enable women's access and use of financial services particularly with new developments in digital finance where the gender gap is wide and increasing. Relatedly, ensure gender disaggregated data across all parameters (market segments) on the demand side and look at opportunities for disaggregated data on the supply side. [FIPA, PMU, future technical partners]

7

The programme requires a more systematic accountability and monitoring linked to more attentive management/leadership within FIPA. [FIPA management]

8

Pay more attention to the structures and technical support necessary for effective stakeholder engagement. [FIPA management, PMU]

9

Strategically, there is clear scope to link in key elements of the MAP approach within the new FIPA strategy whilst addressing the gaps and building on the lessons: i.e. having a holistic country level frame of reference, highlighting the utility of 'good enough' standardized, demand side data, engaging systematically with all stakeholders – government (different departments)/regulators, development partners and commercial sector from the start, and ensuring regular follow up (with technical assistance) to monitor policy actions, programme interventions and supply side trends. For demand side data on financial inclusion, the widely accepted Findex survey is not currently funded beyond its third round that was completed in 2017. This will leave a huge market gap on financial inclusion data at country level which will need to be addressed. Look at what is useful about Findex and see how the market demand survey can be adjusted to fill the gap that there will be without Findex. [FIPA management, PMU, future technical partners]