Independent Evaluation of UNCDF's Strategic Framework and Gender Policy and Strategy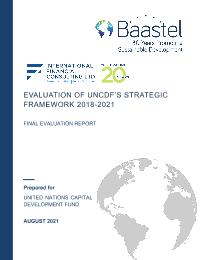 Evaluation Plan:

Evaluation Type:

Thematic

Planned End Date:

06/2021

Completion Date:

09/2021

Status:

Completed

Management Response:

Yes

Evaluation Budget(US $):

100,000
Title
Independent Evaluation of UNCDF's Strategic Framework and Gender Policy and Strategy
Atlas Project Number:
Evaluation Plan:
2018-2021, UNCDF
Evaluation Type:
Thematic
Status:
Completed
Completion Date:
09/2021
Planned End Date:

06/2021

Management Response:
Yes
Corporate Outcome and Output (UNDP Strategic Plan 2018-2021)
Evaluation Budget(US $):

100,000

Source of Funding:
Evaluation Expenditure(US $):

120,000

Joint Programme:
No
Joint Evaluation:

No

Evaluation Team members:

| Name | Title | Nationality |
| --- | --- | --- |
| Stephen Kester | Mr. | |
| Melissa McLean | Ms. | |
| Marta Becker | Ms. | |
| Michael Collins | Mr. | |

GEF Evaluation:

No

Key Stakeholders:
Countries:

GLOBAL
Recommendations
1

For specific recommendations please see below:

2

Employ strategic planning principles in the development of the next Strategic Framework (2022-2025) to agree on a common mission and vision of UNCDF and actionable strategic goals to be achieved.

3

Consider establishing a country-level integrated strategic approach to UNCDF's programming and operations that focuses on UNCDF's core strengths and value proposition contextualized to the needs and priorities of LDCs and relevant stakeholders, including donors and partner organisations within the UN development system, including UNDP. Align these country integrated strategies to UNCDF's regional and global strategies to ensure that the organization's priorities and initiatives are supported throughout the organization – at HQ, the regional level, and the country level and across individual practices. Structure the accountabilities, reporting lines, individual performance and development plans based on country, regional and global strategies and needs rather than individual practices.

4

Revisit the Integrated Results and Resources Matrix (IRRM) to ensure the selection and design of performance indicators that adopt best practice and reflect corporate and impact development goals based on a single internally aligned UNCDF theory of change. This will help improve the clarity and relevance in the monitoring and reporting of UNCDF's performance against its mandate.

5

Integrate gender fully into the Strategic Framework and theory of change, with (at least) gender-sensitive outcomes, outputs, indicators, and gender analysis incorporated into risks and assumptions.

6

Conduct a review of the resource mobilization process in order to develop an overarching strategy to achieve its ideal resource to results scenario in core and non-core funding and its one-time capitalization of the LDCIP.
Management Response Documents