Final Evaluation for Wetlands Portfolio - Xinjiang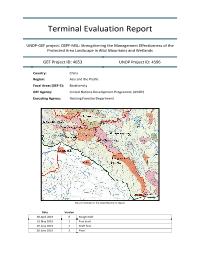 Evaluation Plan:

Evaluation Type:

Final Project

Planned End Date:

04/2019

Completion Date:

06/2019

Status:

Completed

Management Response:

No

Evaluation Budget(US $):

28,850
Title
Final Evaluation for Wetlands Portfolio - Xinjiang
Atlas Project Number:

00070004

Evaluation Plan:
2016-2020, China
Evaluation Type:
Final Project
Status:
Completed
Completion Date:
06/2019
Planned End Date:

04/2019

Management Response:
Yes

Focus Area

:
Corporate Outcome and Output (UNDP Strategic Plan 2018-2021)

1. Output 1.4.1 Solutions scaled up for sustainable management of natural resources, including sustainable commodities and green and inclusive value chains

SDG Goal

Goal 15. Protect, restore and promote sustainable use of terrestrial ecosystems, sustainably manage forests, combat desertification, and halt and reverse land degradation and halt biodiversity loss

SDG Target

15.1 By 2020, ensure the conservation, restoration and sustainable use of terrestrial and inland freshwater ecosystems and their services, in particular forests, wetlands, mountains and drylands, in line with obligations under international agreements

Evaluation Budget(US $):

28,850

Source of Funding:
Evaluation Expenditure(US $):

28,850

Joint Programme:
No
Joint Evaluation:

No

Evaluation Team members:

| Name | Title | Nationality |
| --- | --- | --- |
| James Lenoci | Team Leader | |
| Liu Shuo | National Consultant | |

GEF Evaluation:

Yes

| | |
| --- | --- |
| GEF Project Title: | CBPF-MSL: Strengthening the Management Effectiveness of the Protected Area Landscape in Altai Mountains and Wetlands |
| Evaluation Type: | Terminal Evaluation |
| Focal Area: | Biodiversity |
| Project Type: | FSP |
| GEF Phase: | GEF-5 |
| GEF Project ID: | 4653 |
| PIMS Number: | 4596 |

Key Stakeholders:
Ministry of Environment
Countries:

CHINA, PEOPLE'S REPUBLIC
Lessons
Findings
1.

Outputs

Provincial PA management regulations revised

Key Achievements:

Through technical assistance consultancy contracts, experts analyzed environmental policies and legislation in XUAR and prepared a report on recommendations to the regulation on management of the XUAR nature reserves. On 21 September 2018 at the Sixth Meeting of the Standing Committee of the 13th XUAR People's Congress, an amendment to the "Regulation on Management of XUAR Nature Reserves" was adopted.
Consistent with the implementation of the One Area / One Park policy, the following regulations on wetland protected areas were issued:

Regulations on the Management of Ungulata Wildlife Nature Reserves in Kalamaili Mountains of XUAR (July 1, 2017);
Regulations on Regional Management of Glacier Water Resources Protection in Sawuer Mountain of Jimonai County (September 1, 2016);
Regulations on the Protection of Manas National Wetland Park in Xinjiang (August 1, 2014);
Urumqi Municipal Regulations on wetland conservation (July 2016); and
Regulations on the Protection of Wetlands in the Mongolian Autonomous County of Hebukeser (March 2016).

Issues/Challenges:

The 2012 wetland regulation was considered too new for issuing an amendment.
Co-management remains a legislative gap.




Tag: Environment Policy Natural Resouce management Site Conservation / Preservation Water resources Rule of law Policy Advisory Technical Support

2.

Sector-related governance and regulatory frameworks enhanced to support the PA system in XUAR

Key Achievements:

The "Implementation Plan for Wetland Conservation and Restoration" was issued by the General Office of the People's Government of the XUAR and implemented by relevant departments (XUAR Government Decision No. 199, dated 18 October 2017).
The "Strategic Plan for the Altai Mountains and Liangheyuan Wetland Landscape Protection and Sustainable Development and Altai Ecotourism Guide in the Altai Mountains" (Dec 2018) has been approved by Altai Prefectural Administration and forwarded to all relevant units for implementation.
"Measures for the Management of Wetland Parks in XUAR" passed the deliberation of the third Party Committee of the Department of Forestry and Grasslands and was adopted and issued to all localities for implementation in 2018.
"Methods for the identification of important wetlands in XUAR" passed the deliberation of the third Party Committee of the Department of Forestry and Grasslands and was adopted and issued to all localities for implementation in 2018.
In 2018, the Altai Prefectural Commission and Administrative Office extended the period of the fishing ban in natural waters by one month, from 01 April to 31 July each year.
A biodiversity monitoring system for protected areas has been established to continuously carry out field monitoring and investigation work. The biodiversity monitoring system has been expanded from Liangheyuan NR to five PAs, forming a PA monitoring network the Altai Mountains region.
Sectoral plans address wetland conservation and rehabilitation, including:

The 13th 5-year plan (2016-2020) for the XUAR Department of Ecology and Environment contains actions related to wetland protection and rehabilitation.
The 13th 5-year plan (2016-2020) for tourism development in XUAR mentions that development activities are strictly prohibited in the core zones of nature reserves, and calls for strengthening management of wetland parks and water conservation areas.
The 13th 5-year plan (2016-2020) for the XUAR mining sector indicates that mining is strictly prohibited in provincial and national nature reserves, water conservation areas and in important wetland and forest areas.
The 13th 5-year plan (2016-2020) for the XUAR Office of Poverty Alleviation calls for strengthening public interest services and job opportunities, especially in poverty stricken areas near protected areas, including wetland parks and nature reserves.

Four voluntary sectoral standards are under development:

Standard for Construction and Service in Ecological Tourism area in Xinjiang Nature Reserves and Wetland Community.
Standard for Information Metadata for Xinjiang Nature Reserves.
Standard for Basic Information Code Compilation in Xinjiang Nature Reserves.
Standard for Establishing Database for Biological Specimen in Xinjiang Nature Reserves.

13 national wetland parks in XUAR issued management measures during the implementation phase of the project.

Issues/Challenges:

The four voluntary sectoral standards were under development at the time of the TE mission in April 2019. It will be necessary that the completion of the standards is supervised and reported by the project.
There was a lack of coordination between the teams preparing the voluntary standards and developing the information management platform under Output 1.3.




Tag: Biodiversity Ecosystem services Environmental impact assessment Natural Resouce management Site Conservation / Preservation Tourism Rule of law Country Government Policy Advisory

3.

Institutional strengthening

Key Achievements:

Substantive project resources are allocated for training, including but not limited to the following:14 training courses delivered on wetland and nature reserve management for senior managers; operational training for publicity staff of Xinjiang protected areas; training on development of wetland parks and nature reserves in the XUAR; exchange visits were arranged within the XUAR with staff rom nature reserves and wetland parks; exchange visits were arranged to other child projects under the MSL program.
A project leading group (PLG) was established to support the implementation of the project and foster cross- sectoral and inter-sectoral coordination. The PLG was headed by the Deputy Commissioner of Altai Prefectural Administrative Office and another Deputy Commissioner and the Director of AMFB served as deputy team leaders. Members also included representatives from the AMFB, Altai Forestry Bureau (AFB), the Bureau of Water Resources, the Bureau of Ecology and Environmental Protection and other departments
A comprehensive information management (big data) system has been developed that includes real-time presentation of data obtained from monitoring stations and is envisaged to be further strengthened in recent years as a PA management decision support tool and an early warning system. A screenshot of the dashboard of the current system is shown below in figure 4.

GEF resources were also allocated for the development of 48 websites for many of the protected areas in the AMWL and elsewhere in the XUAR. A screenshot of one of these websites, for the Liangheyuan NR is shown below in figure 5.

Issues/Challenges:

The systemic training program was not developed as envisaged. The XFDG has an existing training program and receives earmarked funding for professional development. The Publicity and Education Center of the XFDG operates the training program, and reportedly co-management and alternative livelihood topics have been added.
Maintenance and updating the information management system will require expert support, likely from external service providers. Interviewed officials indicated that the XFDG has an agreement with the developer to provide support services.




Tag: Environmental impact assessment Global Environment Facility fund Project and Programme management Capacity Building Institutional Strengthening Data and Statistics

4.

PA system in AMWL expanded

Key Achievements:

During the 5-year project implementation lifespan, from 2014 through 2018, the PA system in the Altay Mountains and Wetlands Landscape expanded by 222,699 hectares (ha), as broken down below in Table 14.
Apart from the expansion of the PA system, the 30,667-ha Altay Kekesu wetlands nature reserve was upgraded in 2017 from a provincial nature reserve, and the 5,000-ha Buergen Beaver nature reserve was upgraded in 2013 from provincial to national level.
The "Strategic Plan for the Altai Mountains and Liangheyuan Wetland Landscape Protection and Sustainable Development and Altai Ecotourism Guide in the Altai Mountains" approved in 2018 for implementation by the Altai Prefecture Administration provides a framework for applying a landscape approach to managing wetland ecosystems in the AMWL, including coordinating management of protected areas.

Issues/Challenges:

The focus in recent years in XUAR and elsewhere in China on expanding the PA system have largely been on nature parks, including wetland parks. These types of PA's offer more opportunities for ecotourism for many local governments, for example, and the process of declaring the PA's is less rigorous than for nature reserves or national parks. One concern with this trend is whether conservation objectives, e.g., habitat connectivity, are being fulfilled.
Successful implementation of the "Strategic Plan for the Altai Mountains and Liangheyuan Wetland Landscape Protection and Sustainable Development and Altai Ecotourism Guide in the Altai Mountains" will require effective coordination between the AFB andAMFB.




Tag: Natural Resouce management Site Conservation / Preservation Local Governance

5.

Systematic PA management and biodiversity monitoring system established

Key Achievements:

Through a technical assistance consultancy agreement with an expert from the Xinjiang Normal University, a PA biodiversity monitoring plan has been developed for 5 nature reserves in the AMWL. The plan includes 5 major categories, including diversity of key flora and fauna, human disturbance factors, activities associated with local herders, environmental conditions (meteorology, hydrology, soil) and ecosystem health assessment. The monitoring plan has been approved by AMFB in 2108.
Apart from the monitoring plan, a number of monitoring guidebooks, e.g., on flora and fauna in the AMWL, were produced and disseminated to relevant stakeholders.
The management effective tracing tool (METT) and the ecosystem health index (EHI) tools were implemented for the 5 nature reserves included in the baseline assessments, with participation by PA staff and managers.
The project organized several training courses covering a variety of topics, including conservation planning and management, environmental monitoring and equipment use, wetland knowledge, community co-management, ecotourism, ecological rehabilitation, GIS applications, etc. Training records indicate that trainings were delivered to more than 550 people, including managers and technicians from nature reserves, wetland parks and other protected areas in the AMWL.

Issues/Challenges:

The monitoring plan and monitoring assessments completed during the project implementation focused on the nature reserves in the AMWL, and there was limited involvement of the wetland parks, e.g., in the METT assessments, EHI assessments or inclusion in the AMWL monitoring plan. (lesson learned)
The role of community rangers in supporting the management of the PA system in the AMWL and throughout the XUAR is likely to increase in coming years. It will be important that these rangers are included in training and implementation of the monitoring plan.
The small grants scheme outlined in the project document, to promote greater participation and awareness of PA staff and conservation institutions in the AMWL was not realized as planned.




Tag: Biodiversity Environmental impact assessment Monitoring and Evaluation Capacity Building Technical Support

6.

Altai PA management objectives mainstreamed into provincial planning process

Key Achievements:

The project organized several trainings and seminars to Altai Prefecture stakeholders on mainstreaming ecological protection. Stakeholders included representatives from prefectural, county and city level governmental agencies, AMFB, forest farms, PA's and wetland parks.
The 13th 5-year socioeconomic development plans for the XUAR and the Altai Prefecture include reference to wetland conservation and rehabilitation priorities.
The project produced a report on "Evaluation of Mainstreaming Wetland Conservation Policy into Development Priorities of Altai Prefecture".
The project provided technical assistance consultancies for production of three economic studies, including a "Report on the Eco-Economic Value of Grazing in Kuermutu Area", "Report on the Evaluation of the Eco- Economic Value of Mining in the Kuermutu Area" and "Report on the Evaluation of Ecosystem Values in the Altai Prefecture".
The project also actively participated in communications with local government stakeholders in discussions on ecological protection strategies and plans.

Issues/Challenges:

The intended purpose of the economic valuation activities was to provide guidance on generating revenue for biodiversity conservation and PA management. The project funded three separate studies, but the envisaged sustainable financing plan for the PA system was not completed as planned in the project document.




Tag: Environment Policy Site Conservation / Preservation Local Governance Capacity Building Data and Statistics

7.

Awareness of the importance of PAs for sustainable livelihoods increased

Key Achievements:

The project supported numerous awareness campaigns, including but not limited to the following:

Joint promotional events were organized in conjunction with World Wetland Day, Xinjiang Wetland Day, Arbor Day, Bird-loving Week, World Biodiversity Datay, etc.
The CCTV-News channel was invited to film the source of the Ertix River and the Kuermutu area. An image of a snow-leopard captured by an infrared camera in the nature reserve was broadcast.
An ecological protection publicity campaign was organized in 2015 through a joint effort with the government of Takshken in Qinghe County.
Nature photography competitions were organized, including the Altai Mounty City of Beauty Photography Competition.

Environmental education was promoted in Altai City, with documentary and photographic information provided to the No. 3 Middle School (see photograph below in Figure 6) and No. 2 Senior Middle School. An outdoor natural science experience base is being constructed across the street from the No. 2 Senior Middle School (see photograph below in Figure 6.
The project supported development of an education and exhibition center at the Keketuohai Forest Park in Fuyun County. The center includes plant specimen cabinets, display boards, promotional columns and an outdoor walkway.
Promotional publications and audio-visual products were produced, including but not limited to the following:

Xinjiang Wetlands Atlas.
Identification manuals for common birds and other animals and common flora in the Altai region (see Figure 7)
A short film named "Source of the River, which reflects the conservation efforts at the Liangheyuan Nature Reserve. This film won second prize in a short film competition in 2014.
International photo exhibition album, traditional cultural pocketbook, wetland conservation brochure, etc.

An eco-tourism guide was prepared in collaboration with the Aletai District Tourism Administration, and an eco-tourism seminar was convened with prefecture level stakeholders

Issues/Challenges:

Whilst substantive project resources were spent on awareness raising, there was a general lack of strategic approach. It would have been advisable to have developed a communications and knowledge management strategy and action plan. (lesson learned)
The value for money of the investment made in Altai City for the outdoor experience base is questionable. This is not consistent with the focus of this output, i.e., awareness of the importance of PA's for sustainable livelihoods increased. It might have been more appropriate to invest these funds at or near one of the protected areas where local communities are working towards increasing ecotourism activity.




Tag: Biodiversity Natural Resouce management Site Conservation / Preservation Tourism Wildlife Conservation Communication Education Infrastructure Jobs and Livelihoods Awareness raising

8.

Trans-frontier conservation improved

Key Achievements:

A cross-border coordination and conservation mechanism has been proposed between protected area administrations in the Sino-Mongolian Altai-Sayan Ecoregion. Exchange visits and study tours were conducted and meetings held to discuss issues associated with transboundary protection of the Sino-Mongolian beaver, a sub-species (Castor fiber birulai) of the Eurasian beaver found in the Ulungur River basin. A draft beaver protection plan has been drafted and has been submitted to counterparts in Mongolia for review.
The project funded a technical assistance consultancy for assessing the feasibility of establishing wildlife migration corridors in the border areas. A seminar was organized in August 2017 with representatives of relevant Altai Prefecture departments, as well as the Altai Military Division, the Armed Police, the Frontier Defense and local governmental stakeholders.

Issues/Challenges:

Opening wildlife corridors at the border with Mongolia will not be easy, considering higher level of threats on the Chinese side, due to larger populations of herders and livestock.
Follow-up will require concerted efforts, high level involvement, language skills, travel funding, etc.




Tag: Site Conservation / Preservation Wildlife Conservation Transborder Coordination Technical Support National Institutions

9.

Liangheyuan NR operations strengthened to address grazing and mining threats

Key Achievements:

The project supported the Liangheyuan NR Administration in updating their management plan. Prior to developing the management plan, a treats analysis was carried out, extensive stakeholder consultations were completed and a seminar was convened on threats and constraints of the management plan. The updated management plan (2019-2022) for the Liangheyuan NR was approved by the AMFB in 2019 and implementation was initiated during the lifespan of the project.
The project also supported the development of an updated master plan for the Liangheyuan NR, including a re- assessment of management zoning (see Figure 8). The master plan covers the 10-year period of 2019-2028 and has been submitted to the XUAR Department of Forestry and Grasslands for approval.
Several capacity development activities were carried out, including more than 30 training courses for PA staff on a variety of topics, including conservation management, ecological rehabilitation, biodiversity monitoring, use of the METT and EHI tools, etc. The trainings were delivered to a reported 915 PA staff members, of which 24.4% were women. Some of the trainings were held in Kazakh language, to benefit the community rangers on staff.
In October 2016, six staff from the Liangheyuan NR took part in a study tour to the Wanglang NR in Sichuan Province, to learn from their advanced experience in conservation management, research and monitoring.
The project supported the establishment of three ecological monitoring stations in the Kuermutu and Sandaohaizi sections of the Liangheyuan NR. Monitoring transects were established, staff were trained on the implementation of the biodiversity monitoring plan and the application of the EHI tool in the field.
Through a technical assistance consultancy agreement with experts from the Xinjiang Institute of Ecology and Geography (Chinese Academy of Sciences), the project supported the AMFB and the Liangheyuan NR Administration in developing and implementation demonstration scale reclamation of abandoned mining sites within the nature reserve and other parts of the AMWL region. Several reclamation techniques were evaluated and 9 of these were demonstrated in the field. Reclamation demonstrations were completed a numerous sites, totaling 12,141 mu (809 ha) in area (see Table 15), including 5,019 ha in the Liangheyuan NR managed by the NR Administration and 1,210 mu (81 ha) in the NR managed by Fuyun County officials, as well as 3,400 mu (227 ha) in the Kalamaili Mountains NR and 2,512 mu (167 ha) in Fuyun County.
The reclaimed sites ranged in size from 6.6 mu (0.4 ha) to 600 mu (40 ha).
The demonstrated reclamation techniques were based on the unique circumstances at the nature reserve, e.g., limited available topsoil and high costs associated with transport of topsoil to the sites. Certain innovations were implemented, using livestock manure to prepare a fertilizer slurry that was sprayed onto the reclaimed surfaces (good practice). According to interviews with the technical experts retained by the project, the average cost for the reclamations was CNY 2,500 per mu (approx. USD 5,600 per ha).
Training on the reclamation techniques were held with forestry department staff members from all prefectures in XUAR and with staff members from most of the wetland protected areas in XUAR.

Issues/Challenges:

The updated management plan for the Liangheyuan NR does not provide special consideration for protection of the valuable peatlands in the nature reserve that provide important ecosystem regulatory (carbon storage) functions.
The demonstrated reclamation of abandoned mining sites has not been documented into the form of a technical guidance. It is also unclear how existing Chinese and international reclamation standards and standard practices were taken into account into the demonstrations implemented.




Tag: Livestock Mine Action Biodiversity Environmental impact assessment Natural Resouce management Site Conservation / Preservation Monitoring and Evaluation Infrastructure Capacity Building Technical Support

10.

Collaborative PA governance and management structure put in place (community co-management)

Key Achievements:

Under this output, the project facilitated collaborative management with local communities living close to the Liangheyuan NR. Two county level co-management committees were established, in Fuyun and Qinghe Counties, and three committees at the township level and eight committees at the village level were formed. Cooperation agreements were signed with the NR Administration and the respective local government administration. A series of rules and procedures were formulated, including articles of association of the co-management committees, eco-tourism code of conduct, best practices for pasture management, etc.
Community members were trained to support the NR Administration in ecological monitoring. In total, 13 local residents were hired by the NR Administration to perform management and monitoring tasks. The participation of local communities in PA management and monitoring provided additional income streams to some households and also improved the effectiveness and efficiency of managing the NR. The hired community residents were trained in monitoring and identifying flora and fauna species and in operating monitoring equipment, such as infrared cameras.
Broad involvement of enabling stakeholders, including local governments (county, township, village), NGOs and foundations.
As part of the poverty alleviation program aimed at reducing pressure on grassland ecosystems, herders are hired as community rangers, providing herder households with a steady income source and offsetting burden associated with reducing livestock. There are several thousand community ranger positions in XUAR and more than 600 in the Altai Prefecture. The quota for community rangers at the Liangheyuan NR has steadily increased from 80 in 2017, to 89 in 2018 and 100 in 2019. The timing of this project was opportune in this regard, as project resources were allocated for training community rangers in the project demonstration areas.

Trainings were provided to individuals, herder households, community-based groups and local cooperatives to advance the development of alternative livelihood opportunities, to reduce pressure to grasslands in the LiangheyuanNRassociatedwithover-grazing.TheJiangbutasVillageinChaganguoleTownshipinQingheCounty, Altai Prefecture was a project implementation center, with participation two embroidery cooperatives, six ecotourismhouseholds,oneblacksoapproductiongroup,onehandicraftmanufacturinghouseholdandayouth entrepreneurshipgroup.Intotal,58householdsinthisvillagebecameengagedinalternativelivelihoodventures and 12 herder families reportedly reduced the number of their livestock. A couple of photographs taken during the TE mission in April 2019 of the alternative livelihood activities are shown below in Figure 9.
The project set up a community development fund with USD 30,769, providing zero-interest loans to 10 households, ranging from ranging from USD 1,538 to USD 4,515, for investments in alternative livelihood ventures.

Issues/Challenges:

The co-management committees and community rangers operating in and near the Liangheyuan NR will require further support over the short to medium term, to further increase awareness and knowledge and strengthen capacities.
The co-management committees were not party to the cooperation agreements signed between the NR Administration and the local government administrations. (lesson learned)
It is uncertain how the community development fund will be managed after project closure; there was no evidence available demonstrating that the funds will continue to be earmarked for supporting sustainable alternative livelihoods for communities living near the Liangheyuan NR.




Tag: Livestock Natural Resouce management Civic Engagement Local Governance Country Government Jobs and Livelihoods Poverty Alleviation Capacity Building Coordination Civil Societies and NGOs

11.

Outcomes

Effectiveness

Effectiveness was evaluated by assessing achievement of the project objective and outcomes according to the agreed performance metrics included in the project results framework and the GEF-5 focal area targets. The project contributions towards the biodiversity strategy for GEF-5 are presented below.

The first indicator at the project objective level is a measure of institutional capacities of the XUAR Department of Forestry (currently the Department of Forestry and Grasslands - XDFG), Department of Water Resources (XDWR) and the Department of Environmental Protection (currently the Department of Ecology and Environment - XDEE). The institutional capacity for the XDFG changed from 57% at project baseline in 2012 to 85% at project closure (in 2018), which is an increase of 44%. The capacity development increases for the XDWR and XDEE were 45% and 40%, respectively. Consistent with the institutional restructuring at the national level in 2018, PA management responsibility was consolidated to the XDFG devolved from the XDWR and XDEE. For this reason, the end of project capacity assessments for the XDWR and XDEE seem irrelevant.




Tag: Effectiveness Institutional Strengthening National Institutions

12.

Indicator No. 2 is based on Part II (Financial Scorecard) of the scorecard, which is broken down into three components: legal, regulatory and institutional frameworks (Component 1); business planning and tools for cost-effective management (Component 2); and tools for revenue generation (Component 3). As indicated in the terminal assessments of the financial scorecards, improvements were achieved for each of the three components, with the largest proportional change occurring for Component 3. There are, however, a number of inconsistencies in both the baseline and terminal assessments. For instance, under Element 1 of the scorecard, it is indicated that there are no laws or policies in place that facilitate PA revenue mechanisms; however, Part I of the scorecard presents PA tourism entrance fees of USD 15 million in 2011 (this figure reached USD 46 million by 2018). There are also inconsistencies with respect to management plans, master plans and business plans described in the scorecard. The baseline scorecard indicates that there are no operational PES schemes; however, Part I of the document includes USD 5.8 million of PES revenue, from the natural forest program (the terminal assessment includes USD 11.6 million). Similarly, Part II of the scorecard indicates there are no non-tourism related fees and charges; whereas, Part I includes USD 0.729 million (baseline) for forestry related development.




Tag: Natural Resouce management Effectiveness Rule of law Business Model Operational Efficiency

13.

The first sub-target under Indicator No. 3 is a measure of incorporation of AMNFPPA into AMWL PA framework. The project facilitated the development of the "Landscape Conservation and Sustainable Development Plan of Altay Mountains and Liangheyuan Wetlands", which was approved in December 2018 by the Altay Prefecture Administrative Office. The plan promotes a landscape approach within the Altay Mountains and Wetlands landscape; however, incorporation of AMNFPPA into the AMWL PA framework is not explicitly included




Tag: Ecosystem based adaption Environment Policy Natural Resouce management Site Conservation / Preservation

14.

During the 5-year project implementation lifespan, extending from 2014 through 2018, the PA system in the Altay Mountains and Wetlands Landscape expanded by 222,699 hectares (ha), exceeding the 150,000-ha end target.

Apart from the expansion of the PA system, the 30,700-ha Altay Kekesu Wetland Nature Reserve and the 5,000-ha Buergen Beaver Nature Reserve were upgraded in 2017 from provincial to national level.

The project was also successful in facilitating enhanced regional collaboration, particularly with Mongolia. In 2014, a memorandum of cooperation on biodiversity conservation was signed between the nature reserve management administrations in the Altay-Sayan Ecoregion. Joint visits among Chinese and Mongolian experts were organized regarding beaver conservation and in 2018 representatives from the Altay Prefecture Forestry Bureau, the Burgan Beaver Nature Reserve and the Mongolian Beaver Protection Agency collaborated on the Beaver Protection Action Plan, which provides a framework for regional cooperation. Chinese and Mongolian officials also met to discuss options for establishing wildlife corridors at the border area.




Tag: Biodiversity Environment Policy Site Conservation / Preservation Wildlife Conservation Transborder Policy Advisory

15.

Substantive advances in the regulations on conservation of wetland ecosystems in the XUAR were realized during the implementation timeframe of the project, from 2014 through 2018. Notably, an amendment to the regulation on management of XUAR nature reserves was adopted in September 2018, partly in response to the institutional restructuring earlier that year at the national level, involving the creation of the Ministry of Natural Resources and consolidation of protected area management responsibility under this new ministry. Collaborative management with local communities is increasingly being promoted throughout China and demonstrated on this project; however, co- management is not yet incorporated into the protected area legislation frameworks.




Tag: Environment Policy Natural Resouce management Civic Engagement Public administration reform Rule of law Policy Advisory

16.

Several wetlands protected areas issued regulations in recent years as well. Following the national level wetland conservation and restoration system plan that was approved by the State Council in November 2016, the XUAR issued an implementation plan for wetland conservation and restoration. This plan provides an important framework for wetlands management in the autonomous region. In response to this plan and based on increased awareness of the importance of wetland ecosystems, the 13th 5-year plans (2016-2020) of a number of sectors integrate wetland management.




Tag: Environment Policy Natural Resouce management Site Conservation / Preservation Rule of law

17.

Substantive project resources were expended on capacity development, with numerous trainings delivered to a variety of stakeholders, from senior level XUAR officials to protected area staff and community rangers. A systematic training program was not developed as envisaged, something that would remain in place after project closure, but the trainings delivered by the Publicity and Education Center of the XFDG have reportedly expanded their offerings with wetlands related issues and co-management of protected areas.




Tag: Capacity Building Civil Societies and NGOs National Institutions

18.

The project supported updates to management plans for five protected areas in the AMWL, including the Liangheyuan NR, the Kanas NNR, Kekesu Wetlands PNR, Buergen Beaver PNR, Keketuohai Wetlands PNR. Management plans were not prepared for the Jingtasi Rangeland PNR, the Ulungur Lake Endemic Fish National Fishery Germplasm Resources PA, the Kalamali PNR or for the wetland parks in the AMWL (recommendation).




Tag: Natural Resouce management Technical Support

19.

GEF funds supported the development of comprehensive information management system (big data). At the time of the TE mission in April 2019, baseline data for 22 protected areas had been uploaded to the system. Real-time monitoring data, e.g., from weather stations, are captured by the big data system, as well as from sampling events, drone surveys, etc. The XFDG plans on further developing the system, including early warning and more advanced learning functions.




Tag: Global Environment Facility fund Monitoring and Evaluation Data and Statistics

20.

The project also funded the development of 48 websites for many of the protected areas in the AMWL and elsewhere in the XUAR.

Through enhanced knowledge and awareness of the importance of wetland ecosystems and the government's increased focus on integrating ecological civilization principles into the socioeconomic development priorities in the country and the XUAR, environmental impact assessment (EIA) processes have become more robust. Several EIA's prepared during the lifespan of the project addressed wetland conservation issues.




Tag: Site Conservation / Preservation Communication Awareness raising

21.

The project facilitated demonstration scale reclamation of abandoned mining sites under Component 3 (Outcome 3), and experiences and lessons learned have supported scaling up on the demonstrated approaches. Setting up official standards has not been realized; this is something that will require more time and coordination with national and international state-of-the art practices.




Tag: Mine Action Natural Resouce management Capacity Building

22.

Although a specific hotline number was not established as designed under this outcome, there are opportunities for citizens to voice concerns regarding issues. For instance, there is an existing national hotline service managed by China Post (telephone number 118114); for issues associated with wetlands, the operator provides the office number of the manager of the Wetlands Office at the XFDG. Moreover, there are contact forms on the protected area websites. The TE team viewed a few of the comments uploaded to the protected area websites and responses by PA officials; these systems were found to be active and transparent.




Tag: Civic Engagement Communication

23.

Based on the terminal assessments made in May 2018, METT scores for three of the five nature reserves exceeded the end targets, whereas the average of the five fell short of the 72 end target. The TE team noticed several inconsistences in the METT assessments, e.g., regarding whether there are protected area regulations, review of management plans, involvement of local communities, adequacy of PA budgets and staffing, etc. It would be advisable if the METT tool is better explained to the PMO and the contracted expert who facilitated the assessments and if the process is carried out with wider stakeholder participation (lesson learned).




Tag: Environmental impact assessment Civic Engagement Monitoring and Evaluation

24.

The terminal assessments of the ecosystem health index (EHI) scores exceeded the end targets for the three designated nature reserves, with the largest increase reported for the Buergen Beaver NR. It is noted that the self-assessment information provided by the PMO (see Annex 5) is different than the EHI scores included in the Excel spreadsheets.




Tag: Environmental impact assessment Monitoring and Evaluation

25.

Based on project reports of government decisions regarding the delisting of mining rights for 78 sites within the Liangheyuan NR, it appears that administrative efforts have been successful in prohibiting mining in this nature reserve. Indicator No. 9 covers all protected areas in the AMWL region and there was no evidence available to the TE team that demonstrates that similar administrative measures have taken place in other PA's (recommendation).




Tag: Mine Action Natural Resouce management Rule of law Country Government

26.

Co-management committees set up for two communities in the Liangheyuan NR under Component 3. The committees are functioning but have not been formalized; that is, agreements have been signed between the Liangheyuan NR and local villages, but the co-management committees are not party to these agreements. It would be advisable to formalize the co-management committees and work towards registering the committees as community-based organizations or equivalent, enabling them to raise funds on their own.




Tag: Resource mobilization Civic Engagement Civil Societies and NGOs

27.

Cross-border collaboration has been enhanced through execution of two memoranda of cooperation, one signed in 2014 and 2016 between nature reserve management administrations in China and Mongolia, regarding beaver conservation, and the other signed in 2014 between the Tavan Bogd NP (Mongolia) and Liangheyuan NR.




Tag: Transborder Harmonization Partnership Bilateral partners Country Government

28.

Regarding changes in the operational budget for PA management in the AMWL region, the project has reported that the midterm figure (presumably for the year 2015) was USD 2.6 million, an increase of more than 70% from the baseline of USD 1.515 million (2011-2012). It would be more appropriate to provide updated figures, e.g., for 2018, and also indicate whether new contributions were allocated by local, prefectural and autonomous region governments.




Tag: Government Cost-sharing Human and Financial resources

29.

Livestock numbers in the Liangheyuan NR and elsewhere in sensitive areas in XUAR and throughout China have steadily decreased in the past 5-10 years, as management effectiveness of protected areas has improved, eco-compensation programs have expanded and poverty alleviation programs such as the community ranger program have grown. According to project progress reports, livestock numbers in the Liangheyuan NR, in the Sandaohaizi wetland area, have decreased from a baseline figure of 40,000 in 2012 to 11,763 sheep-equivalent in 2018.




Tag: Livestock Site Conservation / Preservation Civic Engagement Poverty Alleviation

30.

Management zoning of the Liangheyuan NR was reassessed as part of process of updating the master plan for the NR. The updated, 10-year master plan (2019-2028) has been submitted to the XUAR government for approval.




Tag: Natural Resouce management Strategic Positioning Country Government

31.

There are a number of popular tourism destinations near the Liangheyuan NR and within the AMWL region. The project was effective at strengthening ecotourism ventures for 6 households in Jiangbutas Village, through training and zero- interest loans. Apart from ecotourism, other alternative livelihood opportunities were also facilitated, including women's embroidery and soap production, and as support staff for ecological monitoring in the NR. These activities have generated increases household incomes; however, the end target for Indicator No. 14 calls for the "average household income for park residents increased by at least 20% ...".




Tag: Tourism Jobs and Livelihoods Micro-credit

32.

Illegal gold mining activities have been stopped in the NR, through official delisting of 78 mining rights. And, the project supported demonstrations of reclamation of abandoned mining sites, totaling 12,141 mu (809 ha).




Tag: Mine Action Natural Resouce management Site Conservation / Preservation Rule of law Capacity Building Policy Advisory

33.

In terms of wildlife monitoring, there has been limited monitoring data reported during the project implementation phase. The TE team requested inputs from the AMFB, including annual reports produced by the Liangheyuan NR and other protected areas. The selected species for Indicator No. 16 were not fully appropriate. For instance, beavers are not prevalent in the Liangheyuan NR, moose are not relevant for this NR and there are limited data on wolverine. Available monitoring reports indicate, for instance that beaver family populations for the Buergen Beaver NR and at other monitoring stations in the AMWL region have been stable, comparing figures from 2014 and 2018.




Tag: Environmental impact assessment Wildlife Conservation Monitoring and Evaluation Data and Statistics

34.

Relevance

The project was aligned to the GEF-5 Biodiversity Strategy, specifically Objective 1, "Improve Sustainability of Protected Area Systems", Outcome 1.1, "Improved management effectiveness of existing and new protected areas", and Outcome 1.2, "Increased revenue for protected area systems to meet total expenditures required for management."

The project is relevant to the strategic directions outlined in the National Biodiversity Conservation Strategy and Action Plan (NBCSAP), which designates the Altai Mountains Forest and Grassland Ecological Function as one of the country's 25 "key ecological function zones" that must be protected and managed sustainable. And, the Altai Mountains are recognized among China's 35 "priority conservation areas".

At the time of project development, the project was closely aligned with the target of the State Forestry Administration (currently the National Forestry and Grassland Administration) of protecting 55% of natural wetlands by the end of 2015. At project closure in 2019, wetland conservation remains a priority in China, as reflected among the priority actions in the XUAR biodiversity strategy and action plan (2015-2030).




Tag: Biodiversity Natural Resouce management Relevance Global Environment Facility fund Country Government

35.

The project is relevant with respect to globally significant biodiversity, based on project sites situated within key biodiversity areas (KBAs)




Tag: Biodiversity Relevance

36.

As one of the child projects under the UNDP-GEF program "Main Streams of Life – Wetland PA System Strengthening for Biodiversity Conservation (MSL)", the project contributed towards mainstreaming wetland conservation nationwide, and building upon GEF-financed initiatives in the Altai-Sayan Ecoregion, in Mongolia, Kazakhstan and Russia.




Tag: Biodiversity Natural Resouce management Site Conservation / Preservation Global Environment Facility fund Transborder

37.

At project entry, the project objective was consistent with two outcomes of the 2011-2015 UNDP Country Programme Document for China: Outcome 4: "Low carbon and other environmentally sustainable strategies and technologies are adapted widely to meet China's commitments and compliance with Multilateral Environmental Agreements"; and Outcome 5: "The vulnerability of poor communities and ecosystems to climate change is reduced". The project remains relevant with respect to the priorities outlined in the 2016-2020 UNDP Country Programme Document, specifically Output 2.1, "China's actions on climate change mitigation, biodiversity and chemicals across sectors are scaled up, funded and implemented".

In summary, the TE team has applied a rating of highly satisfactory for relevance.




Tag: Climate Change Adaptation Biodiversity Relevance Vulnerable

38.

Efficiency

Supporting Evidence:

The GEF funding addressed the key barriers highlighted in the project design.
Satisfactorily achieved the intended project outcomes within the allocated budget and timeframe.
Materialized cofinancing exceeds confirmed amount at project entry.
Financial delivery was inconsistent during project implementation.
Several project activities unfinished at operational closure.
Questionable value-for-money for the investment of the outdoor experience base in Altai City.




Tag: Efficiency Global Environment Facility fund Government Cost-sharing Human and Financial resources Programme/Project Design

39.

As of 31 March 2019, total project expenditures incurred were USD 3,047,595, or 86% of the USD 3,544,679 GEF grant for implementation, as broken down below in Table 22.




Tag: Efficiency Operational Efficiency

40.

Spending on the three components and project management has been roughly in line with the breakdown included in the indicative budget in the project document. Financial delivery has been inconsistent during the project implementation timeframe. The highest rate of delivery, at 88%, occurred in 2015, when annual expenditures peaked at USD 1,170,209. Delivery dropped to 23% in 2016, with expenditures at USD 232,432 in that year. Delivery rates improved in 2017 and 2018, at 54% and 74%, respectively (see Figure 10).




Tag: Efficiency Human and Financial resources Operational Efficiency

41.

The project has been largely successful in achieving the intended outcomes within the allocated timeframe and budget. Inconsistent delivery has, however, reduced overall project efficiency. For example, spending in 2018, the last complete year of implementation was the highest except for 2015. And, the balance of USD 497,084 is slated to be incurred over the remaining months in 2019, prior to financial closure. With operational closure occurring on 26 February 2019, a substantial proportion of the implementation grant has not yet been expended. According to interviews with PMO members, the full value of the implementation grant has been contracted out; final payments are expected to be made later in 2019 after final activity deliverables are completed.




Tag: Efficiency Human and Financial resources Operational Efficiency

42.

The TE team made one observation of questionable value-for-money, specifically the investment in the outdoor experience base at the higher middle school in Altai City. It seems that these funds would have been better spent near one of the nature reserves, where tourists could benefit from environmental education experiences.




Tag: Efficiency Human and Financial resources Education Infrastructure

43.

Moderate efficiency gains were also achieved as a result of the decreasing value of the Chinese yuan against the US dollar over the course of the project. At the project start date on 27 February 2014, the USD:CNY exchange rate was 6.12491 and by project closure on 26 February 2019, the exchange rate was 6.6942 (see Figure 11).




Tag: Efficiency Human and Financial resources Operational Efficiency

44.

According the project asset report with the effective date of 31 December 2017, the cumulative purchase values of assets procured were USD 115,248.69 for assets acquired at <USD 1,500 and USD 145,922.94 for assets acquired at >USD 1,500. The purchased assets included field monitoring equipment, such as soil monitoring systems, weather stations, chlorophyll monitoring systems, infrared cameras, handheld cameras, binoculars, GPS units and dendrometers. Computer and other information technology equipment were also purchased, as well as office furniture and specimen cabinets.




Tag: Efficiency Human and Financial resources Procurement

45.

Independent financial audits have been completed of the project to demonstrate due diligence in the management of funds. Audit reports by the auditing company Mazars Certified Public Accountants for fiscal years 2015 and 2017 were provided to the TE team for review. The 2015 audit report indicated a medium risk finding regarding financial reporting and a low risk item associated with the lack of tagging of assets. The 2017 audit report contained two findings, one on financial reporting (low risk) and on asset management (low risk).




Tag: Efficiency Human and Financial resources Monitoring and Evaluation

46.

Sustainability

Sustainability is generally considered to be the likelihood of continued benefits after the GEF funding ends. Under GEF criteria each sustainability dimension is critical, i.e., the overall ranking cannot be higher than the lowest one.

Overall:

Likelihood that benefits will continue to be delivered after project closure: Moderately Likely

Supporting Evidence:

Expanded coverage of PA system in AMWL region, improved management effectiveness and updated PA management plans increases protection of regional important ecosystem services and globally significant biodiversity.
Inclusive PA governance through participation of local communities, and scale-able and replicable collaborative management demonstrations.
Strengthened enabling environment for wetland conservation and rehabilitation, including mainstreaming of wetland issues into sectoral 13th 5-year plans and inclusion as one of the green development indicators.
Enhanced monitoring capacities, equipment and information management systems, and budgeted monitoring tasks in the approved monitoring plan.
Materialized cofinancing exceeded confirmed amounts at project entry.
Strengthened capacities and empowerment of women and ethnic minorities.
Improved transboundary collaboration, through two memoranda of cooperation with Mongolian counterparts.
CNY 6.4 billion (approx. USD 950 million) government integrated environmental program (2018-2021) in Altai Prefecture
Government community ranger program supports many herder families throughout XUAR, with 620 positions in Altai Prefecture in 2018.
Partnerships with NGOs and foundations established.
Lack of legal framework for PA co-management modalities, and co-management committees established on the project not formalized, e.g., as community-based organizations.
High turnover in government agencies diminishes retention of institutional capacity.
Constraints facing the eco-tourism market (e.g., logistics, infrastructure, quality of service, security, etc.)
Low risk of illegal and unauthorized activities within PA's and other sensitive ecosystems.
Capacity limitations of community groups in expanding alternative livelihood ventures.
Lack of a sustainability strategy and action plan.
Uncertainties associated with potential impacts of climate change.




Tag: Civil Societies and NGOs Biodiversity Natural Resouce management Site Conservation / Preservation Sustainability Global Environment Facility fund Government Cost-sharing Women's Empowerment Civic Engagement Local Governance Monitoring and Evaluation Partnership Sustainability

47.

Financial Dimension:

Likelihood that benefits will continue to be delivered after project closure: Likely

With respect to the financial resources dimension of sustainability, a rating of "likely" is applied. There is substantive evidence demonstrating financial commitment for continuing to fund conservation and environmental protection in the AMWL region and throughout XUAR. For instance, a CNY 6.4 billion (approx. USD 950 million) integrated environmental protection program, with CNY 2 billion (approx. USD 300 million) of funding from the central government, was initiated in 2018 and is scheduled to be implemented through 2021. The government funded community ranger program continues to be expanded in XUAR, with 620 rangers from low-income herder households allocated in the Altai Mountains area, including 100 in 2019 for the Liangheyuan NR. This program provides secure income for herder households and, in turn, livestock are being moved out of core zones in NR's and reduced overall. Another example of financial sustainability is the purchase of 600 infrared cameras by the AMFB for the Liangheyuan NR, after experiencing the benefits of the 80 cameras acquired with the GEF funds.




Tag: Natural Resouce management Site Conservation / Preservation Sustainability Human and Financial resources Sustainability

48.

Moreover, operational budgets have steadily increased for the NR's in the AMWL region throughout the past 5 years, and the amount of project cofinancing that materialized exceeds the sum confirmed at project entry. And, the approved AMWL biodiversity monitoring plan includes budget estimations for specific actions, including an estimated CNY 2.07 million (approx. USD 310,000) for further improvements to monitoring stations and systems over the period 2018-2022, and CNY 0.8 million (approx. USD 120,000) for scientific research for the period 2019-2022. Funding has been applied for the proposed actions in the monitoring plan.




Tag: Sustainability Government Cost-sharing Human and Financial resources Sustainability

49.

There are a few factors that diminish financial sustainability, including the limited discretion by NR management administrations on spending. Some stakeholders mentioned government restrictions on hiring new staff as a constraint towards achieving continued improvements in PA management effectiveness. However, alternative approaches are being implemented, e.g., newly declared wetland parks and other protected areas have the option to hire staff for the first 2 years; there are often project-based funding that provide opportunities for adding staff; the community ranger program provides a large number of support for patrolling; and volunteerism is gaining popularity in China.




Tag: Challenges Sustainability Human and Financial resources Sustainability

50.

Socioeconomic Dimension:

Likelihood that benefits will continue to be delivered after project closure: Moderately Likely

A rating of "moderately likely" is applied to the socioeconomic dimension in the sustainability analysis. The project has provided scale-able demonstrations of co-management approaches with local communities and alternative livelihood ventures that provide mutually beneficial conservation and social well-being outcomes, and empower women and ethnic minorities. There is evidence of commitment by local governments, e.g., through the expansion of the community ranger program and the decision by the Chaganguole Township government4 to invest in a small workshop for the black soap women's group. Another positive factor is the involvement of NGOs and foundations. The local NGO Green Xinjiang provided community development support, and separate NGOs delivered assistance with regard to bird- watching and wildlife monitoring. A few foundations provided small grants supporting the community development activities in the AMWL landscape, including CNY 30,000 (approx. USD 4,500) from the China Green Carbon Sequestration Foundation (special found for community development), and CNY 25,000 (approx. USD 3,750) from the Beijing United Green Public Welfare Foundation. There has also been an increase in awareness and knowledge of the value of wetland resources, through involvement of local communities in project interventions, the environmental education activities at local school, participation of local government officials in project events and trainings.




Tag: Sustainability Civic Engagement Local Governance Sustainability Awareness raising Civil Societies and NGOs

51.

While co-management with local communities was successfully demonstrated, the co-management committees are not yet formalized or have legal status, e.g., registered as community-based organizations. Further capacity building will be needed for the groups engaged in alternative livelihood ventures. And, there are certain constraints limiting development of the eco-tourism market in the Altai region and throughout XUAR; including security concerns and quality of service.




Tag: Tourism Civic Engagement Local Governance Jobs and Livelihoods Capacity Building

52.

Institutional Framework and Governance Dimension:

Likelihood that benefits will continue to be delivered after project closure: Likely

A rating of "likely" is applied to the institutional framework and governance dimension of the sustainability analysis. The institutional framework regarding wetlands conservation has been substantially strengthened through approval of the XUAR wetland conservation and rehabilitation plan, the updated management plans for the 5 nature reserves in the AMWL region, mainstreaming conservation priorities in sectoral 13th 5-year plans and the pending sectoral standards under development. Institutional capacities for the XFD, Xinjiang Department of Ecology and Environment and the Xinjiang Department of Water Resources have improved, as measured by the UNDP Capacity Development Scorecards. It is also important to note that wetland conservation (weighting of 1.83%) has been included in the green development index (GDI) for local governments, introduced in 2016.




Tag: Natural Resouce management Site Conservation / Preservation Sustainability Rule of law Sustainability

53.

Governance has also been strengthened through the functioning of the cross-sectoral project leading group (PLG) during the implementation phase. According to interviewed stakeholders, there is an inter-sectoral coordination committee in place in the Altai Prefecture. The demonstrated co-management committees provide a practical framework for scaling up this type of inclusive governance. Moreover, transboundary cooperation has been enhanced, including two memoranda of cooperation signed between NR administrations in China and Mongolia.




Tag: Transborder Civic Engagement Partnership Coordination Institutional Strengthening Civil Societies and NGOs

54.

The prospects for sustainability are diminished by a few factors, including the lack of a legal framework for community co-management. And, the implementation of the AMWL landscape strategy will require expanded collaboration between AMFB and AFB; these institutional collaborative arrangements have been substantiated.




Tag: Challenges Sustainability Civic Engagement Rule of law Partnership

55.

Environmental Dimension:

Likelihood that benefits will continue to be delivered after project closure: Likely

A rating of "likely" is applied to the environmental dimension of the sustainability analysis. The substantial levels of government funding for conservation and environmental improvements, including the CNY 6.4 billion (approx. USD 950 million) integrated program (2018-2021) for the AMWL region enhances environmental sustainability. Threats to natural resources in the Liangheyuan NR have been reduced through revoking 78 mining rights; reduced numbers of livestock, as a result of eco-compensation and community ranger programs; and promotion of alternative livelihoods that further reduce pressure on grassland resources. Increased awareness and participation of local co-management arrangements have increased the resilience of local communities. The updated management plans for the 5 nature reserves in the AMWL region and the approved biodiversity monitoring plan further enhance the likelihood that results achieved on the project will be sustained. Moreover, the information management system (big data) that is under development includes early warning functions that will help PA managers adapt and respond to changing environmental conditions.




Tag: Mine Action Biodiversity Environment Policy Natural Resouce management Site Conservation / Preservation Sustainability Civic Engagement Rule of law Awareness raising Data and Statistics Civil Societies and NGOs

56.

Certain risks of illegal and unauthorized activities, such as over-grazing, logging and mining, remain among the nature reserves in the AMWL region. Enforcement is difficult to ensure across these vast and remote areas, and there are significant potential economic gains associated with such illegal and authorized activities. Climate change also pose potential environmental threats over the long-term.




Tag: Agriculture land resouces Livestock Climate Change Adaptation Mine Action

57.

Progress towards impact

Environmental Stress Reduction:

There are a number of examples of environmental stress reduction in response to activities implemented during the project and through ongoing government programs, including but not limited to the following:

Expansion of the wetland PA sub-system in the AMWL region by 222,699 ha.
Improvements in management effectiveness, as measured by the GEF-5 adapted management effectiveness tracking tool (METT), of the five nature reserves in the AMWL region having a cumulative area of 1,035,645 ha.
Enhanced connectivity through strengthened transboundary collaboration (two memoranda of cooperation signed with Mongolian counterparts);
Reduced livestock in core zones of nature reserves in the AMWL region, as a result of government ecological migration and community ranger programs.
Reduced pressure on grassland resources through introduction and development of alternative livelihoods for herder households.
Revocation by the government in 2018 of mining rights for 78 sites within the Liangheyuan NR.
Year-round fishing ban issued by the XUAR (fishery management center) in 2018 for all natural rivers, including the Ertix River in the region under their jurisdiction. The Ertix River originates in the Altai Mountains in China and is the only river in China that flows to the Arctic Ocean, after flowing through Kazakhstan and Russia. And, in 2017, the AMFB issued a one-month extension to the seasonal fishing ban introduced in 2005.




Tag: Fishery Livestock Mine Action Natural Resouce management Impact Transborder Civic Engagement Partnership Bilateral partners

58.

Environmental Status Change:

Ecosystem health of three of the nature reserves in the AMWL region improved over the course of the project, as measured by the Ecosklystem Health Index (see Table 23).

For the Liangheyuan NR, improvements in the EHI score are mostly attributed to the positive consequences of delisting mining rights/claims, reclaiming abandoned mining sites and reducing livestock numbers in core zones. With respect to the Kekesu Wetlands NR, improvements in the EHI score between 2012 and 2018 were largely based on the species health assessment, possibly due to reduced levels of poaching, results of the fishing ban, etc. There are limited details provided in the EHI spreadsheet. The Buergen Beaver NR had the largest increase in ecosystem health, from 57 at project baseline in 2012 to 72.2 in 2018. The improvements included reduction in threats associated with water diversions; this might have been a result of the upgrade of the NR from provincial to national level, thus providing a higher level of protection – and resources for management.




Tag: Livestock Mine Action Environmental impact assessment Site Conservation / Preservation Wildlife Conservation

59.

Populations of key wildlife species are reported to be stable or increasing in recent years, including the Chinese sub- species of the Eurasian beaver (see Table 24)

It is important to note that among the 162 beaver families observed in 2018, the many are outside the Buergen Beaver NR and other protected areas, and are consequently vulnerable to human and development related threats.

The infrared cameras deployed during the project in the Liangheyuan NR have revealed several species, including the snow leopard (see Figure 12), mink, mountain goat, lynx, wolf, brown bear and snow rabbit.




Tag: Biodiversity Wildlife Conservation

60.

Ecosystem status change has also been initiated in the Liangheyuan NR and other parts of the AMWL region through reclamation of abandoned mining sites. Based on project reports, native vegetation has successfully established at several of the reclaimed plots (see Figure 13)




Tag: Mine Action Biodiversity Natural Resouce management

61.

Extensive monitoring has been carried out at the reclamation demonstration sites, assessing a wide range of indicators, including vegetation cover, diversity index, similarity index, aboveground biomass and seed content in soil.




Tag: Environmental impact assessment Natural Resouce management Data and Statistics

62.

A seasonal fishing ban was introduced in 2005 for the Ertix River, originally extending from 01 April to June 30. In 2017, the XUAR government extended the ban by one month, until 31 July. According to news reports, the numbers of cold-water fish such as white bream and northern pike has increased since the ban was enforced in 20056. In 2018, the XUAR government (fishery management center) issued a year-round fishing ban in all natural rivers in the Altai region, including the Ertix River.




Tag: Fishery Environment Policy

63.

Contributions to Changes in Policy/Legal/Regulatory Enabling Frameworks:

Significant advances to enabling policies occurred in recent years, including the following:

The "Implementation Plan for Wetland Conservation and Restoration" was issued by the General Office of the People's Government of the XUAR and implemented by relevant departments (XUAR Government Decision No. 199, dated 18 October 2017).
The "Strategic Plan for the Altai Mountains and Liangheyuan Wetland Landscape Protection and Sustainable Development and Altai Ecotourism Guide in the Altai Mountains" (Dec 2018) has been approved by Altai Prefectural Administration and forwarded to all relevant units for implementation.
"Measures for the Management of Wetland Parks in XUAR" passed the deliberation of the third Party Committee of the Department of Forestry and Grasslands and was adopted and issued to all localities for implementation in 2018.
"Methods for the identification of important wetlands in XUAR" passed the deliberation of the third Party Committee of the Department of Forestry and Grasslands and was adopted and issued to all localities for implementation in 2018.




Tag: Environment Policy Rule of law Policy Advisory

64.

Arrangements to Facilitate Follow-up Actions:

Improved management effectiveness of the five target nature reserves in the AMWL imply strengthened capacities for achieving management objectives of these protected areas. The updated management plans for the 5 target nature reserves in the AMWL region provide practical frameworks for facilitating follow-up actions. Provincial and central government funding for PA management has increased steadily over the duration of the project implementation timeframe and is expected to continue after project closure.




Tag: Natural Resouce management Local Governance Human and Financial resources Sustainability Country Government Institutional Strengthening

65.

The AMWL ecological coordination committee is a functioning platform with many of the same members as those participating on the project leading groups.




Tag: Natural Resouce management Civic Engagement Coordination

66.

Demonstration of community co-management committees provide the foundation for collaborative PA management with local communities in the AMWL region.




Tag: Civic Engagement Local Governance

67.

The two memoranda of cooperation signed with Mongolian counterparts provide a clear strategic direction for improving transboundary collaboration on biodiversity conservation and ecosystem protection.




Tag: Biodiversity Natural Resouce management Site Conservation / Preservation Transborder Partnership Bilateral partners Country Government

68.

Replication:

The replication approach in the project design was mostly focused on the community co-management demonstrations under Outcome 3. Successful co-management demonstrations were implemented under the project and the updated management plans for the five targeted nature reserves include provisions for community co-management. Moreover, the government community ranger program is a type of participatory management that protected areas could further expand upon. The project also involved local NGOs and foundations that are important partners in facilitating community development initiatives. The challenge moving forward will be whether there are sufficient incentives and local champions to scale up and replicate the bottom-up type approaches demonstrated on the project. It would be advisable for protected area management administrations to strengthen their partnership arrangements with local NGOs and foundations, in this regard.




Tag: Natural Resouce management Sustainability Civic Engagement Programme/Project Design Sustainability Civil Societies and NGOs

69.

There are replication opportunities with respect to the demonstrated reclamations of abandoned mining sites. There are extensive degraded lands in the AMWL region that require reclamation.




Tag: Mine Action Natural Resouce management Sustainability Sustainability

70.

The information management system (big data) for the XUAR system provides a powerful platform for disseminating best practices and lessons learned. XFD, AMFB and AFB managers will need to provide guidance to the entities responsible for further developing and mainlining this system.




Tag: Communication Data and Statistics

71.

The project has also produced several guidebooks and other knowledge products to promote replication. These could be further disseminated on the XUAR information management system and nationally, e.g., over the information management system that is under development on the national project (PIMS 4391) under the MSL program.




Tag: Sustainability Communication Sustainability

72.

Assessment of Monitoring & Evaluation Systems

M&E Design

Monitoring and Evaluation design at entry is rated as: Satisfactory

The M&E plan was developed using the standard UNDP template for GEF-financed projects. The indicative budget for the M&E plan was USD 177,000 (excluding PMO and UNDP staff time and travel expenses), which is 6.2% of the USD 3,544,679 GEF grant for project implementation. The M&E budget included allocations of USD 10,000 for the inception workshop, 15,000 for measurement of means of verification for project purpose indicators, and USD 32,000 (USD 8,000 per year) for annual measurement of means of verification for project progress and performance, USD 40,000 for the midterm review, USD 40,000 for the terminal evaluation, USD 15,000 (USD 3,000 per year) for capturing lessons learned and USD 25,000 (USD 5,000 per year) for financial auditing.




Tag: Global Environment Facility fund Human and Financial resources Monitoring and Evaluation

73.

The project document includes detailed descriptions supporting the indicators in the results framework. There were some shortcomings with respect to validating some of the baseline information, including the baseline METT scores. The selection of indicator wildlife species under Outcome 3 was also not fully vetted. Stakeholders informed the TE team, for example, that moose is not an appropriate indicator species and there are limited data on wolverine occurrence.




Tag: Wildlife Conservation Results-Based Management Data and Statistics

74.

M&E implementation

Implementation of Monitoring and Evaluation Plan is rated as: Moderately Satisfactory

The project results framework is annexed to the inception workshop report, but there is no evidence that the framework was discussed and validated during the workshop. (lesson learned).

M&E results were documented in project implementation review (PIR) review reports, annual progress reports and stand-alone monitoring reports. The steering committee was an important platform for M&E, providing strategic feedback to issues raised through project reporting and discussions during the meetings. PSC meetings were convened annually. The PIR reports were found to be well written and internal ratings were realistic. For instance, a rating of "moderately unsatisfactory" was applied in the 2017 PIR report, and efficiency shortcomings were discussed in the reports.




Tag: Monitoring and Evaluation Oversight Project and Programme management Results-Based Management

75.

There was room for improvement with respect to results-based management; e.g., certain indicators and baseline figures remain unclear at the time of the TE and monitoring was inconsistent on some of the project indicators. For example, PA expansion and upgrade figures were unclear (project objective); there was no regular monitoring of EIA's that addressed potential impacts to wetlands (Outcome 1); reported figures regarding PA operational expenditures were not consistent with the baseline data (Outcome 2); livestock reductions in the Sandaohaizi wetland area were not reported (Outcome 3); updated zoning of the Liangheyuan NR not reported (Outcome 3); the method of calculating household income was not explained (Outcome 3); limited wildlife monitoring figures reported (Outcome 3).




Tag: Monitoring and Evaluation Results-Based Management Data and Statistics

76.

Tracking Tools:

The project was obliged to complete the three sections to the Objective 1 portion of the GEF-5 tracking tools. External consultants and specialists were hired to make the baseline, midterm and terminal assessments.

In a global study of PA management effectiveness, a threshold of 67% was deemed representative of "sound management", and 'basic management" was defined for METT scores ranging from 33% to 67%.7 Three of the five nature reserves included in the project results had METT scores exceeding or close to 67%: Liangheyuan NR (65); Kekesu Wetland NR (71) and Kanas NR (64). Considering the situational analysis described in the project document, the baseline METT scores might have been too high.
There was an apparent lack of understanding of the METT tool by the contracted consultant. For example, the METT scores rather than the percentages of the maximum possible score were reported in the results framework. There were no items indicated as not relevant (with adjustments to the total maximum possible score).
There were several inconsistencies observed in the terminal assessments of the tracking tools, e.g., whether there is a regulatory framework for protected areas, how management plans are reviewed annually, the adequacy of PA staff and budget, and the level of involvement of local communities.
The terminal assessments do not include Section I spreadsheets, and Section II only indicated the METT assessment form. Data sheets 1 and 2 were not filled in.




Tag: Challenges Monitoring and Evaluation Technology

77.

Midterm review:

The midterm review (MTR) of the project was completed in 2016 and the management response issued by the PMO on 01 December 2016. The MTR presented a comprehensive assessment of progress made and several recommendations were made for improving project performance and enhancing the likelihood for sustainability of results. The recommendations from the midterm review were satisfactorily addressed by the project team during the second half of the implementation timeframe, as summarized below in Table 25.




Tag: Monitoring and Evaluation Project and Programme management

78.

Assessment of Implementation and Execution

Quality of implementation

Quality of Implementation (UNDP) is rated as: Satisfactory

The quality of implementation by UNDP as the GEF agency on this project is rated as satisfactory. UNDP has provided support throughout the project life cycle, from conceptualization to project development and throughout implementation.




Tag: Implementation Modality Project and Programme management UNDP Management UNDP management

79.

The UNDP Country Office (CO) provided strategic guidance to the project, and the Environment and Energy Program Manager participated in each of the project steering committee meetings. The UNDP CO also provided extensive implementation support to the implementing partner; including training to project stakeholders, procurement, contracting and financial administration. There could have been broader involvement of the UNDP CO, e.g., with respect to gender mainstreaming, consistent with the institutional strength of UNDP in human development issues.




Tag: Gender Mainstreaming Implementation Modality Project and Programme management UNDP Management UNDP management

80.

Grant cofinancing from UNDP did not materialized as planned, as allocation of core resources8 across the UNDP have been significantly decreased. The UNDP CO has reported in-kind cofinancing as part of the UNDP-CICETE9-Coca Cola Partnership on Water Governance. The TE team concurs that the scope of this program is consistent with the project objectives, but the reported in-kind contribution of USD 1 million seems too high for this project.




Tag: Government Cost-sharing UNDP Management UNDP management Operational Services

81.

The UNDP regional technical advisor (RTA) was actively involved, providing overall guidance during the project preparation phase, liaising with the Ecosystems and Biodiversity team at UNDP headquarters and with the GEF Secretariat. Project progress reports provided candor accounts of issues, and these were followed up during project steering committee meetings. Internal ratings were reasonable and project risks were monitored. Progress reports also contained constructive recommendations.




Tag: Global Environment Facility fund Communication Implementation Modality Project and Programme management UNDP Management UNDP management

82.

Quality of execution

Quality of Execution (Xinjiang Department of Forestry) is rated as: Moderately Satisfactory

The quality of execution by the Xinjiang Forestry Department (XFD) is rated as moderately satisfactory.

According to the designed implementation arrangements, the role of the XFD was project coordination and overall project oversight. The project management office (PMO) was initially set up at the Liangheyuan NR Management Bureau, but in response to one of the MTR recommendations, the PMO was shifted to the AMFB during the second half of the project.




Tag: Implementation Modality Oversight Project and Programme management Country Government

83.

There has been a number of changes in the positions of national project director, project coordinator and project manager throughout the project implementation phase. This is partly reflective of the relatively high turnover of government officials in XUAR. Executing a project in XUAR has unique challenges, e.g., due to security issues and remoteness. Even with the changes in project staff, high level officials were consistently involved in the project, which demonstrates a high level of country ownership. The chief technical advisor (CTA) was also changed after the MTR and he helped guide the implementation with strategic guidance and practical advice on project management.




Tag: Human and Financial resources Implementation Modality Ownership Project and Programme management Country Government

84.

A moderately satisfactory rating has been applied because of shortcomings in project efficiency. Approximately 40% of the GEF implementation grant has been expended in the 2018 and 2019, with an operational closing date of 26 February 2019. The frequent changes to National Project Director and Manager affected project efficiency.




Tag: Challenges Efficiency Operational Efficiency

85.

Other Assessments

Need for follow-up

There are a few issues that need to be followed up after project closure, including but not limited to:

Preparation of a technical guidance document for best practices in reclamation of abandoned mining sites in the Altai Mountains.
Approval of the updated master plan (2019-2028) for the Liangheyuan NR.
Agreeing on fund management roles, responsibilities and reporting of the community development fund initiated by the project.
Completion and approval of the provincial sectoral standards.
Completion of the construction and commissioning of the outdoor experience base near the higher middle school in Altai City.
Transfer of assets acquired with GEF funds to the designated owners.




Tag: Sustainability Operational Efficiency

86.

Materialization of cofinancing

The amount of cofinancing that has reportedly materialized during project implementation is USD 26,885,215, which exceeds the USD 22,000,000 confirmed at project entry (see Annex 6). The majority of project cofinancing was contributed from governmental partners. Two governmental cofinancing streams were reported: operating funds from the XUAR and Altai Prefecture governments contributed as grant cofinancing (USD 10,499,308 from 2013-2018), and public welfare forest funding from the national government contributed as in-kind cofinancing (USD 16,285,908 from 2013-2018).




Tag: Government Cost-sharing Country Government

87.

Some other examples of governmental cofinancing include, but are not limited to, the following:

Financing for the reclamation of the 12,141 mu of abandoned mining sites.
Operational expenditures for the management of the protected areas in the AMWL region
Office space and office services in Urumqi, Altai City and at the local level
Time spent by XDFG, AMFB, Liangheyuan NR Administration and other governmental agencies
Use of vehicles for field work




Tag: Government Cost-sharing Country Government Operational Services

88.

Apart from the reported cofinancing contributions, there were investments mobilized that are not clearly accounted as cofinancing, including government investments in 600 infrared cameras for the Liangheyuan NR, governmental financing for the information management system (big data) for the XUAR PA system.




Tag: Government Cost-sharing Country Government

89.

Grant cofinancing from UNDP did not materialized as planned. Allocation of core resources10 across the UNDP have been significantly decreased due to budget cuts arising from global UN reform processes. Without TRAC allocation, grant cofinancing from UNDP could not be mobilized. The UNDP has reported in-kind cofinancing as part of the UNDP- CICETE11-Coca Cola Partnership on Water Governance that has been implemented since 2013, and the second 5-year phase was approved in 2018. The water governance program has funded water conservation projects throughout China, including in XUAR in 2013, on pollution control, promotion of sustainable agriculture, demonstration of innovative wastewater treatment, rehabilitation of degraded wetlands, etc. The TE team concurs that the scope of this program is consistent with the project objectives and the benefits of implementing best practice water conservation approaches extends throughout the country. The reported USD 1 million of in-kind contribution seems too high for this project. Based on review of annual reports of the water governance program, USD 100,000 of in-kind cofinancing is considered appropriate for the project.




Tag: Challenges Government Cost-sharing UNDP Management UNDP management

90.

There was evidence shared with the TE team of other cofinancing that materialized during implementation, but has not been accounted or reported as cofinancing. This includes grants from foundations in support of the community development activities under Outcome 3.




Tag: Government Cost-sharing Donor Civil Societies and NGOs

91.

The project did not maintain a tracking system for project cofinancing. (lesson learned) The limited tracking of cofinancing contributions also implies that there might have been missed opportunities with other potential cofinancing partners.




Tag: Challenges Government Cost-sharing Monitoring and Evaluation

92.

Environmental and social safeguards

Environmental and social risks were screened at the project preparation phase; the results of the screening were included as Annex 8 to the project document.

Potential risks were identified with respect to potential environmental and social impacts that could affect indigenous people (ethnic minorities) or other vulnerable groups; to gender equality and women's empowerment; to potential impacts that could affect women's or men's ability to use, develop and protect natural resources and other natural capital assets; and to potential impacts associated with land tenure arrangements and/or traditional cultural ownership patterns. The outcome of the screening process was a Category 3a classification, which represent impacts and risks are limited in scale and can be identified with a reasonable degree of certainty and can often be handled through application of standard best practice, but require some minimal or targeted further review and assessment to identify and evaluate whether there is a need for a full environmental and social assessment.




Tag: Natural Resouce management Gender Equality Women's Empowerment Risk Management Social Protection Indigenous people Vulnerable

93.

The narrative description in the screening document outlines the overall positive social and environmental benefits expected through the project interventions. With respect to environmental impacts, the narrative includes the following statement: "In addition, all restoration-oriented activities under this project will undergo an independent review through a formal environmental impact assessment". The reclamations of abandoned mining sites were carried out by expert institutions; however, EIA's were not carried out as planned. The systematic process of an EIA could reveal issues that would not otherwise be considered. (lesson learned)




Tag: Mine Action Environmental impact assessment

94.

One item that was not addressed in the environmental screening process was pollution associated with the abandoned gold mining sites, including impacts associated with potential use of mercury. (lesson learned)




Tag: Mine Action Environmental impact assessment

95.

With respect to social impacts, one of the main issues discussed was providing alternative livelihood opportunities to herders to counteract the economic burden associated with reducing livestock numbers. Governmental ecological migration and community ranger programs provide compensation to a large number of herder households in the AMWL region and elsewhere in XUAR. And, the project facilitated alternative livelihood opportunities for some households in the project implementation villages. It typically takes time before such alternative livelihood ventures can offset loss of household income associated with livestock rearing or other natural resource intensive activity. It would have been prudent if the social and environmental screening report contained more information on how governmental programs are addressing socioeconomic burden of herder households in response to implementing stricter control on activities within NR core zones and other sensitive ecosystems. (lesson learned).




Tag: Livestock Environmental impact assessment Impact Economic Recovery Jobs and Livelihoods

96.

Considering the project objective had a specific emphasis on promoting livelihoods, environmental and social safeguard plans should have been developed during the project preparation phase or at project inception and monitored throughout the implementation phase. (lesson learned)




Tag: Environment Policy Monitoring and Evaluation Programme/Project Design Jobs and Livelihoods Social Protection

97.

Gender concerns

Potential gender risks were identified in the social and environmental screening made during the project preparation phase. A gender analysis and action plan were not prepared as part of project development, and gender mainstreaming objectives were not integrated into the project design or results framework. The project document does include discussion on how cross-cutting themes, including gender, would be addressed, e.g., development of collaborative management arrangements and promotion of alternative livelihoods. And, the important of Kazakh women among the ethnic minority herder households in the AMWL region was highlighted in the project document section on socioeconomic benefits.




Tag: Environmental impact assessment Gender Equality Gender Mainstreaming Programme/Project Design Risk Management

98.

The project did a good job involving women in implementation and delivering benefits to women as part of the community development activities under Outcome 3, including:

Four women were included on the project management teams.
An estimated 30% of the contracted technical assistance specialists were women.
The contracted community development specialist conducted a gender analysis of the proposed project activities in the implementation village of Jiangbutasi in Chaganguole Township. Specific trainings were designed for women, based on the results of this gender analysis.
Among the reported 447 people participating in 18 training sessions on community co-management, community development and alternative livelihoods, 90 of them were Kazakh women.
Women's groups, including two embroidery groups and a black soap production group, benefitted from the alternative livelihood ventures.




Tag: Gender Mainstreaming Gender Parity Women's Empowerment

99.

It would have been advisable to have prepared a gender analysis and action plan, with specific gender mainstreaming metrics that could have been monitored and evaluated during project implementation. One of the advantageous that international donor projects have in China is that issues, such as gender, can be addressed that might not necessarily be considered on government funded programs. And, sustainability of gender mainstreaming results could be further enhanced through identifying specific actions based on a gender analysis, e.g., involving the Women's Federation on the project leading groups, integrating gender mainstreaming into the NR management plans, etc. (lesson learned).




Tag: Gender Equality Gender Mainstreaming Monitoring and Evaluation Programme/Project Design Data and Statistics

100.

Indigenous peoples (ethnic minorities)

According to the situational analysis presented in the project document, approximately half the population in the Altai Prefecture is comprised of Kazakh ethnic minorities. And, the co-management modalities demonstrated on the project were focused on Kazakh herding communities.




Tag: Relevance Indigenous people

101.

Potential risks associated with impacts to ethnic minority communities was highlighted in the social and environmental screening process during the project preparation phase. The strategic approach proposed by the project included initiating collaborative management arrangements with Kazakh minority communities. The threat reduction targets in the project results framework for Outcome 3 were focused on herder communities, e.g., reduction of livestock win the Sandaohaizi wetland and promotion of complementary alternative livelihood opportunities.




Tag: Environmental impact assessment Risk Management Strategic Positioning Jobs and Livelihoods Data and Statistics Vulnerable

102.

Kazakh minorities were extensively involved during the project, as summarized below.

Community co-management committees were comprised primarily of Kazakh ethnic minorities, demonstrating inclusive governance arrangements.
Some trainings with local communities were held in Kazakh language.
The alternative livelihood ventures promoted under Outcome 3 primarily focused on Kazakh minorities.
Community rangers engaged by the project and hired through the government program are primarily Kazakh minorities in the AMWL region.
Traditional songs and dance were integrated into the eco-tourism activities promoted on the project. In 2014, the project supported the 3rd annual Community Culture and Art Festival at the Liangheyuan NR, and has since become a regular annual event.
Some of the project management staff were Kazakh ethnic minorities and fluent in Kazakh, Chinese and English languages.
The total number of Kazakh minorities who directly benefited on the project is estimated to be 450.




Tag: Tourism Civic Engagement Implementation Modality Jobs and Livelihoods Vulnerable

103.

It would have been advisable to have prepared an Indigenous Peoples Plan at the project preparation phase or at project inception, to establish a targeted monitoring and evaluation system for assessing and promoting active involvement among ethnic minority communities. (lesson learned)




Tag: Monitoring and Evaluation Programme/Project Design Strategic Positioning Indigenous people

104.

Stakeholder engagement

The project design and implementation arrangements were conducive to facilitating broad stakeholder engagement, with Outcome 1 focused on XUAR level activities, Outcome 2 centered on Altai Prefecture level priorities and the Liangheyuan NR and nearby communities were emphasized in Outcome 3. Governmental stakeholders at these three levels were involved directly on several project activities, such as policy reform, preparation of management plans, development of information management systems, trainings, etc. The project leading groups were effective in promoting cross-sectoral and inter-sectoral stakeholder involvement. The community co-management committees promoted improved coordination between local government, NR administration and local residents. The established PA public committees provide stakeholder engagement platforms for years to come, provided these committees are formalized. (good practice)




Tag: Civic Engagement Partnership Country Government Coordination Civil Societies and NGOs Private Sector

105.

Several XUAR based academic and research institutions were directly involved on the project through technical assistance agreements and participation on trainings. These institutions included Xinjiang University, Xinjiang Institute of Ecology and Geography (Chinese Academy of Sciences), Xinjiang Agricultural University and the Xinjiang Normal University.




Tag: Partnership Civil Societies and NGOs

106.

The project did a good job with respect to involvement with local NGOs and foundations. Local NGOs provided direct support in community development activities and training in biodiversity monitoring. And the Green China and China Environment foundations contributed small grants in support of the community development activities.




Tag: Biodiversity Civic Engagement Monitoring and Evaluation Partnership Civil Societies and NGOs

107.

Increased transboundary collaboration with counterparts in Mongolia would likely not have happened without the GEF funding. And, cross visits among the child projects under the MSL program provided opportunities for XUAR stakeholders to learn from distant provinces, including Hainan, Hubei, Anhui, Inner Mongolia and Heilongjiang.




Tag: Transborder Partnership Bilateral partners Country Government

108.

Involvement with tourism operators and the business sector did not seem to materialize as planned, for example, with the Kanas management committee which oversees the Kanas Scenic Area, a popular tourist destination, or with the Fuyun Keketuohai Forest Park - Keketuohai Tourism Company, a public-private partnership. (lesson learned)




Tag: Tourism Challenges Partnership Private Sector
Recommendations
1

Prepare a sustainability strategy and action plan. A sustainability strategy and action plan should be developed to guide enabling stakeholders in ensuring project results are sustained after GEF funding ceases. The strategy and action plan should be based on the project theory of change, e.g., focusing on the assumptions and impact drivers for achieving long-term impacts. The plan should outline the actions requiring follow-up after project closure, assigning roles and responsibilities and identifying timeframes.

2

Reassess PA management effectiveness of the target PA's. The baseline and terminal METT assessments should be redone, to provide a more realistic indication of improvements achieved with respect to PA management effectiveness

3

Ensure supervision and reporting functions are in place until all contracted activities are completed. With operational closure occurring on 26 February 2019, it is important that there are appropriate supervisory and reporting functions in place for project activities that are not yet completed.

4

Prepare a technical guidance document for reclamation of abandoned mining sites in the Altai Mountains and Wetlands Landscape. The experiences and lessons learned should be distilled into a practical technical guidance document on reclamation of abandoned mining sites in the AMWL region.

5

Identify a fund management entity for the community development fund and conclude an agreement before project closure. Renegotiate the agreement with the FFSA on the continuation (or conclusion) of the Eco-Damu microcredit scheme. If the parties agree to continue the scheme beyond the second phase of loan disbursements, then it would be important, for example, to ensure the contributed GEF funds remain earmarked for biodiversity conservation or restoration of degraded lands, preference should be given to women and other vulnerable groups.

6

Formalize the co-management committees. The co-management agreements should be signed by three parties, including representatives of the local communities. And, community-based organizations (or equivalent) should be established that would formally represent the interests of the local people on the co-management committees and also have the ability to raise funds on their own.

7

Apply the METT tool in assessing management effectiveness of wetland parks. Wetland parks and other nature parks are increasingly important part of PA systems in China. On this project, METT and EHI assessments were carried out at nature reserves but not wetland parks. It would be advisable to apply the METT tool to wetland parks within the AMWL region, to identify gaps in management and assist the management administrations in prioritizing resource allocations.

8

Further advance transboundary collaboration. Achieving effective and sustainable transboundary collaborative arrangements will require involvement of higher level governmental stakeholders and proactive regional engagement. As a first step, it would be advisable to increase the participation of XUAR stakeholder among regional platforms, such as the Global Snow Leopard and Ecosystem Protection Program (GSLEP).

9

Enhance the community develop fund through provision of an integrated package of services. Consider an integrated package of services rather than just disbursing zero-interest loans; for example, offering insurance, enterprise development (such as management training, marketing support) and welfare related services (e.g., gender awareness training).

10

Consider a complementary project focusing on cross-cutting approaches, such as ecosystem-based adaptation or integrated water resources management. The strengthened enabling conditions associated with biodiversity conservation and sustainable land management provide solid foundational capacity for implementing ecosystem-based adaptation interventions and integrated water resource management in the AMWL region.