UNDP Nepal Electoral Support Project Phase II Final Evaluation Report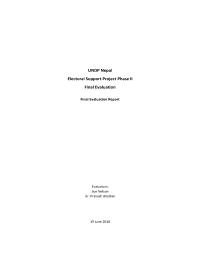 Evaluation Plan:

Evaluation Type:

Project

Planned End Date:

05/2018

Completion Date:

06/2018

Status:

Completed

Management Response:

Yes

Evaluation Budget(US $):

40,498
Title
UNDP Nepal Electoral Support Project Phase II Final Evaluation Report
Atlas Project Number:

00049636

Evaluation Plan:
2018-2022, Nepal
Evaluation Type:
Project
Status:
Completed
Completion Date:
06/2018
Planned End Date:

05/2018

Management Response:
Yes

Focus Area

:
Corporate Outcome and Output (UNDP Strategic Plan 2018-2021)

1. Output 2.2.2 Constitution-making, electoral and parliamentary processes and institutions strengthened to promote inclusion, transparency and accountability

SDG Goal

Goal 5. Achieve gender equality and empower all women and girls

SDG Target

5.5 Ensure women's full and effective participation and equal opportunities for leadership at all levels of decision-making in political, economic and public life

Evaluation Budget(US $):

40,498

Source of Funding:
Evaluation Expenditure(US $):

39,895

Joint Programme:
No
Joint Evaluation:

No

Evaluation Team members:

| Name | Title | Nationality |
| --- | --- | --- |
| Sue Nelson | Evaluation Team Leader | |
| Dr. Prakash Bhattarai | National Consultant | |

GEF Evaluation:

No

Key Stakeholders:
Election Commission of Nepal, UNDP, EU, Royal Norwegian Embassy
Countries:

NEPAL
Lessons
Findings
1.

3. EVALUATION FINDINGS

3.1 Relevance

This section looks at the project and its relevance to the country context and best practices of electoral assistance. It also looks at its relevance to the UNDP country programme, UNDP's comparative advance, national priorities and the relevance of its intended outputs and activities. The project was highly relevant to the 2013 - 2018 context, GON, ECN and UNDP objectives. Nepal was coming out of conflict and in the middle of a democratic transition, The holding peaceful, credible elections was an integral part of this process. It was important to strengthen the administration of the elections, the credibility of the process and the participation of its citizens. The 2013 CA election was the first election held during the transition without a UN mission and an electoral mandate from the Security Council. This further heightened the importance of strengthening the EMB as this made the ECN fully responsible for election administration. UNDP was well placed to deliver this assistance as it was already positioned within the ECN through its implementation of ESP I. Its team was already embedded and had existing working relationships and ongoing activities with the ECN commissioners, officials and other stakeholders working on the electoral processes and the up-coming elections. UNDP also has extensive experience in implementing election support and cycle projects. It has a global network of electoral practitioners, projects and relations as well as a unit based in Copenhagen that specializes in election-related procurement. UNDP's technical efforts are also widely perceived as impartial given its status as a multinational organization. This also helps to raise the profile and credibility of the efforts assisted. This is important when providing assistance within a highly politicized and competitive process such as elections.




Tag: Relevance Election Public administration reform Programme/Project Design Results-Based Management Conflict resolution Technical Support

2.

3.2 Effectiveness and impact

This section starts by identifying some of the key factors found that affected project effectiveness and its impact, and continues with the findings on project performance for each of its output areas. Some of these factors facilitated project efforts while others were constraints.

Key factors ESP II's ability to provide assistance during the context of the 2013 – 2018 democratic transition was affected by a number of factors. These shaped the nature of its response and affected the efficiency, relevance and sustainability of its assistance. Some of these factors were:

- Commitment of ECN to hold timely, credible elections: The ECN's commitment to fulfill its tasks despite the tight timelines was essential to ESP II being able to provide effectivesupport. Without a committed partner, ESP II could not have achieved the same level of success that was evident during this final evaluation. ; - Uncertainties and short timeframes: ESP II worked within the political context of the transition and the inability of the first constituent assembly to come to a political consensus on the content of the new federal constitution. This resulted in the need for a second CA election and delays in holding the elections that were required by the new constitution. There were also uncertainties over the dates for these elections, late decision making and requests, all of which affected effectiveness and efficiencies. - Collaborative partnerships: Overall, ESP II had a good working relationship with the ECN, its primary partner. This was especially the case with the ECN in the 2013 elections given the more significant operational and logistical role ESP II played at the time. This period set the foundations for many of the ECN's institutional procedures and systems building on the achievements of ESP I. The relationship was more distant later, but it still remained collaborative in most cases. ESP II also had very close collaboration with IFES and IDEA which helped to avoid duplication of efforts and consistency of advice. There were also good relations with the ESP II donors which met formally and informally as required. ESP II position as secretariat for the Election Working Group (EWG) (with IFES) formed under the International Development Partners Group (IDPG) gave it regular access to the broader range of election actors and facilitated the sharing of information. UNDP also ensured collaboration with other UN agencies and its own projects which helped to ensure some synergistic activities. - Rotation of ECN staff and managers: The staff of the ECN at all levels are public servants who are rotated routinely. This resulted in frequent changes of counterparts for ESP II. For example, there were six ECN Secretaries during the tenure of the first CTA (2013-2016) and four during the second (2017 – 2018). Each change required the building of new relationships and trust, and explaining of the project and its purpose. This rotation is beyond the control of the project, but directly affected its implementation and the effectiveness and sustainability of efforts. - Activity-focused nature for some activities: Many activities, especially those related to Output 3, were one time efforts, lacking follow up and integration into a larger more programmatic effort. Some of this was a result of the context and factors noted here or elsewhere in the report. However, some was also due to the lack of a programmatic perspective in the project design and during implementation.




Tag: Effectiveness Impact Election Donor relations Human and Financial resources Partnership Policies & Procedures Country Government Capacity Building South-South Cooperation

3.

3.2 Effectiveness and impact (continuation)

Electoral Mapping. Based on the lesson learned from the 2008 CA elections, ESP I and II intended to support the ECN to set up a GIS centre, train ECN staff and provide TA for the best use of the GIS system. It was intended to be a sustainable infrastructure for use in managing future elections. The GIS unit was established within the ECN in 2012 with ESP I support. Training and the initial mapping of the polling stations also started under ESP I and was completed under ESP II. This work enabled the ECN, for the first time, to develop electoral maps that incorporated a comprehensive set of information gathered from the almost 10,000 polling stations set up for the 2013 CA election. Information included the location and picture of each polling station, the location of nearby security posts, the availability of drinking water, electricity and communication facilities, and the distance from one polling station to another. There was extensive use of GIS for the 2013 election. It was used to plan and monitor electoral operations in the JEOC with information displayed on a big screen. The system also enabled the ECN to produce accurate voter turnout and election results on digitalized maps within 24 hours of the results being announced. And with ESP assistance the ECN published the first Electoral Atlas of Nepal. This provided district level electoral maps, information and election results from 2008 and 2013 (Box 4). The data was also used to map areas with high levels of invalid votes which was used later to better target voter information efforts.

At the time of ESP II's midterm evaluation, the ECN was able to independently plot GPS coordinates and input all relevant data needed for mapping. The midterm though found no ECN ownership for the system given the technical requirements for its maintenance. ESP II turned the equipment, GIS data, and software licenses over to the ECN in 2016 and refurbished the GIS office located near the JEOC to ensure its secure housing. The 2016 ESP II Annual Report noted that the ECN had started "independently using GIS technology" capturing data and "restating its strengthened in-house capacity on GIS and electoral mapping." At the time of this final evaluation, the GIS system was in limbo and had not been used for the 2017 elections. This was reportedly because the data in the GIS system had not been updated to reflect relocated or new polling stations because of time constraints. During the final evaluation interviews, the ECN IT Department requested training on the GIS system and assistance to get the system up and running which it thought was not functional and had expired licenses. After the evaluators followed up with ESP, it checked on the GIS equipment. The IT technician stated it was functional and that the licensing should still be good, but the equipment was split between the former GIS office and the IT Department as the ECN had decided it should sit with the IT section. The ECN person who had managed the system earlier was no longer there. Although the GIS system only took 1% of project expenditures, it was a substantial and visible accomplishment and useful tool for electoral management. ESP II should assist the ECN to ensure the GIS system becomes functional and to bring the IT staff and others up to speed on how to use it. Updating the electoral atlas and mapping with the results of the 2017 elections would be useful for ECN's future planning and for the EEIC's exhibits, as well as for other electoral stakeholders such as political parties, media, CSOs and academics.

Voter registration. ESP II provided substantial levels of support to the voter registration process, accounting for 10% of all project expenditures. This was a continuation of the assistance started under ESP I. The voter registration system used for 2008 had been an issue of contention, as the registry reportedly contained a large number of inaccuracies and left out a substantial number of young and marginalized voters. ESP II intended to support ECN's development of a continuous voter registration system and voters list/IDs with photos for the 2013 election. The registration process was expected to collect biometric profiles and information that would be shared with the Ministry of Home Affairs for the preparation of the national ID document as well as for the creation of a civil registry. ESP II also intended to look into the feasibility of establishing an out-of-country registration system for the estimated 4 million Nepali voters working abroad. Support was also to include the development of updated registration software to improve the existing ECN system along with the procurement of voter registration equipment and the establishment of a data processing centre within the ECN. ESP II provided the expected support for 2013 and procured about 600 registration kits in 2016 to supplement the 3,600 kits provided under ESP I. It also equipped and established the data centre in the ECN central headquarters and supported the annual training of registration workers. According to ESP and the project document, the 2008 registry contained about 17.5 million voters. This was reduced to about 9.6 million citizens aged 16 and above by December 2011 through the new biometric registration. ESP II support enabled the ECN to increase this to 12.4 million for the 2013 elections, 51% of which were women. This was a 2% increase of women voters over the 2008 roll. The number of registered voters reached 14 million for the first phase of the 2017 local elections and 15.42 million for the provincial and national elections held later that year. This was estimated to be 90% of the potential voting age population by observers.




Tag: Effectiveness Impact e-Governance Election Communication Knowledge management UNDP Independent Offices Technology Data and Statistics

4.

3.2.2 Output 2. Electoral cycle conducted in an effective, sustainable and credible manner

The objectives for Output 2 were: support with procedures and training (Output 2.1), support with election operations and logistics (Output 2.2), support with electoral dispute resolution (Output 2.3), and support with election security (Output 2.4). The project expected to assist the ECN with its 2013 CA election and the elections following the enactment of the constitution. ESP II intended to do this through the provision of TA, training, international exposure visits, commodities and IT support. Almost 60% of the anticipated project budget (USD 12.4 million) and actual expenditures (USD 12.9 million) went for Output 2. Almost 90% of these expenditures were for electoral operations (Table 6).

ESP II's midterm evaluation concluded that 75% of the activities for Output 2 had been completed in the context of the 2013 elections, with Outputs 2.1 and 2.2 expected to be fully achieved by the end of the project. However, it felt that more work was required at that time in order for the activities to have the desired impact for future electoral cycles and to ensure sustainability for the future. This final evaluation found that at the Output 2 level, the electoral cycle had been conducted in a credible manner but that continued work is still needed to ensure the sustainability of the efforts. The impact of ESP II's assistance, combined with the activities undertaken in Output 1, was evident in the ability of the ECN staff at national and district levels to handle the administration of the 2017 elections with substantially reduced levels of outside assistance. These elections were complex, done in phases and within a very short timeframe. Its tasks were made even more difficult by the late passage of required legislation and Nepal's difficult geographic conditions. Almost 90% of the polling sites visited on election day by observers were assessed as good or very good. Remaining issues noted were the need for more ECN oversight over returning officers' work to ensure more consistency in administration, and increased transparency and consultations with parties, civil society and observers at the central level. They also noted some procedural issues, notably with the reconciliation of the ballots which they felt made the process vulnerable to abuse.

Procedures and Training. Under this activity area, ESP II expected to support the development of ECN regulations, guidelines, and procedures based on the new legal framework. This was to include the development of a revised Election Code of Conduct. ESP II also planned to support the organization of cascade trainings for poll workers and other electoral officials. The project supported these efforts throughout its lifetime although larger activities were undertaken in the lead up to elections. Those efforts were constrained by the short timelines for the elections but mitigated for 2017 to a large extent because of the electoral cycle nature of the project and the planning and preparations that had gone on with the ECN in the years between the elections. According to project reporting the training provided and/or facilitated through the project, in combination with that of the ECN done directly and with IFES support, reached all of the returning officers and poll workers for the 2013 and 2017 elections. For 2013, it reports that it provided training to 1,131 ECN staff who trained more than 250,000 poll workers. For 2017, this was 168 trainings for 6,184 persons including cascade trainings for ECN returning officers, IT for ECN field staff and specialized trainings for media, political party representatives and security personnel (Box 6).

An issue noted in this final evaluation was the evolution of ESP II's role from a primary trainer and source of TA for most trainings to a facilitator for ECN's trainings. As noted by one ECN official "the ECN does the modules and selects the participants, and we request ESP for logistical support- food and lodging." On the one hand this is a good evolution as it demonstrates the increased capacity of the ECN to conduct its own trainings and the successful nature of the ESP II and other capacity building efforts. This also maintains ESP position as a partner with the ECN in its trainings, giving it access to the planning processes where it has been able to provide advice and information. It also provides a useful service for the ECN and helps it to defray costs for trainings which are usually not covered by the GON budget in non-election years. However, making lodging and other logistical arrangements for ECN's trainings and participants, which also consumed a large amount of ESP II staff time, is not a very strategic use for an international development assistance effort such as ESP.

Operational and logistical support. ESP II played a significant role with the preparations for the 2013 elections providing direct operational and logistical support. Among other activities, it supported the ECN with the preparation of its operational plans for all of its departments and the procurement of sensitive and non-sensitive electoral material, including 485 metric tons of paper for the printing of almost 30 million ballots, 20,000 bags for returning officers and copy machines and toner for the printing of 12.1 million voter ID cards. In addition, according to one ECN official, ESP was extremely helpful in supporting the ECN to manage crises such as with the printing of the voter ID cards in 2013. The project supported the establishment of the JEOC at the ECN, the opening of a media center and an observers resource center in 2013. These helped to ensure the smoother handling of election day events and the provision of information to the media and observers. ESP also supported a media monitoring effort for the ECN of the media coverage during the electoral period at national and local levels. It also established a call center that provided information on voter registration and polling to voters. This centre received 2,500 calls from 14 - 27 November 2013. At the same time, it did not appear to be well advertised to voters. According to ESP's 2014 survey, only 11% of the survey respondents knew about the centre.

These efforts directly increased the availability and timeliness of information on the process that provided practical and useful information for the voters, parties and observers. According to interviews, this helped to strengthen stakeholder and voters' perceptions of the ECN as a professional and credible electoral institution, and increased trust in its administration of the process. It also helped to set the institutional foundations for future elections and built institutional confidence in its ability to deliver the elections on time despite the difficult conditions. ESP II had a sizeable presence in 2013 of about 40 persons and deployed 10 international and five national advisors at regional levels. It also provided national UN Volunteers (UNVs) at its regional centres for much of 2015 in addition to national staff. For 2017, ESP II played a less direct and more supportive role. It had comparatively few internationals and the regional offices were all staffed by nationals. (Table 10) The experts provided advice and option papers for the ECN for various aspects of the process and ESP II was positioned to provide back up support if needed. The option papers and advice were useful for the ECN and it was able to deliver the elections without using ESP's back up options.




Tag: Election Justice system Operational Efficiency Oversight Project and Programme management Conflict resolution Security Capacity Building Technology Operational Services South-South Cooperation

5.

3.2.3 Output 3. Increased democratic participation for next cycle of elections, particularly for the under-represented and disadvantaged segments of Nepali society

The objective for this output was to increase democratic participation for the next cycle of elections, particularly for the under-represented and disadvantaged segments of Nepali society. ESP II intended to do this through: support for public outreach, civic and voter education (Output 3.1); establishment of the ECN's Electoral Education and Information Centre (Output 3.2); support for external relations (Output 3.3) and for gender, social inclusion and vulnerable groups (Output 3.4).

These activity areas were intended to: increase information to voters, especially the underrepresented and disadvantaged groups, parties, CSOs and independent observers; mainstream policies and mechanisms for gender and social inclusion; and, increase participation and the transparency of the processes. This was an ambitious output with many planned activities listed in the Project Document. The estimated budget for Output 3 was USD 3.62 million (Table 7). This was 10% of the overall project budget. Actual expenditures were USD 3.4 million (12% of total project expenditures). Most of the expenditures were done in the years of the elections (Table 8).

Public outreach, civic and voter education. ESP II intended to support the ECN to conduct voter education efforts throughout the electoral cycle to inform the public about the electoral and voting processes and to motivate them to vote. ESP support was to include the development of related strategies, establishing a media code of conduct and media centre within the ECN and to broadcast messages through mass communication. It also intended to issue small grants to CSOs to support their voter education efforts to complement the ECN's efforts. The informational efforts were to especially target first time voters, women and vulnerable groups. ESP II provided a significant level of assistance to this output, in particular for the 2013 CA and 2017 local elections. This was half the expenditures for Output 3. ESP II also offered support for the ECN for the 2017 provincial and national elections but the ECN decided to conduct this effort on its own, with limited outside support. For 2013, ESP II developed the ECN's media centre and media code of conduct. It also subcontracted a firm to undertake media monitoring at the national and district levels which it used to support the ECN's enforcement of the media code. For the 2013 and 2017 local elections, ESP II supported the ECN to develop its voter education strategies and planning, providing TA, training and materials and by procuring media houses for the production, distributionand broadcasting of programmes. It also provided small grants to CSOs to reach women and other marginalized groups with information for the 2017 local elections. ESP's midterm evaluation had noted the reluctance of the ECN for the 2013 elections to adopt some of the recommendations of the ESP, instead relying on the more traditional approaches used in 2008. This included the use of door-to-door electoral workers and (paid) volunteers which is a staple of the ECN voter education efforts, and which it re-used in 2017. It also noted the effort was mostly voter information rather than voter education which remained largely the case in 2017.

ESP II undertook a rapid assessment of the 2013 voter education efforts in 43 districts. This focused primarily on the quality of training and materials provided to the ECN's voter education workers. It provides some useful information on issues raised by participants about the training, but it does not provide data on the actual reach of the voter education programme or the effectiveness of the different modalities or messages used. ESP II undertook a more comprehensive "baseline" of voter and ECN information in 2014 which looked at voter and ECN perceptions of the 2013 voter education efforts, but this was not repeated at the end of the project. This was needed to be able to compare responses and to assess the effectiveness of the ESP/ECN efforts. According to ESP, this is in the revised workplan for the project's extension to the end of 2018. For the midterm review, 40% of the ESP II staff assessed the voter education efforts as very good or excellent, crediting it with the 17% increase in voter turnout in 2013 over the 2008 elections.83 Although there was apparently good reach for the 2013 efforts, with almost 75% of those responding to the survey saying they were aware of the ECN voter education materials, including 90% of those in the west, there was no data available to the final evaluation team that could show the differences between pre- and post-voter education campaign knowledge and voting intentions or that could enable attribution for the increased turnout or reduced number of invalid voters which were indicators used by ESP. A complete assessment should be done of the project's voter education efforts that looks at the reach, effectiveness and cost effectiveness of the different messages and mediums used before any additional efforts are made. This is essential to ensure the best use of resources.

ESP II's support to the ECN initiative of training secondary level social science teachers on "elections and democracy" seems to be a good initiative that can reach first time voters, with the students and teachers acting as multipliers within their families schools and communities. Started in 2015, the ESP supported effort reached more than 1,000 teachers with a one-day workshop intended to increase their familiarization with the electoral process which they could then pass on to their students and community members. There was not enough data or follow up done to know if and how the teachers had passed on this knowledge and the impact of this beyond a 2014 follow up with 42 teachers from 32 schools. ESP II also undertook evaluation reports of several of the trainings. The Pokhara report from 2015 noted that 100% of the participants thought the training had helped to improve their knowledge, 87% thought it was relevant to their job and 85% felt they could implement the knowledge that they had gained in their work. The topic of "Democracy and the constitution" was ranked as the most useful (28%) followed by the electoral system (22%). The EEIC topic ranked at 6% and citizen's rights in elections at 3%. Although these evaluations were useful for an assessment of the training (quality of trainers, materials used, time allocated for training, etc.) and the 2014 assessment was used to refine the trainings, more systematic use of pre and post training tests could have helped demonstrated actual increase in knowledge. Those that were done did note an improvement in their knowledge. For example, in the case of Kathmandu in 2015 teachers' scores rose from 50% to 78%. The 2014 evaluation also noted that the teachers had difficulty in recalling the topics and subjects they had learned during the training and that 95% recommended refresher trainings.




Tag: Gender Mainstreaming Civic Engagement Election Human rights Local Governance Communication Knowledge management Capacity Building Disabilities Education Advocacy

6.

3.2.3 Output 3. Increased democratic participation for next cycle of elections, particularly for the under-represented and disadvantaged segments of Nepali society (continuation)

Gender, social inclusion and vulnerable groups.

ESP made policy and programmatic contributions to strengthen the participation of women and vulnerable groups in the electoral processes in several areas. ECN's previous policy had been limited primarily to gender issues, with a 2009 Gender Policy in Elections. ESP II technical assistance helped to expand this policy to include other groups, resulting in the ECN's first Gender and Inclusion Policy in 2013. This policy provides a broad framework for the ECN to: mainstream gender in the electoral process; promote socially inclusive electoral processes; and, enhance its technical and institutional capacity to address GESI issues. It also supported the ECN to develop a three year GESI action plan which it adopted in 2015 that outlines its institutional priorities to empower women and vulnerable group throughout the election cycle. The ECN's Strategic Plan 2015-2019 also incorporated GESI as one of its key priority areas. Ten of ESP's 18 BRIDGE trainings were on gender inclusion and elections which helped to raise the profile of GESI within the ECN. The baseline survey of ECN staff itself done in 2014 concluded that more efforts needed to be done as only 30% of the district level staff and fewer staff at headquarters at that time had received trainings on gender issues. ESP II appears to have increased its efforts for GESI training for ECN staff and stakeholders, showing a marked increase in the numbers trained in 2014-2016 (Box 7). At this point, a follow up ECN staff survey, that included KAP questions, would be extremely useful to help determine the actual level of knowledge and understanding within the existing ECN staff as well as the capacity within the ECN and GESI Unit to implement the GESI strategy.

Observers for the 2013 election noted that most district offices had few female staff, and these were often in relatively junior positions (two of the 240 ROs and four of the 75 DEOs were women and within the ECN only one commissioner and two under secretaries. The situation was similar for 2017, with only seven DEOs out of 77 officers women, six ROs out of 167, one ECN commissioner and no female joint or under secretaries. This issue is largely beyond the control of the project or ECN since the ECN is unable to select its own staff. For the elections, ESP II also helped the ECN to ensure GESI elements were integrated into their policies and included calls for the increased participation of women and disadvantaged groups. As an example, the provisions of the 2013 Election Code of Conduct required gender-friendly election campaigning and prohibited the use of GESI insensitive language. The ECN also made special provisions to prioritize pregnant women and women with infants, the elderly and people with disabilities for voting on Election Day. The ECN also worked to enforce the quota systems resulting in women making up 41% of local representatives, and over a third of the representatives in the provincial assemblies and federal parliament. UNDP undertook a case study of Nepal for its study on Promoting Gender Equality in Electoral Assistance: Lessons learned in Comparative Perspectives. This documents the lessons learned on gender mainstreaming in Nepal as of 2012. This provides some useful baseline data and it would be interesting for further assistance to develop a 2017 update of the report and compare actual advances in gender mainstreaming against the 2012 situation. This could also be used to strengthen GESI efforts within the ECN and processes and identify areas that need further attention. The ECN developed the book on Her Voice her Choice for the 2013 elections with ESP support for use as a reference material for engendering the electoral processes. ESP II also contributed to the development of a GESI package for the Inter-Ministry Networking Group led by the Ministry of Women, Children and Social Welfare. Likewise, ESP II supported the development of manuals for the visually impaired and for those with hearing disabilities which were used to conduct electoral education training to these groups. It also provided two public service announcements for the ECN in sign language.




Tag: Vulnerable Gender Equality Gender Mainstreaming Gender Parity Women's Empowerment Civic Engagement Election Human rights Local Governance Communication Country Government Capacity Building Advocacy

7.

3.3 Efficiency and project management

This section starts by looking at project implementation and the issues that affected its efficiencies, and continues with the findings on project management and its monitoring and evaluation efforts.

Project implementation. Project efficiencies were directly affected by the context and different factors already mentioned. The project was originally foreseen as a three year project and required several extensions as the political process wore on. This affected the coherency of project planning and prevented the implementation of some activities, such as construction of the data centre, especially when the project was extended by small intervals. Uncertainties about election dates, short timelines once dates were set, and delays in ECN's requests for, and decisions on, activities and products reduced the project's lead in time, affected planning, limited options and the ability of the project to undertake a more cohesive effort. This reduced efficiencies and cost-effectiveness. As an example, the EU verification of UNDP's use of EU funds expended by ESP II found that the ECN's late decision for the procurement for backpacks for the 2013 election workers cost the project an extra USD 378,154 which "could have easily been avoided should the order have been made in a more timely matter.

The embedding of ESP II within the ECN at both national and regional levels was an efficient and effective way to deliver technical assistance and capacity building to the EMB. It increased the access, availability and interaction of experts and ECN officials through formal and informal contact, enabling an easy exchange of information, knowledge and practices. The joint efforts also strengthened ECN ownership in and appreciation for the activities and products. This resulted in a more efficient use of project resources than was found for activities or products that were done independently or apart, or where the ECN felt that UNDP's policies had unduly blocked their preferred options (such as for particular procurements). Efficiencies were also directly affected by the frequent changes of ECN personnel which affected continuity and the ownership. Ownership issues, such with the voter registry software, need to have immediate attention, and decisions made on whether to continue, modify or end the effort. It is not an efficient use of time or resources to continue to develop a product or provide advice that will be put on the shelf or not accepted, such as with the registration software. The highly centralized nature of ECN operations and activities also affected the manner of project implementation. Capacity building, workshops and other project activities were organized at the centre for efforts outside of Kathmandu. Although many used a cascade approach which helped to increase efficiency, many others still involved the travel of central ECN officials to serve as trainers/facilitators requiring travel and payment of per diems and lodging costs. Using locally available officials could have been integrated into the project's capacity building component. This could have helped to strengthen their skills and increased their engagement as well reduced costs.

Centralization also affected the efficacy of ESP II's regional offices. They were well equipped, adequately staffed and ready to support efforts in their areas. Although they were used to support trainings and other activities generated by ECN and ESP, the regional staff interviewed felt underutilized and frustrated at their inability to initiate activities or address issues directly. The regional ECNs also served primarily as district level ECNs. This limited their ESP II counterparts primarily to the district where they were affected, although most said they also had toured their region to meet with other district offices and stakeholders. This helped to gather information on nearby districts that they would pass back to the regional ECN offices and ESP. The new constitutional system and decentralization process offers a good opportunity to look at expanding the roles and productivity of the regional office concept if it is retained for the future. The costs of Nepal's elections were raised during the final evaluation interviews. Some had concerns that some of the technology, systems and practices used or being discussed for the elections were beyond the capacity of the GON to support without continued assistance. Some of these were felt to have been introduced by the project by some ECN officials. Others thought some were a result of ECN decisions made without adequate cost analysis. There were also a few allegations of collusion in some UNDP procurements which some ECN officials felt had increased costs or limited procurement options. Although not specific or substantiated, these types of perceptions are counterproductive to the work of the project even if only expressed by a few, and need to be addressed directly with the ECN to dispel any false impressions or to take any corrective action needed.

Assessing the cost of the elections overall, including the running/maintenance costs and actual use of the various types of equipment and systems, is an area where the project could help the ECN and is something that should be done before any future investments are made to upgrade systems, introduce new technologies or fund additional educational or other types of centres. Former ECN officials said they had also raised the cost of running the project during their tenure with the project board, in particular for the number of internationals who were more expensive than nationals. Many TA costs are covered within the operations line item which accounts in part for its higher percentage of project expenditures. According to data provided by ESP, the number of national experts/staff has exceeded those of internationals for the life of the project (Table 10). The project had assigned two internationals and one national to each ESP office for the 2013 CA elections. These were replaced by all national staff in early 2014. Thisreduction had cost-savings as well as the added efficiencies that come from having national experts that know the context, counterpart institutions and staff. UNDP made good use of its existing projects and global network to support ESP II implementation. This was especially useful in the context. Its decision to tap into the CSO network supported under its MEDEP project was efficient, allowing for its rapid start up. The use of its social cohesion project to undertake peaceful election programming was also efficient. It tapped into an ongoing programme and its conflict prevention network and only needed to adapt its messaging and targeting towards the prevention and mitigation of electoral violence. UNDP's global network of election assistance projects supported some of the study tours and international visits which allowed the respective EMBs to share experiences and expand their outlooks. It also used the UNDP Regional Elections Advisor from Bangkok as part of the team that undertook the midterm review of the ESP making efficient use of a regional resource. The project made limited use of social media to expand its reach or to link and follow up with participants from the various trainings and workshops. Developing networks of BRIDGE trainees or social study teachers for instance would be a cost-effective way to continue the engagement with the participants, share information and strengthen their engagement and project results.




Tag: Efficiency Knowledge management Monitoring and Evaluation Operational Efficiency Ownership Project and Programme management Capacity Building

8.

3.4 Sustainability

This section looks at the factors that supported or hindered the sustainability prospects for ESP II's contributions, and then the sustainability for its different results. The sustainability aspects of ESP II were directly affected by the larger context in which it worked. This included the human and physical damage done in the devastating earthquakes of 2015, the short timelines for the delivery of many activities that shifted the emphasis to getting the effort done rather than on building sustainable systems or processes, and the continual turnover of ECN officials. As an example, three of the key Joint Secretaries interviewed by the final evaluation team were transferred out of the ECN within 10 days of the interviews. Transfers seem to be done quickly leaving little time for handover and briefings for replacements. Although the staff rotation issue had been recognized as a serious issue in the design of ESP II, and which included Output 2.1 to address the issue, ESP II did little work at the larger policy level which is where the issue needs to be addressed. ESP II was cognizant of the issue and tried to compensate during project implementation by supporting the development of written manuals, procedures and strategies. It also supported the ECN to digitalize and archive its historical documents after the 2013 elections to strengthen its institutional memory.

The capacity built by ESP I and II is still evident within the ECN and was demonstrated during its administration of the 2017 elections. This was accomplished despite the many challenges by using the foundations laid by the earlier ECN officials with ESP and other support. Maintaining this foundation through the staffing changes in the period between now and the next elections will be a challenge for the ECN. Some of these foundations are stronger than others. Those that are well rooted can be expected to be maintained for the near to medium term.

For example, the ECN has adopted the strategic planning process. Having ESP take it through the first cycle into the second helped to deepen its institutionalization and ECN's familiarity with its processes. The ECN was discussing the review of its current plan during the evaluation and it appears to be something that will continue. The depth of this process, and the level of consultations that will be undertaken though are likely to be affected by ECN budget constraints and centralized institutional culture. The ECN has also adopted the GESI concept and integrated it into its plans. The one female Commissioner is an advocate for GESI and the Gender Unit is integrated within the ECN structure. However, again the reduced ECN budget in non-election years will likely limit the scope of its activities. The GESI policy will also need review and updating over time to further engage its targeted groups. The JEOC and media centre are institutionalized and were re-established and managed by the ECN for the 2017 elections without ESP assistance. It is expected that these will continue in future elections. The GIS system needs attention to be useful for the ECN and to avoid losing the investment. It needs to be reassembled, tested and the current ECN staff trained. A system also needs to be developed within the ECN to ensure the functioning of the system and cover the trainingneeds for its staff in the future.




Tag: Coherence Sustainability Gender Equality Gender Mainstreaming Election Communication Knowledge management Policies & Procedures Capacity Building Technical Support
Recommendations
1

Stay engaged and support the Election Commission of Nepal (ECN), the Government of Nepal (GON) and civil society organization (CSO) efforts to consolidate the progress made with ESP support and to: further strengthen the ECN through technical assistance and institutional capacity building; support the decentralization of the electoral process and its administration; and support the inclusive and knowledgeable participation of voters, especially women, people living with disability (PLWD) and marginalized groups.

2

For the ECN, ensure continued focus on: its strategic planning processes including its different departments and district offices; institutional capacity building done on the basis of an institutional needs assessment and an institutional capacity development plan; reviving the geographic information system (GIS), revitalizing the Electoral Education and Information Centre (EEIC) and strengthening the ECN gender equality and social inclusion (GESI) efforts.

3

Adopt a project profile that fits the post-transitional context, is outcome-driven and ensures a more strategic engagement and value added for the institutions supported. Ensure a programmatic approach with follow up for all activities.

4

Decentralize project implementation and empower the project's provincial offices if the concept is retained in the future. Support these offices to develop province specific work plans that tie into the overall project efforts, ECN's strategic plans and contribute directly to the intended outcomes.

5

Maintain the direct implementation (DIM) mechanism and provide direct support to the range of partners in the electoral processes. Beyond the ECN, this could include the National Identification Card Unit, other ministries and CSOs. Ensure the different components, implementation modalities and roles are clear in the project design to avoid misunderstandings and delays later on.

6

Continue close collaboration with the International Foundation for Electoral Systems (IFES) and broaden outreach to other projects working on the sustainable development goals SDG 5 (Gender) and SDG 16 (Peace, Justice and Strong Institutions) to develop programmatic synergies and strengthen project activities and results.

7

Use participatory approaches for project design and implementation. Embed technical experts in the institutions to ensure transfer of knowledge and skills to counterparts and to foster team perspectives. Incorporate counterparts into all product development teams to ensure it meets their needs and increases institutional understanding, ownership and use of the product.

8

Strengthen the monitoring and evaluation framework, and in particular ensure the collection of baseline data at the start and end of the project. Incorporate knowledge, attitudes and perception (KAP) indicators to be able to measure results beyond the activity output level. Systematically use pre- and post-tests and ensure post-activity follow up. Show targets and actual level of performance over time in reporting.