Women Empowerment interventions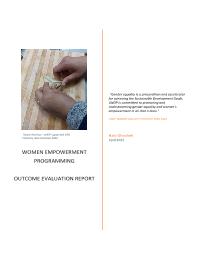 Evaluation Plan:

Evaluation Type:

Outcome

Planned End Date:

05/2022

Completion Date:

05/2022

Status:

Completed

Management Response:

Yes

Evaluation Budget(US $):

20,000
Title
Women Empowerment interventions
Atlas Project Number:

00131816,00116901,00115191,00068722,00115709,00099682,00072487,00128208,00104537,00117245,00061182,00013202

Evaluation Plan:
2018-2022, Jordan
Evaluation Type:
Outcome
Status:
Completed
Completion Date:
05/2022
Planned End Date:

05/2022

Management Response:
Yes

Focus Area

:

1. Poverty
2. Governance
3. Environment
4. Others

Corporate Outcome and Output (UNDP Strategic Plan 2018-2021)

1. Output 1.1.2 Marginalised groups, particularly the poor, women, people with disabilities and displaced are empowered to gain universal access to basic services and financial and non-financial assets to build productive capacities and benefit from sustainable livelihoods and jobs
2. Output 1.2.3 Institutions and systems enabled to address awareness, prevention and enforcement of anti-corruption measures to maximize availability of resources for poverty eradication
3. Output 2.2.2 Constitution-making, electoral and parliamentary processes and institutions strengthened to promote inclusion, transparency and accountability
4. Output 2.4.1 Gender-responsive legal and regulatory frameworks, policies and institutions strengthened, and solutions adopted, to address conservation, sustainable use and equitable benefit sharing of natural resources, in line with international conventions and national legislation
5. Output 3.2.1 National capacities strengthened for reintegration, reconciliation, peaceful management of conflict and prevention of violent extremism in response to national policies and priorities

SDG Goal

Goal 1. End poverty in all its forms everywhere
Goal 12. Ensure sustainable consumption and production patterns
Goal 13. Take urgent action to combat climate change and its impacts
Goal 16. Promote peaceful and inclusive societies for sustainable development, provide access to justice for all and build effective, accountable and inclusive institutions at all levels
Goal 5. Achieve gender equality and empower all women and girls

SDG Target

1.1 By 2030, eradicate extreme poverty for all people everywhere, currently measured as people living on less than $1.25 a day
1.2 By 2030, reduce at least by half the proportion of men, women and children of all ages living in poverty in all its dimensions according to national definitions
1.4 By 2030, ensure that all men and women, in particular the poor and the vulnerable, have equal rights to economic resources, as well as access to basic services, ownership and control over land and other forms of property, inheritance, natural resources, appropriate new technology and financial services, including microfinance
1.5 By 2030, build the resilience of the poor and those in vulnerable situations and reduce their exposure and vulnerability to climate-related extreme events and other economic, social and environmental shocks and disasters
12.4 By 2020, achieve the environmentally sound management of chemicals and all wastes throughout their life cycle, in accordance with agreed international frameworks, and significantly reduce their release to air, water and soil in order to minimize their adverse impacts on human health and the environment
13.1 Strengthen resilience and adaptive capacity to climate-related hazards and natural disasters in all countries
13.2 Integrate climate change measures into national policies, strategies and planning
16.3 Promote the rule of law at the national and international levels and ensure equal access to justice for all
16.5 Substantially reduce corruption and bribery in all their forms
16.6 Develop effective, accountable and transparent institutions at all levels
16.7 Ensure responsive, inclusive, participatory and representative decision-making at all levels
5.2 Eliminate all forms of violence against all women and girls in the public and private spheres, including trafficking and sexual and other types of exploitation
5.5 Ensure women's full and effective participation and equal opportunities for leadership at all levels of decision-making in political, economic and public life

Evaluation Budget(US $):

20,000

Source of Funding:
Evaluation Expenditure(US $):

16,200

Joint Programme:
No
Joint Evaluation:

No

Evaluation Team members:

| Name | Title | Nationality |
| --- | --- | --- |
| Hala Ghosheh | Ms. | JORDAN |

GEF Evaluation:

No

Key Stakeholders:
Countries:

JORDAN

Comments:
Lessons
1.

Integrating gender equality perspective in the design phase of the project promotes more transformative interventions especially if it is informed by a gender analysis that highlights the structural barriers and power relations which impede the realisation of social justice.



2.

Groups of women and men have differentiated outlooks and solutions to identified problems. Engaging and consulting with the different groups of women and men during all phases of project implementation increases ownership, alignment of interventions with community needs and generates more effective and efficient solutions.



3.

Gender equality should be systematically integrated into all aspects of theory of change, results framework, implementation strategy, risk analysis and monitoring and evaluation plans of all the projects. Otherwise, GE interventions are more likely to be standalone activities that earn the project the gender marking but does not necessarily capitalize on its potential to challenge gender inequalities and discrimination.



4.

The more the projects adopt a holistic approach to gender equality, the more likely they are to realize change in the gender situation and power relations.



5.

Project staff have a pivotal role in promoting GE and capitalizing on achievements of project interventions through providing flexible and responsive solutions that facilitate the active participation of women, promote positive messaging of gender equality and using their local knowledge to reduce resistance and tackle barriers.



6.

Short- termed gender equality interventions are less likely to be sustainable and to have transformative impact. Gender related transformative change is complex and requires longer durations with intense focus on systemic and structural changes



7.

Cost benefit of activities should be calculated at two levels, the monetary level, and the social level. The monetary level helps to assess the cost benefit of the activity in terms of efficiency while the social level examines the value that an intervention has on the target group, in this case women, and gender relations.



8.

Having a Gender and Feminist Monitoring and Evaluation Learning Plan from the outset of projects, helps facilitate outcome measurements and strengthen the project accountability levels to GE.



9.

Introducing gender equality tools to support integration and advancement of GE within interventions are more effective if the level of accountability to their achievement is held at a managerial level.



Findings
1.

Relevance

UNDP Jordan CO gender interventions are relevant and well aligned with national priorities, UNDP GE strategy, and women needs and interests. The expression of GEWE within results framework varies. Some interventions fell short from having specific GEWE outcomes at higher levels but did have some results at output and indicator levels. In all cases, the activities and outputs stipulated were appropriate to achieving the specified gender related results and indicators. At a community level, the project interventions were perceived as relevant especially as they enhanced women's access to knowledge, economic opportunities and deepening women solidarity and social cohesion, intentionally in some projects or unintentionally in others.

Effectiveness:

with the exception of gender targeted projects, the interventions within projects are not fully integrated and appear to be standalone activities to address gender inequalities. Interventions are not well contextualized within the projects and the potential to capitalize on gender activities are frequently overlooked.
The absence of a gender analysis for projects suggests that interventions are introduced without consideration for intersectional factors, contextual specificities and strong understanding of gender situation and power structures. As a result, GEWE approaches are less effective, and gender related risks are overlooked especially that the voices of diverse groups of women are not always evident in decision making contexts.
Staff commitment to gender equality has enabled UNDP Jordan to overcome some of the gender neutrality narrative and approach within some of projects. The findings of the evaluation suggest that the interventions more frequently focus on the quantitive aspects of project indicators especially in reaching out to women and engaging women. While UNDP-Jordan CO seeks to phase out from the "number focus" approach, the interventions have contributed to some extent to increasing the level of women economic participation, empowerment and engaging in public spheres.
UNDP-Jordan CO work on gender mainstreaming within institutions and policies have paved the way for change but has not effectively transformed policy approaches or institutionalized processes. Such activities require longer term interventions that embody stronger GEWE programming approaches.

Efficiency:

Interventions of short time periods are less likely to be transformative in approach. Addressing structural barriers requires time. Financial efficiency was difficult to assess for the non GEN 3 projects especially that the project budgets, which were shared, were not clearly marked for GE activities or results.
UNDP-Jordan CO calculated expenditure on gender equality with regards to the gender marking of the project itself. UNDP Jordan CO reports that an estimated 17% of the total country office budget was spent on GEN 3 projects, while 78% of the total country office budget was reported for GEN 2 projects. The overall estimates of UNDP Jordan CO expenditures are encouraging. Nonetheless, a deeper review of the GEN 2 projects is necessary to help define the actual expenditure on GEWE interventions. The classification within UNDP gender marking scheme can be misguiding as the bulk of expenditure is not directly related to GEWE activities e.g. PVE projects. The findings also indicate that the cost benefit value of some of the income generating projects, that eventually hire only a few women, is questionable. Thousands of Jordanian Dinars are spent on establishing income generating activities for cooperatives, including women cooperatives. However, during the evaluation it was noted that only a few women are actually working in these interventions and the cost of generating a job may be much higher than its value especially that in most cases, with the exception of the SWM and WEE projects, the jobs generated were seasonal and short termed. That noted, the income generated for cooperatives from these projects as well as others are distributed to the members which helps scale the benefit but only marginally.
UNDP Jordan CO overall management of the projects was reflective of their approach to be more responsive to emerging and changing situations. The team has demonstrated through their knowledge, skills and networking a commitment to support women, especially cooperative leadership, to overcome barriers and achieve the project results.

Sustainability:

Exist strategies to sustain activities are not always clear and frequently, they were developed during the course of the intervention as opposed to being conceptualized with the communities, particularly women, at the design stage. Some of reviewed interventions were short termed and as a result their potential and expectation to continue were modest.
UNDP Jordan office GE interventions, although frequently disrupted, had longer-term impact on participants. Women, who participated in UNDP interventions reported increased self-confidence and better ability to make decisions.
Projects that have developed exist strategies have had to adapt them and revise them to respond to emerging situations, whether positive or negative. While this demonstrates the responsiveness and flexibility of UNDP Jordan CO, it also emphasizes the importance of including community members, especially women, and stakeholders to promote ownership as well as explore appropriate and responsive solutions.



Recommendations
1

Develop an internal road map to increase GEN 3 and GEN 2 programming.

2

Strengthen GEWE interventions across sectors through

3

Establish and forge partnership with strategic local partners working on GEWE in Jordan

4

Develop a capacity enhancement plan for the staff at all levels to promote GEWE and deepen their knowledge

5

Re-positioning UNDP's role as a catalyst for change in GEWE work through