Terminal Evaluation of Promoting production and utilization of biomethane from agro-waste in South-Eastern Botswana Project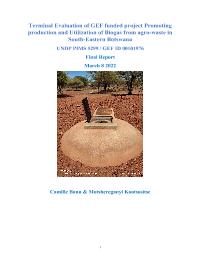 Evaluation Plan:

Evaluation Type:

Final Project

Planned End Date:

02/2022

Completion Date:

03/2022

Status:

Completed

Management Response:

No

Evaluation Budget(US $):

40,000
Title
Terminal Evaluation of Promoting production and utilization of biomethane from agro-waste in South-Eastern Botswana Project
Atlas Project Number:

00098758

Evaluation Plan:
2017-2021, Botswana
Evaluation Type:
Final Project
Status:
Completed
Completion Date:
03/2022
Planned End Date:

02/2022

Management Response:
Yes

Focus Area

:
Corporate Outcome and Output (UNDP Strategic Plan 2018-2021)

1. Output 3.3.1 Evidence-based assessment and planning tools and mechanisms applied to enable implementation of gender-sensitive and risk-informed prevention and preparedness to limit the impact of natural hazards and pandemics and promote peaceful, just and inclusive societies

SDG Goal

Goal 1. End poverty in all its forms everywhere
Goal 13. Take urgent action to combat climate change and its impacts
Goal 7. Ensure access to affordable, reliable, sustainable and modern energy for all

SDG Target

1.5 By 2030, build the resilience of the poor and those in vulnerable situations and reduce their exposure and vulnerability to climate-related extreme events and other economic, social and environmental shocks and disasters
13.1 Strengthen resilience and adaptive capacity to climate-related hazards and natural disasters in all countries
7.1 By 2030, ensure universal access to affordable, reliable and modern energy services

Evaluation Budget(US $):

40,000

Source of Funding:
GEF
Evaluation Expenditure(US $):

31,321

Joint Programme:
No
Joint Evaluation:

No

Evaluation Team members:

| Name | Title | Nationality |
| --- | --- | --- |
| Camille Bann | International Evaluator | |

GEF Evaluation:

Yes

| | |
| --- | --- |
| GEF Project Title: | Promoting production and utilization of biomethane from agro-waste in South-Eastern Botswana Project |
| Evaluation Type: | Terminal Evaluation |
| Focal Area: | Climate Change |
| Project Type: | FSP |
| GEF Phase: | GEF-5 |
| GEF Project ID: | 5628 |
| PIMS Number: | 5299 |

Key Stakeholders:
Department of Energy, Department of Waste Management and Pollution Control, Ministry of Environment Natural Resource Conservation and Tourism, Botswana Institute for Technology Research and Innovation , Water Utilities Corporation
Countries:

BOTSWANA
Recommendations
1

Category 1: Strategic planning

1a. Develop a specific Theory of Change for small-scale and medium-scale bio-digestor development to better target and plan action post project, and understand the barriers along the causal chain that require addressing.

2a. Consider establishing a multi-stakeholder national biogas working group to develop a strategy for medium-scale digesters and small-scale digesters, within the context of Botswana's wider renewables strategy. This could consist of Government agencies, private sector (including finance sector), UNDP, donors, technical experts. A sub-group on finance / Investment facilitation platform (which was planned but not established under the Project) could be established to work on developing viable financing options (based on a review of all potential financing options – Government support, policy incentives, donor support, private sector finance).

2

Progress development of enabling policy / legal environment

- Support enactment of the Integrated Waste Management Bill.

3

Finance:

a. Undertake a review of financial and economic instruments that could be used to support the uptake of biogas at various scales (but with a focus on medium-scale bio-digesters) and set out agreed viable options developed with all parties (Government, donors, private sector). This should build on international practices.

b. Prepare concept notes for funding of medium-scale biodigesters.

c. Support GCF / Adaptation Fund accreditation Currently no institution in Botswana is accredited to the GCF and this could be used to crowd in private sector finance.

d. Reach out to development partners (Banks, Funds) to seek investment support based on Concept Notes prepared.

4

Medium / large scale biogas plants

Develop national strategy and action plan on medium-scale biogas covering, for example:

• Demonstration plant – where locate? how finance? • Private sector engagement/ PPP • Specific feasibility studies, following successful demonstration • Development of finance packages.

5

Small-scale biogas plants

a. Develop roll-out / scale up strategy and finance plan building on the DoE concept note and further explore funding options to ensure momentum on the small-scale bio-digestor program is maintained. The finance plan should consider how to include the most vulnerable in uptake of small-scale biogas plants.

b. Develop monitoring plan and maintenance guide for beneficiaries to be used beyond the Project. This is needed to ensure construction standards are met and maintained and to maintain demand

6

UNDP Support

a. Consider building up staff capacity at UNDP to support transition to renewables through on-going policy support, developing project proposals and assistance to raising financing

b. Consider working with Government on GEF 8 proposal on renewable energy, including biogas

7

Private Sector

a. Continue the relationship building that has been started by the Project with the private sector with the objective of realizing marketable opportunities and financing options. For example, Banks still need to be convinced that the technology works, there is sufficient market demand and there are serviceable financial products.

b. To support the provision of soft loans by the NDB, the results of the small-scale biogas plants, such as ability of customers to repay loans should be monitored and share with the banks.

8

Government Champion

DoE to champion biogas at Senior Government level. There is the capacity for biogas to play a bigger role as part for the drive on renewables and green economy, and a Government champion is needed to drive this.

9

Knowledge Management and Lesson Learning

Collate and synthesize lesson learnt by the Project, by scale of technology, and present in a range of reader friendly materials (e.g. pamphlets for beneficiaries of small-scale bio-digesters, synthesis of lessons learnt by Project on development of medium-scale bio-digesters). This is in addition to awareness raising videos and operating manual developed for beneficiaries.

10

On-going education and awareness raising

Support for on-going awareness raising is important to help facilitate the uptake of small-scale biogas plants country-wide.