Conserving biodiversity and reducing land degradation using a Ridge-to-Reef approach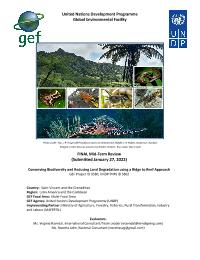 Evaluation Plan:

Evaluation Type:

Mid Term Project

Planned End Date:

03/2022

Completion Date:

02/2022

Status:

Completed

Management Response:

No

Evaluation Budget(US $):

20,000
Title
Conserving biodiversity and reducing land degradation using a Ridge-to-Reef approach
Atlas Project Number:

00097455

Evaluation Plan:
2022-2026, Barbados
Evaluation Type:
Mid Term Project
Status:
Completed
Completion Date:
02/2022
Planned End Date:

03/2022

Management Response:
Yes

UNDP Signature Solution

:
Corporate Outcome and Output (UNDP Strategic Plan 2022-2025)

1. Output 4.1 Natural resources protected and managed to enhance sustainable productivity and livelihoods

SDG Goal

Goal 15. Protect, restore and promote sustainable use of terrestrial ecosystems, sustainably manage forests, combat desertification, and halt and reverse land degradation and halt biodiversity loss

SDG Target

15.1 By 2020, ensure the conservation, restoration and sustainable use of terrestrial and inland freshwater ecosystems and their services, in particular forests, wetlands, mountains and drylands, in line with obligations under international agreements

Evaluation Budget(US $):

20,000

Source of Funding:
UNDP project budget
Evaluation Expenditure(US $):

26,160

Joint Programme:
No
Joint Evaluation:

No

Evaluation Team members:

| Name | Title | Nationality |
| --- | --- | --- |
| Virginia Ravndal | Independent Evaluator | |

GEF Evaluation:

Yes

| | |
| --- | --- |
| GEF Project Title: | Conserving biodiversity and reducing land degradation using a Ridge-to-Reef approach |
| Evaluation Type: | Mid-term Review |
| Focal Area: | Multifocal Areas |
| Project Type: | FSP |
| GEF Phase: | GEF-6 |
| GEF Project ID: | 9580 |
| PIMS Number: | 5862 |

Key Stakeholders:
Ministries of Climate; Physical Planning; Communication; Works; Social Development; Housing and Community Development; Gender Affairs; Economic Planning; Emergency Management agencies; Health and Well-being; Sustainable Development; Tourism; Energy
Countries:

BARBADOS
Recommendations
1

The PSC is comprised of very capable and dedicated individuals. Henceforth, the PSC should ensure it meets regularly at least twice/year (This need not be in-person). Because there are significant adjustments to be made during 2022, the PSC should meet at least 3 times in 2022 (once every 4 months or possibly even every 3 months). The Permanent Secretary of MAFFRTIL is the official Chair of the PSC and her presence/participation in PSC meetings is important and should be regular. Proper meeting minutes should be kept and distributed to all PSC members with adequate time to review and provide feedback before the next meeting.

Consideration should also be given to possibly establishing a technical subcommittee which could include co-opted personnel as may be required with particular skill sets to meet in between PSC meeting to assist the critical and needed work where adjustments, fast tracking and prioritizing of activities and decision making is required to support implementation of project activities.

2

Contract a CTA with technical expertise and experience in biodiversity conservation/protected areas management and with experience in the Caribbean. Strong preference should be given to contracting a CTA who resides in the region as the logistics of ease of communication and travel must be given serious consideration. Covid permitting, the CTA should travel to SVG immediately upon being contracted and should remain in SVG for the first full month of her/his contract. The recommendation is to combine the CTA and PA consultancies into one -- the same individual playing both roles. See detailed recommendations regarding TOR for CTA in Annex 4.

In addition to contracting a CTA, a full-time Project Technical Officer (PTO) should be contracted to join the PMU. The PTO should be recruited locally whereas the CTA can be recruited regionally or even globally, if one cannot be identified within the region.

3

Extend the project by at least 12 months -- preferably 18 months. A project extension is necessary to ensure the project can achieve the expected Outcomes. The project suffered extended delays due to lack of a Project Coordinator being in place for much of the project up until mid-term, the Covid-19 pandemic, and the volcanic eruption. Without an extension, the project is likely to have supported the purchase of equipment, vehicles, computers and the undertaking of consultations and production of plans and perhaps the drafting of some legislation/policies, but will not likely have gotten far in implementing much of the planned conservation work on the ground/in the sea and will not likely have reached the stage of creating new sustainable livelihoods as anticipated. It is also unlikely that without additional time the PA estate could be enlarged as envisaged. The additional project management costs related to the extension cannot be paid by the GEF, thus other funding must be found to pay those costs.

4

Consolidate consultancies that were anticipated in the PRODOC and, in the case of some anticipated consultancies/PMU positions, consider whether such positions are indeed required or if the expected Outcome related to those consultancies might best be achieved by other means. See detailed recommendations in Annex 4. As a general approach, partner with institutions (NGOs, academic institutions) whenever possible rather than contracting individual consultants.

5

Ensure the project has a PC with the requisite experience to effectively manage this large (for SVG) and complex project which not only involves managing a large full-size GEF project that falls under two distinct GEF Focal Areas (biodiversity and land degradation) and that entails partnering with a very large number of RPs, but also involves managing another GEF project (for which a different UN Agency is the GEF Agency) under a "joint implementation" modality – a modality which UNDP has little experience with. Adding to the complexity, the project is seriously off-track to achieve the expected outcomes and will require an experienced PC moving forward to ensure eventual success. The MTR believes that even though there has been an increase in expenditure and project management since the current PC (who was the Administrative/Finance Assistant until a few months ago) assumed this role, she does not have the requisite background or experience for this position. The MTR does not believe it was in the project's best interest to significantly reduce the requisite qualifications for this position and notes that the current PC does not appear to meet even the reduced qualifications as described.

6

Certain Outcomes (Outcome 1.1, Outcome 2.3, Outcome 3.3) should be re-worded while not altering the substance of what is expected. See Annex 14 with suggested changes to those Outcomes. Certain expected Outputs (Output 1.1, Output 4.2) should be modified to ensure they contribute in the most cost-effective way to the relevant expected Outcome. See Annex 14 with suggested changes to those Outputs. At the activity level, certain activities should be re-considered as some do not (as currently envisaged) contribute significantly, or in the most cost-effective way, to the relevant expected Output.

7

UNDP (including senior management in the MCO) should further discuss how best to ensure needed support is provided in the most cost-effective way to pursue joint implementation of this project and the IWECO project taking into account existing institutional experience in joint implementation of projects in the portfolio of both UNDP and UNEP.

UNDP should also discuss how to improve/expedite recruitment processes while still ensuring adherence to UNDP policies. The MTR understands this is a systemic issue (not specific to this project but affecting this project) and must be addressed at an institutional level rather than at the project level.

8

Enhance UNDP oversight of the project by ensuring there is an experienced UNDP Programme Officer responsible for the project in the MCO, that the firewall between UNDP's oversight and execution support roles is strong, that the RTA is fully informed of UNDP and GEF policies and procedures and serves as an additional layer to provide project management oversight, and that more regular monitoring missions are made COVID-19 permitting.

9

Regarding SLM, develop models in each watershed instead of 2. This can be done using the agro-ecological zones. Develop CSA/SLM standard operating procedures for use by technical Units in the MAFFRTIL that offer services to farmers. This can include advice on corrective measures, farm level assessment and internal reporting

10

Develop an exit strategy

11

The IP and UNDP MCO should meet to discuss the LOA and to ensure there is a clear understanding of what is intended/anticipated.

12

Make a concerted effort to learn from the experiences of other relevant projects in the region (both ongoing and recently completed). Begin by making a list of these initiatives, including contact information and then contact the most relevant.

13

Regarding gender, in the first quarter of 2022, develop the baseline for the indicator: number of men and women who practice agriculture and are aware of the importance and benefit of biodiversity and SLM. A more proactive/ intentional approach to engage women during implementation of the project. Ensure they are involved in meetings, workshops, consultations and capacity building sessions. Also ensure they are beneficiaries.