Terminal Evaluation of the UNDP Botswana Country Programme 2010-2014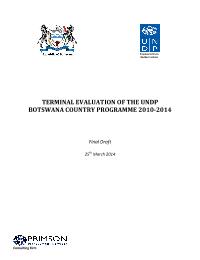 Evaluation Plan:

Evaluation Type:

Final Project

Planned End Date:

12/2014

Completion Date:

03/2014

Status:

Completed

Management Response:

Yes

Evaluation Budget(US $):

40,000
Title
Terminal Evaluation of the UNDP Botswana Country Programme 2010-2014
Atlas Project Number:

00060430

Evaluation Plan:
2009-2014, Botswana
Evaluation Type:
Final Project
Status:
Completed
Completion Date:
03/2014
Planned End Date:

12/2014

Management Response:
Yes

Focus Area

:
Corporate Outcome and Output (UNDP Strategic Plan 2018-2021)

1. Output 1.1. National and sub-national systems and institutions enabled to achieve structural transformation of productive capacities that are sustainable and employment - and livelihoods- intensive
2. Output 1.5. Inclusive and sustainable solutions adopted to achieve increased energy efficiency and universal modern energy access (especially off-grid sources of renewable energy)
3. Output 2.1. Parliaments, constitution making bodies and electoral institutions enabled to perform core functions for improved accountability, participation and representation, including for peaceful transitions
4. Output 2.2. Institutions and systems enabled to address awareness, prevention and enforcement of anti-corruption measures across sectors and stakeholders
5. Output 2.3 Capacities of human rights institutions strengthened
6. Output 2.4. Frameworks and dialogue processes engaged for effective and transparent engagement of civil society in national development
7. Output 2.5. Legal and regulatory frameworks, policies and institutions enabled to ensure the conservation, sustainable use, and access and benefit sharing of natural resources, biodiversity and ecosystems, in line with international conventions and national

SDG Goal

Goal 1. End poverty in all its forms everywhere
Goal 13. Take urgent action to combat climate change and its impacts

SDG Target

1.5 By 2030, build the resilience of the poor and those in vulnerable situations and reduce their exposure and vulnerability to climate-related extreme events and other economic, social and environmental shocks and disasters
13.1 Strengthen resilience and adaptive capacity to climate-related hazards and natural disasters in all countries

Evaluation Budget(US $):

40,000

Source of Funding:
Cost Sharing
Joint Programme:
No
Joint Evaluation:

Yes

Joint with

Ministry of State President , Ministry of

Evaluation Team members:

| Name | Title | Nationality |
| --- | --- | --- |
| Neddy Matshalaga | dr | |

GEF Evaluation:

No

Key Stakeholders:
Office of t he President. Ministry of Local Government, Civil Society, Academia, Media
Countries:

BOTSWANA

Comments:
List of outcomes assessed: Enhanced Disaster Risk Reduction and Preparedness; Strengthened Human Rights Intsitutions; Enhanced Disaster Risk Reduction and Preparedness; Gender Mainstreamed in National Laws and Policies;Strengthened, accountable & responsive institutions;Gender Mainstreamed in National Laws and Policies
Recommendations
1
Against the backdrop that the South-South and Triangular cooperation initiatives are built around the good experience on good governance and control of corruption, UNDP should consider building on the good work done so far and enhance support to the DCEC in order to enable it to manage complex aspects of corruption and address private sector motivation for good governance.
2
The evaluation recommends a review of programme interventions in the governance sector in order to identify strategic and priority national interventions which have the potential for generating ripple effects on governance across the country.
3
Against the backdrop that Botswana has potential for earthquakes and other forms of complex risks such as economic shocks, UNDP should consider a proper place for disaster management the need to support the GoB with the right kind of technical service in order to improve country resilience and support through appropriately building resilience issues areas in the design of its new CP.
4
The UNDP CP should focus on supporting the implementation of Botswana's Economic Diversification Drive in partnership with other international development agencies that have the financial strength to support the hardware requirements of economic diversification.
5
UNDP should invest in development of policies and strategies that will strengthen Botswana's competitiveness as it transforms from a resource to an efficiency-based economy, as well as consolidates its position among upper middle income countries
6
UNDP should continue with its upstream policy advisory focus for pro-poor development planning in order to help Botswana achieve inclusive growth and improve its development indicators, i.e. poverty prevalence rates, unemployment, inequality measures, HDI and HPI.
7
There is need for UNDP to use its convenor role to build a coordinated approach for strengthening the UNCT technical advisory role to the MDG reporting processes.
8
In the short to medium term, (i.e. till 2016) UNDP should see through the completion and implementation of the BPES, LED Policy Framework and National Strategy for Sustainable Development/PEI to ensure that future national economic growth and diversification agendas are founded on solid pro-poor, green growth and inclusive policy frameworks.