Evaluation on UNDP support for the UNDAF outcome (Disaster Risk Reduction, Adaptation to Climate Change, Environment)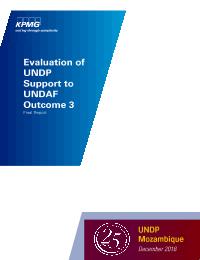 Evaluation Plan:

Evaluation Type:

Outcome

Planned End Date:

01/2017

Completion Date:

12/2016

Status:

Completed

Management Response:

Yes

Evaluation Budget(US $):

30,000
Title
Evaluation on UNDP support for the UNDAF outcome (Disaster Risk Reduction, Adaptation to Climate Change, Environment)
Atlas Project Number:

84563,63219,63225

Evaluation Plan:
2012-2016, Mozambique
Evaluation Type:
Outcome
Status:
Completed
Completion Date:
12/2016
Planned End Date:

01/2017

Management Response:
Yes

Focus Area

:
Corporate Outcome and Output (UNDP Strategic Plan 2018-2021)

1. Output 5.2. Effective institutional, legislative and policy frameworks in place to enhance the implementation of disaster and climate risk management measures at national and sub-national levels
2. Output 6.2. National and local authorities /institutions enabled to lead the community engagement, planning, coordination, delivery and monitoring of early recovery efforts
3. Output 7.3. National development plans to address poverty and inequality are sustainable and risk resilient

Evaluation Budget(US $):

30,000

Source of Funding:
TRAC 1; TRAC 3; Cost sharing
Evaluation Expenditure(US $):

28,000

Joint Programme:
No
Joint Evaluation:

No

Evaluation Team members:
GEF Evaluation:

No

Key Stakeholders:
Government, UN agencies, academic institutions, development partners
Countries:

MOZAMBIQUE
Lessons
1.

From a financial support perspective, UNDP provided substantial support to IPs although IPs desired additional support to cover nationwide interventions. The performance of financial support was influenced by the procurement processes and by the implementation capacity activities of the IPs. There were some initial delays related to the procurement processes, which were mitigated by the creation of new arrangements in procurement.



2.

There is a need to increase ´on the job trainings` and follow up on recommendations from previous consultancies using IPs staff as the main activity implementers. There are still many challenges coming from the critical needs in the country, in particular the ones related to DRR and Climate Change, and the limited capacity within the governmental institutions. There is still much needed support in technical and financial support to ensure capacity is created, and it is still premature to talk about sustainability in these areas.



3.

In terms of impacts, they have been felt mainly at the central level, where UNDP interventions are mostly implemented. At the local level, where needs are higher, impacts have been limited and linked to IPs capacity to implement at local level. There is a need to reverse this situation and put more emphasis in local actions and impacts.



Findings
1.

Overall the CPD 2012-2015 was relevant to the country and very much aligned with Mozambique priorities regarding DRR, Climate Change, Environment, and Demining Portfolio. This alignment was translated into UNDP support at policy level, access to finance lines, budget allocation and technical assistance.



2.

The allocation of CTAs was acknowledged to be very positive.



3.

One of the key aspects of UNDP support is sustainability to enable IPs to fulfil their role. Overall the analysis showed that concrete and effective steps have been taken in increasing the IPs capacity.



4.

Impacts have been felt mainly at the central level, where UNDP interventions are mostly implemented.



5.

The coordination approach through the Ministry of Foreign Affairs and Cooperation in some cases is not enough and sometimes is not effective when talking about activities at the local level with specific IPs and partners that requires faster dynamics. It was felt that there is a need to establish formal coordination bodies and mechanisms at different levels or tiers of planning within IPs, that would guarantee better implementation mechanisms and appropriate M&E at all levels, with decisions being made at the lowest possible level;



Recommendations
1

UNDP´s programs, outputs and targets, should contribute and be integrated within Government plans and monitoring procedures with clear responsibilities and implementation plans. To achieve that, those programs should include specific actions or steps to ensure that they are part of the normal monitoring and evaluation processes in the country, which would reinforce ownership and leadership from government institutions. To achieve that UNDPs planning and implementation cycles have to be integrated with the Government´s planning and implementation cycles.

2

There is a need to establish formal coordination bodies and mechanisms at different levels or tiers of planning within IPs, that would guarantee better implementation mechanisms and appropriate M&E at all levels, with decisions being made at the lowest possible level.

3

UNDP project managers and technical assistance should play a more effective role in fulfilling the IPs abilities to lead and coordinate, but also in building the capacity at the local level towards implementation. Their ToRs should include aspects related to capacity building, their role and integration within the IPs and its coordination bodies, and also their role in implementation at local level.

4

In the formulation of the new programme, more attention should be given to the operational detail and to the institutional analysis that includes the individuals and the organization at different levels of implementation. This will allow to pinpoint key weaknesses at different levels that can be dealt properly when designing the programme.

5

The new programme should aim for quality and effectiveness and not just for quantity. UNDP´s activities have to be aligned with the country´s programs and priorities, but also have to implement UNDP´s strategic plan, and be aligned with the SDGs. The five key development issues for UNDP are: poverty eradication as the greatest global challenge, sustainable development, gender equality and women's empowerment, transitions from relief to development, and resilience. The last one (resilience), is particularly relevant to disaster risk reduction, climate change adaptation and mitigation, and sustainable development, and for that, it should constitute the main objective and focus of Outcome 3 in the future, including methodologies to measure resilience, and effectiveness of measures related to either risk management, adaptation or mitigation, or to environment and sustainable development.

6

UNDP Programs should have a clear formulation of the goals in this area (capacity building) with clear indicators and targets. Different forms including in job training, tailor made short-courses, and others, should be explored more effectively. The program has no clear indicators, targets or activities related specifically to building the needed capacity within IPs, and once this is one of the main focus and justification of UNDP´s involvement, it is suggested to look into more detail to these aspects when formulating new programs, exploring more options for training directly linked to the IPs mandate and weaknesses;

7

It is critical to define the capacity that is needed in the country to formulate key indicators that should measure development in the areas of DRR ad CC. Those initiatives should establish appropriate links (formal and informal) to the national official system of data collection (INE).

8

UNDPs definition of provinces of intervention (Gaza, Nampula and Cabo Delgado) should be revised. Emphasis should be given to most vulnerable groups and most vulnerable places that are defined based on clear criteria´s and that pose the most challenge to development, and also should be linked to IPs weaknesses or limitations for intervention.

9

UNDP´s activities have to aim specifically towards higher quality programs, greater organizational openness, agility and adaptability, and improved management of financial and human resources. New partner institutions have to be explored at national level, in particular with national and local Mozambican institutions that have a clear advantage/mandate and have not been involved. At the international level the South-South and triangular cooperation that has not been fully explored but has already shown many advantages in Mozambique and abroad should also be explored more.