Country Programme Document 2012-2016 Final Evaluation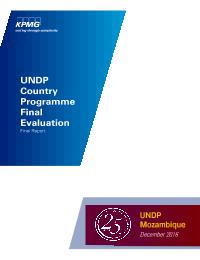 Evaluation Plan:

Evaluation Type:

Outcome

Planned End Date:

01/2017

Completion Date:

12/2016

Status:

Completed

Management Response:

Yes

Evaluation Budget(US $):

30,000
Title
Country Programme Document 2012-2016 Final Evaluation
Atlas Project Number:

84563,63219,63225,64436

Evaluation Plan:
2012-2016, Mozambique
Evaluation Type:
Outcome
Status:
Completed
Completion Date:
12/2016
Planned End Date:

01/2017

Management Response:
Yes

Focus Area

:
Corporate Outcome and Output (UNDP Strategic Plan 2018-2021)

1. Output 5.2. Effective institutional, legislative and policy frameworks in place to enhance the implementation of disaster and climate risk management measures at national and sub-national levels
2. Output 6.2. National and local authorities /institutions enabled to lead the community engagement, planning, coordination, delivery and monitoring of early recovery efforts
3. Output 7.2. Global and national data collection, measurement and analytical systems in place to monitor progress on the post 2015 agenda and sustainable development goals
4. Output 7.3. National development plans to address poverty and inequality are sustainable and risk resilient

Evaluation Budget(US $):

30,000

Source of Funding:
Trac 1
Evaluation Expenditure(US $):

32,000

Joint Programme:
No
Joint Evaluation:

No

Evaluation Team members:
GEF Evaluation:

No

Key Stakeholders:
Government
Countries:

MOZAMBIQUE
Lessons
1.

During the programme implementation there were critical activities not carried out due to weakness at the implementation units. It is also critical to ensure that necessary corrective measures are taken into consideration and timely implemented. The poor coordination at UN level also delayed timely reaction and corrective measures to address the quality of the consulting services.



2.

Monitoring and Evaluation: With many indicators not being informed properly, the M&E framework serves mostly as only a proxy to the performance of the UNDP CP. There should be a closer relationship between the theory of change, outcome indicators and outputs indicators. One weakness is the lack of data to verify certain indicators as documented. In these cases, it is preferable to only include indicators that are measurable based on the data available.



3.

Sustainability: As part of the programme implementation, UNDP has recruited a few international advisers who have been working with high level staff from Implementing Partners on the job training and capacity building to ensure sustainable capacities are built within the institutions during the programme cycle, as a basis for sustainability of efforts. In addition, the training of trainers approach used to improve the skills of members of parliament, police, and electoral staff will continue to benefit the institutions after the end of the projects. Both of these approaches have a potential multiplier effect as those who were initially trained will be able to replicate the train among their colleagues what may ensure durability of the results. Lastly, there is an effort from UNDP to promote strong national ownership at all levels and the involvement of stakeholders and beneficiaries.



Findings
1.

Relevance: The UNDP CP was formulated according to UNDAF (2012-2016) which is in turn aligned to PARP (2011-2014). Both documents are aligned to MDGs. The theory of change adopted for each outcome is appropriate to base the interventions.



2.

Coordination for CP implementation: Coordination mechanisms and integration among different stakeholders is still a problem, there are good coordination bodies at macro level , but that is not enough. During the programme implementation there were critical activities not carried out due to weakness at the implementation units.



3.

Monitoring and Evaluation: There is an apparent disconnection between outcomes and their indicators what creates a challenge to assess progress at outcome level and weakens accountability. Results-based management requires the identification of critical assumptions about the programme environment and risk assessments, clearly defined accountabilities and indicators for results, and performance monitoring and reporting.



4.

Equity: Geographical targeting has been used by UNDP team to focus the interventions in those areas were the citizens are the worst off. Overall, CPD design and implementation took into account equity considerations.



5.

With regard to effectiveness, in general, the implementation of UNDP CP was satisfactory as most activities were successfully implemented and outputs achieved as well as there was progress at the outcome level.



6.

The assessment of the efficiency indicates that most activities were implemented in a cost effective manner.



7.

In regard to sustainability, most of the initiatives implemented under UNDP CPD are likely to be sustainable.



Recommendations
1

Recommendation 1: The coming UNDP CPD should articulate a clear theory of change for the next country program and define its role within the change process
Articulating a theory of change for each programmatic area would allow the programme to precisely define causal links between what program implementers will do and the impacts the program will have, including the interim results (outputs and outcomes) that would help the program measure progress. A well-defined theory of change and simplified framework of results would help program managers decide what projects or components to pursue and where to invest scarce resources, and also how to assess progress and identify needed changes. It would also provide UNDP and its stakeholders with greater clarity about its direction in Mozambique.

2

Recommendation 2: UNDP should strengthen the use of effective RBM and M&E systems to monitor and manage the CP
Results need to be attributable to UNDP to ensure accountability and show progress. This is the reason why UNDP CPD should include a robust set of measurable results and for which UNDP can be held accountable. It is also important to set clearly how results will be monitored during the implementation and the tracking system that will be used for outputs and outcomes.

3

Recommendation 3: There is a need to move away from project activities to programme focus, this would allow to have a holistic and focused implementation.
UNDP has several projects in Mozambique which could be implemented as a programme per thematic area what would maximize complementarities and synergies and reduce potential duplicative activities.

4

Recommendation 4: Speeding up fund disbursements and planning needs to focus on available funds.
Several implementing partners emphasized that the UNDP needs to find more innovative ways of improving and speeding up funds disbursements to enable timely implementation of the activities planned. Timely disbursement of funds will ensure effective and efficient implementation of programmes and initiatives.

5

Recommendation 5: Improve coordination mechanisms.
Coordination mechanisms and integration among different stakeholders is still a problem; there are good coordination bodies at macro level, but that is not enough. Views at the implementation level are very much compartmented and short sighted. Workshops to formulate, launch, evaluate and monitor are important to reach the needed leadership, ownership and responsibility with clear targets and indicators adjusted to local conditions and specificities.

6

Recommendation 6: More attention to operation details.
In the formulation of the new programme, more attention should be given to the operational detail and to the institutional analysis that includes the individuals and the organization at different levels of implementation. This helps to define how operations will occur in practice to implement the programme, monitoring plans, determine the capacity needs, how the risks will be mitigated and approaches to ensure sustainability of the programme achievements.

7

Recommendation 7: Maximization of UNDP comparative advantages
Financial resources are always scarce and never enough, on the other hand, there are many needs and requests. UNDP´s main role, focus, knowhow and key advantage is not scaling up processes but pioneering, development of procedures and methodologies, and building capacity within national institutions.

8

Recommendation 8: Geographical targeting as way to focus on the most disadvantaged groups
UNDPs definition of provinces of intervention may need a revision. There is a need to be more flexible in terms of targeted provinces.

9

Recommendation 9: Inclusive market and finance for employment and income opportunities for vulnerable groups and sustainable poverty redution.
UNDP could assist Mozambique in the development a framework for private sector development to address the weaknesses of MSMEs. Alternatively UNDP could raise this need among other UN specialized agencies to identify the agency that could lead this intervention.

10

Recommendation 10: Provision of coordinated, equitable and integrated services at decentralized level
Despite the progress made through the development of key policy documents, the complexity of the decentralized process needs flexibility to adapt the instruments to a changing context and UNDP needs to be prepared to provide the assistance the government may require for an effective decentralization.