UNDP Outcome Evaluation on 'Enabling policy and regulatory environment in place for rapid economic recovery, inclusive growth and economic diversification'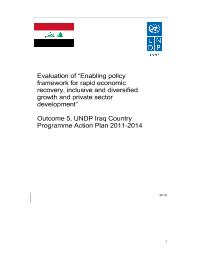 Evaluation Plan:

Evaluation Type:

Outcome

Planned End Date:

08/2012

Completion Date:

08/2012

Status:

Completed

Management Response:

Yes

Evaluation Budget(US $):

160,000
Title
UNDP Outcome Evaluation on 'Enabling policy and regulatory environment in place for rapid economic recovery, inclusive growth and economic diversification'
Atlas Project Number:
Evaluation Plan:
2011-2015, Iraq
Evaluation Type:
Outcome
Status:
Completed
Completion Date:
08/2012
Planned End Date:

08/2012

Management Response:
Yes

Focus Area

:
Corporate Outcome and Output (UNDP Strategic Plan 2014-2017)

1. Inclusive growth and social equity promoted through pro-poor macroeconomic and fiscal policies that support income, employment and social protection of youth, women and vulnerable groups in a sustainable way
2. Policies, strategies and partnerships established to enhance public-private sector collaboration and private sector and market development that benefit the poor and ensure that low-income households and small enterprises have access to a broad range of financial and legal services

Evaluation Budget(US $):

160,000

Source of Funding:
Projects
Joint Programme:
No
Joint Evaluation:

No

Evaluation Team members:

| Name | Title | Email | Nationality |
| --- | --- | --- | --- |
| Sulaiman S. Wasty, Team Leader, David E. Gairdner, Team Specialist | Team Leader | | |

GEF Evaluation:

No

Key Stakeholders:
Prime Ministry Advisory Board, MoF, MoI, MoPDC, MoA, MOLSA, MOT, MOHE, MOEd, National Investment Commission, World Bank, private sector
Countries:

IRAQ

Comments:
assesses UNDP?s performance for a major programme portfolio of projects worth around $120 million, including Private Sector development, Transport, Electricity, Loan Management and Mine Action
Recommendations
1
A robust engagement with the CSOs, and prioritising the engagement across the board and at all levels. Similarly, a dialogue to be vigorously undertaken to encourage CSR for activities at the local level.
2
Private Sector Development Programme -I For the continuation of PSDP-I programme, the three priority areas should be: (a) SME/Access to Finance; (b) Legislative Reform (including Land Management); and (c) SOE Restructuring. These three sub-components could effectively subsume the other objectives relating to taxation policy, investment promotion, and social dialogue and mitigation (the latter a pervasive theme across these sub-components). All these target areas should run parallel to creating an enabling environment for private sector development, broadening the consultative process, devolution of implementation responsibilities, and decentralization of decision-making?with commensurate emphasis on the cross-cutting themes of gender mainstreaming, maintenance of security, and equity considerations.
3
Loan Management Support Sustained engagement will be required on the part of the Japanese Government and the UNDP?preferably in the form of secondment of procurement and PFM experts (both at the Centre and in the Governorates). Equally important, success stories should be prominently show-cased for their demonstration effect. The Loan Management Team should further promote its experience as Fiduciary Monitoring Agents with the Government?s ODA Loan projects and the ODA Loan Management Support (Electricity Sector Reconstruction Project in Kurdistan Region) with the purpose of replicating these experiences more widely at the national and international levels.
4
Mine Action The UNDP should conduct a review of its Mine Action programme on an urgent basis. The purpose of the review should be to: (a) identify whether the conditions exist for future UNDP engagement with Mine Action in Iraq; and (b) based on the findings, propose strategic options for continued support or withdrawal.