Outcome Evaluation of Climate Change and Environment (CCE) Portfolio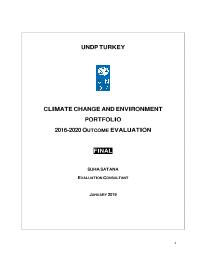 Evaluation Plan:

Evaluation Type:

Outcome

Planned End Date:

01/2019

Completion Date:

02/2019

Status:

Completed

Management Response:

Yes

Evaluation Budget(US $):

25,000
Title
Outcome Evaluation of Climate Change and Environment (CCE) Portfolio
Atlas Project Number:

00061845,00056563,00082077,00081796,00096470

Evaluation Plan:
2016-2020, Turkey
Evaluation Type:
Outcome
Status:
Completed
Completion Date:
02/2019
Planned End Date:

01/2019

Management Response:
Yes

Focus Area

:
Corporate Outcome and Output (UNDP Strategic Plan 2018-2021)

1. Output 1.1.1 Capacities developed across the whole of government to integrate the 2030 Agenda, the Paris Agreement and other international agreements in development plans and budgets, and to analyse progress towards the SDGs, using innovative and data-driven solutions
2. Output 1.4.1 Solutions scaled up for sustainable management of natural resources, including sustainable commodities and green and inclusive value chains
3. Output 2.1.1 Low emission and climate resilient objectives addressed in national, sub-national and sectoral development plans and policies to promote economic diversification and green growth
4. Output 2.3.1 Data and risk-informed development policies, plans, systems and financing incorporate integrated and gender-responsive solutions to reduce disaster risks, enable climate change adaptation and mitigation, and prevent risk of conflict
5. Output 2.4.1 Gender-responsive legal and regulatory frameworks, policies and institutions strengthened, and solutions adopted, to address conservation, sustainable use and equitable benefit sharing of natural resources, in line with international conventions and national legislation
6. Output 2.5.1 Solutions developed, financed and applied at scale for energy efficiency and transformation to clean energy and zero-carbon development, for poverty eradication and structural transformation

SDG Goal

Goal 12. Ensure sustainable consumption and production patterns
Goal 14. Conserve and sustainably use the oceans, seas and marine resources for sustainable development
Goal 3. Ensure healthy lives and promote well-being for all at all ages
Goal 9. Build resilient infrastructure, promote inclusive and sustainable industrialization and foster innovation

SDG Target

12.4 By 2020, achieve the environmentally sound management of chemicals and all wastes throughout their life cycle, in accordance with agreed international frameworks, and significantly reduce their release to air, water and soil in order to minimize their adverse impacts on human health and the environment
14.5 By 2020, conserve at least 10 per cent of coastal and marine areas, consistent with national and international law and based on the best available scientific information
3.9 By 2030, substantially reduce the number of deaths and illnesses from hazardous chemicals and air, water and soil pollution and contamination
9.4 By 2030, upgrade infrastructure and retrofit industries to make them sustainable, with increased resource-use efficiency and greater adoption of clean and environmentally sound technologies and industrial processes, with all countries taking action in accordance with their respective capabilities

Evaluation Budget(US $):

25,000

Source of Funding:
Budgets of projects under the CCE Portfolio
Evaluation Expenditure(US $):

20,000

Joint Programme:
No
Joint Evaluation:

No

Evaluation Team members:

| Name | Title | Nationality |
| --- | --- | --- |
| Suha Satana | Economist, Phd | TURKEY |

GEF Evaluation:

No

Key Stakeholders:
Countries:

TURKEY
Lessons
Findings
1.

Documentation: Review of available documents and M&E reports at the CCE level revealed that there is sufficient information to ascertain the status of the outcomes at the project level, from which some inferences can be made to higher level outcome analysis. Review of the UNDCS and UNDP CPD results framework led to further clarity, but the two documents were not fully aligned in content and format, but it was noticed that both UNDCS and UNDP CPD were geared more toward project level assessment than portfolio outcome analysis. The same issue was flagged in the previous Outcome Evaluation of 2013.




Tag: Challenges Effectiveness Monitoring and Evaluation Project and Programme management

2.

Mitigation Strategy Adopted: A reconfigured CCE Results Framework was attempted, but it could not be fully completed. Further document review, interviews within UNDP and partners have bridged the gap for information, and enabled the completion on this evaluation.




Tag: Climate change governance Monitoring and Evaluation Results-Based Management

3.

Since the 2016 failed coup, the political situation in Turkey has improved for the most part, but the state of emergency, which was imposed in response to the failed coup, was extended seven times (until July 2018) before it was lifted. As a result of the referendum in April 2017, the parliamentary system of government was replaced with an executive presidency in June 2018, and the changes brought by the Constitutional Amendment entered into force. The developments following the Referendum have escalated social and political tensions and have contributed to delays in economic reform efforts, thereby hampering the economy, and negatively affecting the country's relations with the EU. On the economic front, government-led extensive stimulus packages helped sustained economic growth and employment in 2017, but the inflation rate climbed again to double-digit levels after 6 years, and now stands at 25%, with steep hikes in the exchange rates. Changes in the functioning and structure of the State institutions have affected the working environment for UNDP Projects.




Tag: Challenges Effectiveness Parliament Country Government Conflict

4.

The UNDP Front: In addition to sound program design and scope, it is observed that the CCE already runs a cost-conscious operation, and functions at a reasonable cost with minimum essential staff. All resident staff is high caliber nationals, which adds to their value in terms of being able to work in their own language with the counterparts and hence become more effective as technical partners, as well as help ward off such costs as international travel and accommodations etc. UNDP in many cases also capitalizes on its core asset of being a neutral agency and honest broker with a very positive public image. The fact that most CCE projects involve grants funds rather than loans/credits to the government is another facet that reinforces this image. An impressive amount of co-financing has been pledged by the partners, especially the private sector. A good part is of the pledged co-financing is being realized and sometimes exceeded significantly (the IEEI project case). This is a clear sign of institutional efficiency as well as operational effectiveness. Embedded staff within the partners lends further credibility and trust to UNDP CCE (PEEMS and Chemicals are cases in point). Firm control over the funds and judicious procurement (albeit sometimes slow enough to incite discontent with the partners), and the ability to network and maintain the key connections are additional key features underlying the CCE efficiency. Finally, adaptable project design lending itself to built-in replication capability characterizes almost all projects (POPS, PEEMS and SFM) is a very desirable feature to note.




Tag: Efficiency Sustainability Government Cost-sharing Private Sector Financing Human and Financial resources Country Government Private Sector UNDP Management UNDP management

5.

Principal findings of the evaluation concern the high level of progress in the gender mainstreaming dimension, very high level of co-financing achieved, balanced and rich portfolio valued at about US$ 300, including co-financing, and a narrower scope (as opposed to ESD era), while sharpening focus on key areas. Minor problems were also noted by the evaluation which usually referred to process and procedure (such as procurement delays) rather than essence.




Tag: Effectiveness Gender Mainstreaming Project and Programme management

6.

Certain CCE weaknesses should also be noted. Despite continued efforts, the promised financial mechanism intended to serve the SMEs via the EE interventions has not yet been established, and remains a pending matter. It is hoped that progress made under PEEMS will make a difference in this respect. The ORKOY project has finally been resurrected, but it was close to being announced otherwise. Its main deficiency was insufficient design to guide the implementation teams, as well as being highly unfortunate and running into a myriad of implementation hurdles. The disaster management focus is still awaiting its specific intervention. Finally, the design of implementation of regional projects risks alienating the Ministry staff in Ankara, as was the case in SFM. More attention with inclusive design and implementation engagement would be warranted for such cases.




Tag: Challenges Effectiveness Programme/Project Design Project and Programme management

7.

The Partners Front: Despite adversities, all partners fared very well. All projects are on track. Those which have been granted extensions (POPS and SFM) are out of the control of all concerned, for the most part. Once can access and read the Biennial Reports and National Communications reports on the web, and cannot help being impressed. An impressive volume of reports were produced, including contributions to the so-called Progress Implementation Reports. Their enhancement of capacity and motivation is quite visible. All partners are keen to continue with UNDP and they appreciate the extent and quality of the support.




Tag: Sustainability Partnership

8.

CCE Portfolio management implemented a good coordination mechanism, with frequent consultations with the concerned ministries: MoEU, MFA, and MENR. The CCE partnership strategy has involved a diverse array of partners from the national, regional and local Governments, academia, NGOs, the private sector and the civil society. In addition to the above cited key ministries the CCE teams have been working with: Chamber of Forest Engineers; Yale University; Union of Forest Cooperatives; Nature Conservation Centre; WWF–Turkey; Climate Change and Air Management Board; AFAD; EU Delegation; Gold Standard; GUNDER, Private Sector (Coca Cola, MERKIM, KARDEMIR, ISDEMIR, Bedas, Etimaden, Igsas, Sedas, Turk Sugar Factories, Merkim); and Industry Associations. Through the GEF funded projects the CCE has forged good partnerships with other UN agencies, particularly with UNIDO, UNEP and FAO. This strategy has allowed the CCE address budget constraints by brokering and establishing strong partnership with the Turkish Government and the private sector, as indicated above.




Tag: Effectiveness Global Environment Facility fund Multilateral Partners Partnership Project and Programme management Civil Societies and NGOs Country Government Private Sector UN Agencies Coordination
Recommendations
1

When technically possible, update the design and RF if more than two years have elapsed after preparation before the project becomes effective

2

Introduce detailed costings and prepare joint budgets to be implemented as parallel co financing.

3

Explore ways and means of doing joint co-financing as opposed to parallel co-financing.

4

Introduce some economic feasibility analysis in the designs, and link it with the Results Framework.

5

Consider making the main report part of the Project Documents smaller in size, while expanding their annexes.

6

Try to stay away from quantitative targets unless well justified and warranted.

7

Always bear in mind that UNDP's key role is to trigger change.

8

Utilize the Theory of Change intensively and do not take chances on the Result Framework Preparation

9

Continue with the efforts to mainstream gender equality across the entire portfolio, and start firmly with the designs.

10

Incorporate the concept of resilience in the CCE strategy and action by ensuring that relevant project designs include multi-hazard risk assessments, taking into account seismic and climatic risks and others if deemed necessary and providing estimates of the potential impact on project staff, partners, beneficiaries and project activities

11

Embedded project staff at implementing partners is key to sustained partner cooperation. Try to spread this practice with all FSPs.

12

Detailed multi-year joint (integrated) budgets can enhance ownership and increase accountability with implementing partners. Give it a try despite difficulties

13

Try to closely monitor co-financing to the extent politically and technically feasible.

14

Remain alert and evaluation-ready at all times. Do not wait for 5 years till the next OE

15

Establish a central system (or re-model the existing system) with satellite sub-systems based at large projects with one PMU per cluster (or focus area) if and when possible.

16

Do system automation, and produce reports on demand by database queries.

17

Prepare semi-annual summaries for the portfolio, and annual impact reports using the incoming reports to the system, mainly the PIRs.

18

Disclose M&E Reports on the WEB

19

Adopt co-financing ratio as a distinct performance indicator and monitor it closely.

20

Use co-financing amounts and ratios as indicator for efficiency and sustainability.

21

Help establish a program/portfolio M&E based on a re-configured Portfolio Results Framework and GEF principles using external consultants

22

Bring gender within the purview of M&E and insist on disaggregated data where disaggregated data makes sense.