Final Evaluation for SFM (Integrated Approach to Management of Forests in Turkey, with Demonstration in High Conservation Value Forests in the Mediterranean Region) under Climate Change and Environment (CCE) Portfolio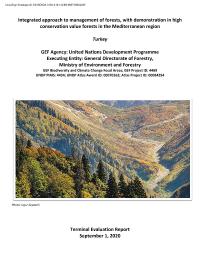 Evaluation Plan:

Evaluation Type:

Final Project

Planned End Date:

09/2020

Completion Date:

09/2020

Status:

Completed

Management Response:

No

Evaluation Budget(US $):

17,000
Title
Final Evaluation for SFM (Integrated Approach to Management of Forests in Turkey, with Demonstration in High Conservation Value Forests in the Mediterranean Region) under Climate Change and Environment (CCE) Portfolio
Atlas Project Number:

00070163

Evaluation Plan:
2016-2020, Turkey
Evaluation Type:
Final Project
Status:
Completed
Completion Date:
09/2020
Planned End Date:

09/2020

Management Response:
No
Corporate Outcome and Output (UNDP Strategic Plan 2018-2021)

1. Output 1.4.1 Solutions scaled up for sustainable management of natural resources, including sustainable commodities and green and inclusive value chains

Evaluation Budget(US $):

17,000

Source of Funding:
Project buget
Evaluation Expenditure(US $):

17,000

Joint Programme:
No
Joint Evaluation:

No

Evaluation Team members:

| Name | Title | Email | Nationality |
| --- | --- | --- | --- |
| Josh | Brann | brann.evaluation@gmail.com | |

GEF Evaluation:

Yes

| | |
| --- | --- |
| GEF Project Title: | Integrated Approach Forests in Turkey |
| Evaluation Type: | Terminal Evaluation |
| Focal Area: | Multifocal Areas |
| Project Type: | FSP |
| GEF Phase: | GEF-5 |
| GEF Project ID: | 4469 |
| PIMS Number: | 4434 |

Key Stakeholders:
GEF & Ministry of Forestry and Water Affairs (GD of Forestry)
Countries:

TURKEY
Recommendations
1

UNDP and GDF should ensure that the various technical trainings conducted during the project are packaged into training modules, and then fully integrated in regular GDF training programs.

2

To further support the sustainability of project results, GDF and its partners should continue working to develop and implement a monitoring system for tracking SFM outcomes in the implementation of FMPs, especially with respect to biodiversity.

3

UNDP should explore all possibilities to continue the development of the DSS, and its global dissemination, including the development of a user manual that could be translated into multiple languages.

4

Projects should have multi-stakeholder steering committees, with all major stakeholders or stakeholder groups represented. This is one way to strengthen stakeholder ownership, stakeholder engagement, coordination, cooperation, and transparency in the implementation of GEF projects. In the case of the Turkey SFM project this was not a major issue, but future UNDP-GEF projects in Turkey should implement such a mechanism to ensure optimum stakeholder engagement during project implementation.

5

GDF should continue implementing new technologies to increase the efficiency of forest inventory and forest management in Turkey. Specifically, the GDF should invest in a national level forest inventory supported by remote sensing data. In addition, the GDF should fully scale-up the application of the DSS to the national level as soon as possible. Increasing the efficiency of Forest Management Planning is the only feasible way to accelerate the uptake of integrated forest management planning approaches.

6

UNDP, GDF, and other partners (e.g. FAO) should work to develop a landscape-level strategic approach to SFM, in order to increase efficiency and effectiveness of integrated forest management planning. This has been initiated to some extent with support from NCC, but if implemented more widely would have potential to improve SFM results over time.

7

Most GEF FSPs are designed to be implemented over 4-5 years. Yet, the long-term impact and sustainability of results for many projects depends on institutionalizing project results within key national environmental management institutions, such as the GDF. These processes can take years. The GEF and UNDP should design and develop projects that specifically include outputs on institutional capacity development, and the institutionalization of project results. GEF projects should be planned for 6-7 years to successfully implement these types of activities. For many GEF projects the current implementation timeframes have not been adequate to ensure project outputs are institutionalized for long-term outcomes and impacts. Long-term strengthening of nationallevel natural resource and environmental management institutions is a critical strategic direction for the GEF to embrace for the future generation of Global Environmental Benefits.