Evaluation of the EC Contribution to the Parliamentary Action for Renewable Energy (PARE) Project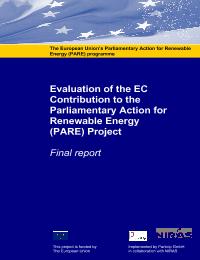 Evaluation Plan:

Evaluation Type:

Final Project

Planned End Date:

12/2014

Completion Date:

12/2014

Status:

Completed

Management Response:

Yes

Evaluation Budget(US $):

25,000
Title
Evaluation of the EC Contribution to the Parliamentary Action for Renewable Energy (PARE) Project
Atlas Project Number:
Evaluation Plan:
2014-2017, Bureau for Policy and Programme Support
Evaluation Type:
Final Project
Status:
Completed
Completion Date:
12/2014
Planned End Date:

12/2014

Management Response:
Yes

Focus Area

:

1. Democratic Governance
2. Crisis Prevention & Recovery
3. Environment & Sustainable Development
4. Cross-cutting Development Issue
5. Others

Corporate Outcome and Output (UNDP Strategic Plan 2018-2021)

1. Output 2.2. Institutions and systems enabled to address awareness, prevention and enforcement of anti-corruption measures across sectors and stakeholders
2. Output 2.4. Frameworks and dialogue processes engaged for effective and transparent engagement of civil society in national development

Evaluation Budget(US $):

25,000

Source of Funding:
European Commission and Danish Ministry of Foreign Affairs
Evaluation Expenditure(US $):

25,000

Joint Programme:
No
Joint Evaluation:

No

Evaluation Team members:

| Name | Title | Nationality |
| --- | --- | --- |
| SEÁN J. BURKE | NIRAS AND PARTICIP GMBH | |

GEF Evaluation:

No

Key Stakeholders:
Parliamentarians
Countries:

BANGLADESH

CONGO BRAZZAVILLE

INDIA

JORDAN

LEBANON

MOROCCO

SENEGAL

SOUTH AFRICA

TANZANIA (UNITED REPUBLIC OF )

TUNISIA
Lessons
1.

The evaluation has identified a number of learnings from the PARE project, some of which are also relevant in terms of looking to the future and considering how a Climate Parliament approach can record increased results. A key learning (or confirmation/validation-related learning) is that the Parliamentary Advocacy and capacity building approach has shown itself to be effective, and in some cases, very effective. Moreover, more effort into writing out the modus operandi of the core Climate Parliament approach would also enhance clarity, ensure all possible tactical options are captured, and possibly help accelerate the attainment of results. Another lesson learned has been that there needs to be greater categorisation of counties in terms of the energy sector in different target countries, in order to give greater focus to any strategy developed thereafter. While local needs have been reflected in part in the choice of topics focused on, the programme would benefit from a greater distinction between high-electrification countries and low/lower-electrification countries, but also including a number of other key factors. Another learning point is the importance of identifying high quality MPs, and in this respect it is important to underline that PARE has been successful in many respects.

Another lesson learned has been that even if there are some inherent challenges in ensuring
sustained impact due to the MPs losing their seat in elections, thereby depriving PARE of individuals who have developed interest, knowledge and influencing capacity on renewable energy in their parliament, this 'loss' may in at least some cases be less than appear, as some individuals stay involved and can influence through other non-MP Parliamentary roles or party management positions which they continue to hold. Similarly, there is scope for PARE cross-party groups to influence the renewable energy agenda setting of the main political parties (as was done in India), thereby further enhancing sustainability prospects. Another PARE lesson is the difference committed individual parliamentarians can achieve, and it is likely that the core approach can further be strengthened by considering how high-calibre MPs can be further supported, coached and mentored in order to help increase the prospects for registering above-ordinary results in promoting renewable energy in their respective countries. Creating a more pronounced regional dimension, as is being considered by PARE partners, can also deliver some benefits in this regard.



Findings
1.

The evaluation findings show that the targets under the 4 PARE Target Outputs have been surpassed, even without taking into account the results from Year 3 (2014), which are currently being compiled by the project. Regarding project results, some of the results achieved have been impressive, in particular in India, Bangladesh, and Tunisia. In India, for example, the advocacy and lobbying work of the PARE cross-party parliamentary group has played an important role in the 2013 Government to allow certain public sector institutions raise new income through tax-free bonds has included allowances for the Indian Renewable Energy Development Agency (IREDA) to raise USD 162.4 million, which has been further boosted by a Government allocation from the National Clean Energy Fund (NCEF) to provide low cost loans through IREDA. Other significant results have been a more than doubling of the budget for the Ministry of New and Renewable Energy (MNRE) to USD 896.23 million in the 2014-15 budget (compared with 2012), while the revision of the National Clean Energy
Fund (NCEF) Guidelines has led to more than USD 450 million in additional renewable energy funding. Another key result from PARE MPs advocacy work has been the re-introduction of Generation Based Incentives in the 2013-2014 Union budget, following significant Climate Parliament lobbying, with this providing a further INR 800 crore (USD 129.9 million) for wind power projects.

In Bangladesh, PARE has registered two major achievements, the first being the allocation of Taka 15 million (USD 0.19 million) from the national budget to the newly established Sustainable and Renewable Energy Development Authority (SREDA), with some prospects for a further increase of more than 20%. A second achievement has been the government's launch of a new USD 52 million Renewable Energy Fund (REF), which represents a key milestone in the development of renewable energy in the country as it constitutes the first Government renewable energy fund. The work of the parliamentary energy group has been instrumental in getting the government to commit to setting up this fund and allocating the financing for the fund. Some of PARE's most impressive achievements have been In Tunisia, where PARE support has been fundamental to adoption by the Tunisian Parliament of a specific commitment in its constitution to tackling climate change and environmental protection. This constitutional amendment has meant that Tunisia has become the first country in the world outside of Latin America to make a constitutional commitment to combatting climate change. A second significant achievement of the cross-party group in Tunisia has been securing the adoption in Parliament of a Renewable Energy bill despite significant opposition mobilised by the national electricity utility.

Even in some countries where the national context has in many respects been highly challenging such as Jordan, there are nonetheless signs that a Parliamentarian-oriented approach such as in PARE could possibly achieve significant results over the coming 3-5 years. In contrast, no progress has been recorded in Lebanon and South Africa, due to changes in the national political situation in the formerand lack of interest/cooperation from ANC in the latter. In Congo-Brazzaville, the project has encountered numerous challenges, including the relatively dominant power of the executive and head of state relative to the national parliament. PARE has therefore underachieved in a few countries although many of the challenges faced have been outside of the control of the project, and thus it would be unfair to consider underachievement as a PARE failing per se. However, it is important to underline that the lack of progress in some countries such as South Africa and Lebanon is in many respects linked to an overly rigid process for selecting focus countries and in particular in terms of changing this country choice where the target country environment mean that little could realistically be accomplished. This aspect of the project design should be carefully reviewed in any follow-up programme.



Recommendations
1

Improved Documenting of the Core PARE Approach

2

Increased focus on Analysis and Lessons Learned in PARE Final Reporting
1. Recommendation:

Improved Documenting of the Core PARE Approach
Management Response:
[Added: 2017/12/29]
[Last Updated: 2017/12/29]
For the second phase of the PARE project (PARE II), a methodological roadmap and workplan will be drafted and agreed upon with the members of parliament at the outset of the project.
Key Actions:
Key Action

Responsible
DueDate
Status
Comments
Documents

An overall comprehensive country-level implementation plan is developed after the initial scoping work, in which the country will provide a realistic timescale and form the basis for the monthly discussion between UNDP and Climate Parliament to assess progress and discuss challenges arising and appropriate solutions.




[Added: 2017/12/29]

Project Manager / Implementing Partner

2015/12

Completed

UNDP country offices will be involved from the outset of the project, including through the organization of trainings for members of partner country parliaments and the meetings of stakeholders in country.




[Added: 2017/12/29]

Project Manager / UNDP Country Offices in PARE II implementing countries

2017/12

Completed
2. Recommendation:

Increased focus on Analysis and Lessons Learned in PARE Final Reporting
Management Response:
[Added: 2017/12/29]
[Last Updated: 2017/12/29]
In order to address these challenges, a tighter centralized management of all work streams will be established.
Key Actions:
Key Action

Responsible
DueDate
Status
Comments
Documents

Reporting: A short weekly report from all implementing actors, using a pre-determined template that is results-focused will be established. A monthly teleconference will be set up and will include consolidation of previous weekly reports to allow a full assessment of real progress, identify shortcomings, challenges, successes and take remedial or alternative action.




[Added: 2017/12/29]

Project Manager, Implementing Partners

2015/12

Completed

The two hearings organized in the framework of the new (PARE II) project will ensure two face-to-face meetings between UNDP and Climate Parliament staff. Moreover, a new tracking system will be established where proof of meetings, official bulletin, pictures and all other documents will be regularly downloaded in a centralized system (Evernote) and updates discussed during the monthly progress review call




[Added: 2017/12/29]

Project Manager / Implementing Partner

2015/12

Completed