Terminal evaluation for POPs and sound harmful chemical management project (00082491)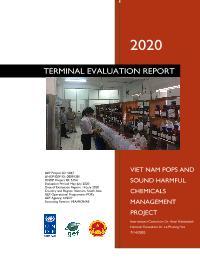 Evaluation Plan:

Evaluation Type:

Final Project

Planned End Date:

11/2020

Completion Date:

10/2020

Status:

Completed

Management Response:

Yes

Evaluation Budget(US $):

30,000
Title
Terminal evaluation for POPs and sound harmful chemical management project (00082491)
Atlas Project Number:

82491

Evaluation Plan:
2017-2021, Viet Nam
Evaluation Type:
Final Project
Status:
Completed
Completion Date:
10/2020
Planned End Date:

11/2020

Management Response:
Yes

Focus Area

:
Corporate Outcome and Output (UNDP Strategic Plan 2018-2021)

1. Output 2.4.1 Gender-responsive legal and regulatory frameworks, policies and institutions strengthened, and solutions adopted, to address conservation, sustainable use and equitable benefit sharing of natural resources, in line with international conventions and national legislation

Evaluation Budget(US $):

30,000

Source of Funding:
Project budget
Evaluation Expenditure(US $):

14,785

Joint Programme:
No
Joint Evaluation:

No

Evaluation Team members:

| Name | Title | Nationality |
| --- | --- | --- |
| Dr Amal Aldababseh | International Consultant | JORDAN |
| Dr Le Phuong Hoa | National Consultant | |

GEF Evaluation:

Yes

| | |
| --- | --- |
| GEF Project Title: | Viet Nam POPS and Sound Harmful Chemicals Management Project |
| Evaluation Type: | Terminal Evaluation |
| Focal Area: | Persistent Organic Pollutants |
| Project Type: | FSP |
| GEF Phase: | GEF-5 |
| GEF Project ID: | 5067 |
| PIMS Number: | 5154 |

Key Stakeholders:
Ministry of Natural Resources and Environment (MONRE) and Ministry of Industry and Trade (MOIT)
Countries:

VIET NAM
Recommendations
1

Evaluation recommendation 1: Develop a well-written lesson learned report that will be useful for other projects and technical staff working on similar projects in Vietnam and other countries. The report should illustrate the whole story of the projects; risks, issues, obstacles, success stories, flaws in design and implementation, long-term impact, sustainability, etc. and make linkages to development work like poverty alleviation, community empowerment, enhancing climate resilience and gender mainstreaming (UNDP CO with support from UNDP Regional Office).

2

Evaluation recommendation 2. The project holds a workshop of stakeholders to adopt a comprehensive exit strategy to ensure the Project's results sustainability. The vision should provide a clear statement that reducing environmental and health risks through POPs and harmful chemicals should continue with the support of all stakeholders (UNDP, MONRE, and MOIT).

3

Evaluation recommendation 3. The Project has managed to produce a set of valuable Project's documentation including guidelines, frameworks, awareness-raising materials, etc. It is recommended to develop a dissemination plan for those materials to ensure that future initiatives would build on the Project activities and results and will incorporate the project's products in its work (UNDP, MONRE).

4

Evaluation recommendation 4. To ensure the sustainability of the Project's outcomes it is necessary to institutionalize the Project's main results. The project should investigate embedding the PRTR system at the provinces level through existing planning mechanisms and links to national government programmes and plans. The PRTR system has been integrated with the environmental management software of the Binh Duong Province, but this is not enough. Work should also be expanded to other provinces. Provinces should commit to using the software (MONRE and MOIT, and provinces government to implement, UNDP to assist).

5

Evaluation recommendation 5. Reducing environmental and health risks through POPs and harmful chemicals capacity has limitations to meet the actual needs at the Country level. Other initiatives supported by UNDP and other development partners should continue working on enhancing national and provinces level capacity to meet the needed demand created under the project. For example, the work done to enhance laboratory capacity under this project is very valuable, however, a lot of effort will still be needed to improve the reliability of laboratory analysis, in terms of accuracy and repeatability (MONRE, MOIT, UNDP, development partners).

6

Evaluation recommendation 6. Involve and empower youth and women organizations, to raise their awareness for positive change towards the sound management of contaminated sites and encourage NGOs to actively use the project's outcomes. For example, the use of the procedure for risk assessment in different locations, the use of the developed awareness materials on contaminated sites and POPs stockpiles management and mercury, and to use the material of training on contaminated sites management, etc. (MONRE).

7

Evaluation recommendation 7. Key documents should be finalized and nationally endorsed even after the project closure. For example, the circular on PRTR is under revisions as of July 2020, this should be finalized and endorsed at the national level (MONRE and UNDP).

8

Evaluation recommendation 8. Increase public awareness through intensive mass media promotion and publicity using different materials developed by the Project. The project has raised awareness for people in Lam Hoa, Quang Binh on management and prevention of environmental pollution due to pesticides residue. A Technical Guideline on environmental pollution management of pesticides residue contaminated sites and instruction for communities residing in the vicinity of contaminated sites has been developed, these materials can be used in other places as appropriate (MONRE).