Biodiversity Conservation Mainstreaming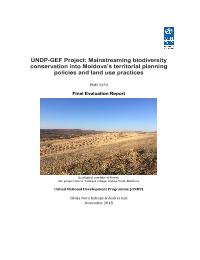 Evaluation Plan:

Evaluation Type:

Final Project

Planned End Date:

11/2018

Completion Date:

11/2018

Status:

Completed

Management Response:

Yes

Evaluation Budget(US $):

23,000
Title
Biodiversity Conservation Mainstreaming
Atlas Project Number:

00081126

Evaluation Plan:
2018-2022, Moldova
Evaluation Type:
Final Project
Status:
Completed
Completion Date:
11/2018
Planned End Date:

11/2018

Management Response:
Yes

Focus Area

:
Corporate Outcome and Output (UNDP Strategic Plan 2018-2021)

1. Output 1.4.1 Solutions scaled up for sustainable management of natural resources, including sustainable commodities and green and inclusive value chains
2. Output 1.5.1 Solutions adopted to achieve universal access to clean, affordable and sustainable energy

SDG Goal

Goal 12. Ensure sustainable consumption and production patterns
Goal 15. Protect, restore and promote sustainable use of terrestrial ecosystems, sustainably manage forests, combat desertification, and halt and reverse land degradation and halt biodiversity loss

SDG Target

12.4 By 2020, achieve the environmentally sound management of chemicals and all wastes throughout their life cycle, in accordance with agreed international frameworks, and significantly reduce their release to air, water and soil in order to minimize their adverse impacts on human health and the environment
15.2 By 2020, promote the implementation of sustainable management of all types of forests, halt deforestation, restore degraded forests and substantially increase afforestation and reforestation globally
15.5 Take urgent and significant action to reduce the degradation of natural habitats, halt the loss of biodiversity and, by 2020, protect and prevent the extinction of threatened species

Evaluation Budget(US $):

23,000

Source of Funding:
Project (donor) funds / GEF
Evaluation Expenditure(US $):

11,870

Joint Programme:
No
Joint Evaluation:

No

Evaluation Team members:

| Name | Title | Email | Nationality |
| --- | --- | --- | --- |
| Silvija Nora Kalninš | | | |
| Andrei Isac | | | |

GEF Evaluation:

Yes

| | |
| --- | --- |
| GEF Project Title: | Mainstreaming biodiversity conservation into Moldova's territorial planning policies and land use practices |
| Evaluation Type: | Terminal Evaluation |
| Focal Area: | Biodiversity |
| Project Type: | MSP |
| GEF Phase: | GEF-5 |
| GEF Project ID: | 5355 |
| PIMS Number: | 5259 |

Key Stakeholders:
Countries:

MOLDOVA, REPUBLIC OF
Recommendations
1

Strategic stakeholder involvement

In a changing situation of governance and project oversight, review of stakeholders must take into account the role that each stakeholder was to fulfil during project design. By analysing the roles, it is crucial for effective project implementation to substitute as many players in order to fit the roles based upon which the project was designed

2

Monitoring of site visits

The monitoring and evaluation practises of UNDP-GEF projects would benefit from introducing a system for reporting on site visits. This would promote information exchange among the team members and project stakeholders and provide an effective way to track progress, underline obstacles and mobilize intervention, if required from UNDP and/or other stakeholders

3

Communication

Communication strategies can be more effective if they encompass not only public awareness raising in a general sense, but provide a clear analysis and strategy (set of actions) for communicating project developments to key partners, stakeholders and interest groups

4

GIS-based planning

With further dissemination of the development of land management plans, the technical issues related to their elaboration are important. The issue of open data, which would allow municipalities access to data important for their planning is a significant one. Open data could make the process less costly and more general expertise. It would also be favourable to continue the current discussions around the technical aspect of the territorial and urbanization plans -- combined with open data, the introduction of GIS approach for planning could, in the long run, lower the costs of development and maintenance of management plans. This, however, would probably require change in legislation as well as initial support to increase the capacities of planners in GIS-based planning.

5

Replication of activities

Another result which was highly appreciated by interested parties and which should be further introduced in other territories, especially nature sites (Ramsar sites currently being formed and those protected areas planned in the future) is the development of passports, more detailed information and respective monitoring of species

6

Final event

The project is planning a final seminar which is to include government officials, land planners. The seminar should be expanded, or the project should consider conducting a series of seminars to use the opportunity to strengthen the sustainability of the project and further disseminate the best practises. The evaluators suggest this may be especially useful in terms of involving people directly involved in enforcement, perhaps even developing a separate training event.