Sustainable urbanization Mid term Eval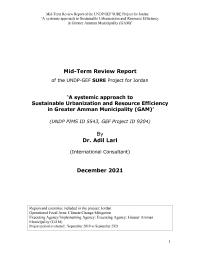 Evaluation Plan:

Evaluation Type:

Mid Term Project

Planned End Date:

10/2021

Status:

Planned

Management Response:

No

Evaluation Budget(US $):

15,000
Title
Sustainable urbanization Mid term Eval
Atlas Project Number:

00096777

Evaluation Plan:
2018-2022, Jordan
Evaluation Type:
Mid Term Project
Status:
Planned
Planned End Date:

10/2021

Management Response:
No

UNDP Signature Solution

:
Corporate Outcome and Output (UNDP Strategic Plan 2018-2021)

1. Output 2.5.1 Solutions developed, financed and applied at scale for energy efficiency and transformation to clean energy and zero-carbon development, for poverty eradication and structural transformation
2. Output 2.6.1 Capacities strengthened to raise awareness on and undertake legal, policy and institutional reforms to fight structural barriers to women's empowerment

SDG Goal

Goal 12. Ensure sustainable consumption and production patterns
Goal 13. Take urgent action to combat climate change and its impacts

SDG Target

12.4 By 2020, achieve the environmentally sound management of chemicals and all wastes throughout their life cycle, in accordance with agreed international frameworks, and significantly reduce their release to air, water and soil in order to minimize their adverse impacts on human health and the environment
13.1 Strengthen resilience and adaptive capacity to climate-related hazards and natural disasters in all countries
13.2 Integrate climate change measures into national policies, strategies and planning

Evaluation Budget(US $):

15,000

Source of Funding:
Joint Programme:
No
Joint Evaluation:

No

GEF Evaluation:

No

Key Stakeholders:
Countries:

JORDAN

Comments:

The uploaded evaluation plan differs slightly in terms of titles but still targets the same areas mentioned in the CPD evaluation plan.

Changes to the evaluation plan has been discussed and approved by the regional bureau.