Mainstreaming Rio Convention Provisions into National Sectoral Policies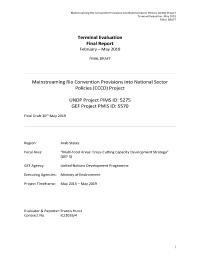 Evaluation Plan:

Evaluation Type:

Final Project

Planned End Date:

04/2019

Completion Date:

05/2019

Status:

Completed

Management Response:

No

Evaluation Budget(US $):

10,000
Title
Mainstreaming Rio Convention Provisions into National Sectoral Policies
Atlas Project Number:

85728

Evaluation Plan:
2018-2022, Jordan
Evaluation Type:
Final Project
Status:
Completed
Completion Date:
05/2019
Planned End Date:

04/2019

Management Response:
No
Corporate Outcome and Output (UNDP Strategic Plan 2018-2021)

1. Output 2.1.1 Low emission and climate resilient objectives addressed in national, sub-national and sectoral development plans and policies to promote economic diversification and green growth
2. Output 2.3.1 Data and risk-informed development policies, plans, systems and financing incorporate integrated and gender-responsive solutions to reduce disaster risks, enable climate change adaptation and mitigation, and prevent risk of conflict
3. Output 2.5.1 Solutions developed, financed and applied at scale for energy efficiency and transformation to clean energy and zero-carbon development, for poverty eradication and structural transformation

Evaluation Budget(US $):

10,000

Source of Funding:
Evaluation Expenditure(US $):

13,880

Joint Programme:
No
Joint Evaluation:

No

Evaluation Team members:

| Name | Title | Email | Nationality |
| --- | --- | --- | --- |

GEF Evaluation:

No

Key Stakeholders:
Countries:

JORDAN

Comments:

The uploaded evaluation plan differs slightly in terms of titles but still targets the same areas mentioned in the CPD evaluation plan.

Changes to the evaluation plan has been discussed and approved by the regional bureau.
View report for recommendation