Mid-term Evaluation of Sustainable Energy Financing Mechanism for Solar PV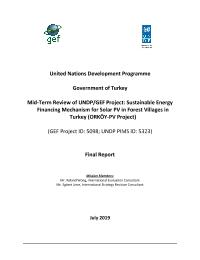 Evaluation Plan:

Evaluation Type:

Mid Term Project

Planned End Date:

07/2019

Completion Date:

08/2019

Status:

Completed

Management Response:

Yes

Evaluation Budget(US $):

20,000
Title
Mid-term Evaluation of Sustainable Energy Financing Mechanism for Solar PV
Atlas Project Number:

00089904

Evaluation Plan:
2016-2020, Turkey
Evaluation Type:
Mid Term Project
Status:
Completed
Completion Date:
08/2019
Planned End Date:

07/2019

Management Response:
Yes

Focus Area

:
Corporate Outcome and Output (UNDP Strategic Plan 2018-2021)

1. Output 1.5.1 Solutions adopted to achieve universal access to clean, affordable and sustainable energy

SDG Goal

Goal 13. Take urgent action to combat climate change and its impacts

SDG Target

13.2 Integrate climate change measures into national policies, strategies and planning

Evaluation Budget(US $):

20,000

Source of Funding:
Project budget
Evaluation Expenditure(US $):

17,000

Joint Programme:
No
Joint Evaluation:

No

Evaluation Team members:

| Name | Title | Nationality |
| --- | --- | --- |
| Egbert Liese | International Strategy Revision Consultant | |

GEF Evaluation:

Yes

| | |
| --- | --- |
| GEF Project Title: | Sustainable Energy Financing Mechanism for Solar PV |
| Evaluation Type: | Mid-term Review |
| Focal Area: | Biodiversity |
| Project Type: | FSP |
| GEF Phase: | GEF-6 |
| GEF Project ID: | 95942 |
| PIMS Number: | 5323 |

Key Stakeholders:
General Directorate of Forestry
Countries:

TURKEY
Recommendations
1

To improve implementation (and meet GHG emission reduction targets), the ORKÖY-PV Project as a first priority should seek a 24-month extension from UNDP and GEF to be able to utilize its remaining resources of US$3.314 million to maximize the number of solar PV installations using GEF grant funding in an effort to reach the objective level target of 30 MW of installed solar PV capacity.

2

To correct Project design, make amendments to the ORKÖY-PV Project's PRF that reflect a revised ORKÖY-PV strategy and proposed solar PV rollout plan that is based on a new Theory of Change. This revised PRF should be finalized in close consultation with the SEFM Unit in ORKÖY.

3

To improve the monitoring and evaluation of the Project, ORKÖY-PV Project staff should bolster its efforts as a high priority to monitor the quality of rooftop solar PV installations, highlighting the sustainability issues related to poor quality installations and deteriorating solar PV system performance and using an international consultant to bring to ORKÖY global experience of solar PV MRV systems.

4

Recommendations and proposals for future directions underlining main objectives includes commencing outreach to international and domestic development banks after 2020 to initiate a process of familiarizing banks with possible opportunities to "co-finance" a market transformation of solar PV generation in forest villages in Turkey, appointing a MRV manager as part of the ORKÖY team, and developing an ITMO trade model for carbon markets after 2021.