Terminal Evaluation – Okavango SAP Implementation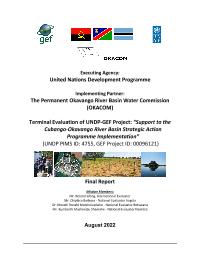 Evaluation Plan:

Evaluation Type:

Final Project

Planned End Date:

04/2022

Completion Date:

08/2022

Status:

Completed

Management Response:

No

Evaluation Budget(US $):

30,000
Title
Terminal Evaluation – Okavango SAP Implementation
Atlas Project Number:

00090284

Evaluation Plan:
2022-2026, Botswana
Evaluation Type:
Final Project
Status:
Completed
Completion Date:
08/2022
Planned End Date:

04/2022

Management Response:
No

UNDP Signature Solution

:
Corporate Outcome and Output (UNDP Strategic Plan 2022-2025)

1. Output 4.1 Natural resources protected and managed to enhance sustainable productivity and livelihoods

SDG Goal

Goal 1. End poverty in all its forms everywhere

SDG Target

1.a Ensure significant mobilization of resources from a variety of sources, including through enhanced development cooperation, in order to provide adequate and predictable means for developing countries, in particular least developed countries, to implement programmes and policies to end poverty in all its dimensions

Evaluation Budget(US $):

30,000

Source of Funding:
GEF
Evaluation Expenditure(US $):

41,400

Joint Programme:
No
Joint Evaluation:

No

Evaluation Team members:

| Name | Title | Nationality |
| --- | --- | --- |
| Roland Wong | International Evaluator | |
| Chipilca Barbosa | National Evaluator - Angola | |
| Moseki Motsholapheko | National Evaluator - Botswana | |
| Kuniberth Shamathe | National Evaluator - Namibia | NAMIBIA |

GEF Evaluation:

Yes

| | |
| --- | --- |
| GEF Project Title: | Terminal Evaluation – Okavango SAP Implementation |
| Evaluation Type: | Terminal Evaluation |
| Focal Area: | International Waters |
| Project Type: | FSP |
| GEF Phase: | GEF-6 |
| GEF Project ID: | 5526 |
| PIMS Number: | 4755 |

Key Stakeholders:
Governments of Botswana, Namibia, Angola; OKACOM, World Bank, KAZA, USAID/SAREP
Countries:

BOTSWANA
Lessons
1.

Lesson #1: To gain interest in public and private donors, a Value Proposition (Business Case) is necessary to give these donors the confidence that their funds will impact ecological integrity and livelihood in the Basin. This is certainly the case for the CORB Fund which has a business case which links the CORB Fund to a new Okavango Basin Endowment Fund that is focused on shaping future protection of source water (i.e. forest management improvement, riparian restoration and protection, conservation agriculture, grazing management, fire risk management, wetland restoration and protection, road improvements and distributed renewable energy). The types of interventions must be backed and informed by solid science and a set geographic scope of the interventions. There should also be a clear demonstration of the benefits for downstream users through economic and hydrological modelling and assessment of tourism and biodiversity values for the international community.

Lesson #2: The administrative systems setup by OKACOM consisting of the definition of development space, the usage of the DSS and IMS, joint basin-wide technical committee team surveys and the use of the Notification and Prior Consultation (NPC) Guidelines, significantly strengthens joint management and cooperative decision-making capacity of the CORB Basin states on the optimal utilization of natural resources in the basin, towards the sustained socio-economic development of the basin communities and sustained health of the basin ecosystems. Intense OKACOM and OKASEC discussions and training have been conducted for development space, the DSS and the IMS, joint basin-wide surveys, and NPC guidelines, providing mechanisms to undertake joint management decisions for the sustainable benefit of the CORB Basin. Scale-up of these systems is now required for a more sustainable OKACOM operation.

Lesson #3: Demonstration projects on Conservation Agriculture if implemented properly can serve as excellent models for replication, especially with the successes of the farmers to increase their yields and income. This was certainly the case with Conservation Agriculture in Botswana and Angola where there was intense farmer interest in new farming methodologies that conserve water, increase yields and link with higher paying produce markets. These traits of Conservation Agriculture significantly improve livelihoods and are therefore of interest to many farmers. In contrast, the fisheries management demonstration did not significantly change livelihoods Angola and Namibia due to the absence of a strong linkage to conservation agriculture to offset reduced fishery catches. Time will be required to strengthen linkages in Angola and Namibia to conservation agriculture and to better implement fisheries conservation.

Lesson #4: Source materials and goods locally wherever possible. Some difficulties were experienced in getting goods and materials to be imported from another country. This was the case with more costly goods procured from Namibia for Angola. The transportation of the goods and clearance from customs were challenges that could have been solved by sourcing the goods from local markets where the project is taking place.



Findings
1.

Main Findings

The UNDP-GEF OKACOM Project has enabled OKACOM to undertake joint and coordinated management of the CORB watercourse at a transboundary level. This has enabled OKACOM to proactively be anticipatory and on the side of caution, planning for future developments, especially with respect to increased water abstraction for irrigation, hydropower or water storage, while accounting for land degradation that is driven by poverty among other causes. These plans may have a considerable impact on the quantity and quality of the shared waters, influencing the level and quality of cooperation among the Member States.

Much of the OKACOM Project work has been done to setup systems for joint management of the CORB including the establishment of:

• a Decision Support System (DSS) comprising a suite of new and existing hydrological, hydraulic, meteorological, social and ecological models as well as information on the status of the Basin. However, it is not fully operational and cannot yet address the main drivers of change within the CORB or be used as a planning and operational management tool;

• a Cubango-Okavango River Basin (CORB) Fund (sinking and endowment funds) with the objective for mobilizing long-term resources that will enable Member States to provide equitable benefits and more coordinated support to local livelihoods and sustainable resource use to enhance livelihoods. However, resource mobilization for the CORB Fund is a work in progress;

• a comprehensive Environmental Monitoring Framework (EMF) that will utilize improved availability of high-quality environmental data to facilitate informed operational and environmental management decisions over water resources within the Basin. Currently, the EMF is being developed to guide and inform monitoring programs in water quality and quantity, sediment transport, groundwater, biological parameters and socio-economic parameters. The EMF needs to be applied to these monitoring programs to enable OKACOM to evaluate scenarios, understand trade-offs, prioritize interventions and communicate basin health to the broad audience34;

• Notification and Prior Consultation (NPC) Guidelines, review of the OKACOM Agreement and the restructuring of OKACOM to assist with ensuring that the Member States are fully aligned to deliver the SAP. During the OKACOM Project, OKACOM has progressively built structures and planning infrastructure that demonstrates clear willingness by the Member States to cooperate in the development and management of the CORB;

• revised Rules and Procedures on the Sharing of Data and Information for the Cubango Okavango River Basin, a data sharing protocol reviewed in 2020 to upscale it to accommodate greater intensity of inter-state data exchange. This was necessitated by water resource, ecological and climatic challenges facing the basin.

Work has also been done to:

• conduct joint basin-wide water quality and quantity surveys, demonstrating joint efforts between Member States to cooperate on data collection efforts. This was a major achievement of the OKACOM Project which assembled a WRTC team of technical experts from the 3 Member States with guidance from the OBSC;

• demonstrate sound socioeconomic development alternatives that allows the Basin population to improve their socio-economic status with minimum adverse impacts to and enhanced protection of the basin ecosystem.



Recommendations
1

Recommendation 1 (to OKACOM): Upscale the implementation of Decision Support System (DSS). Initiation of the DSS requires sustained effort and regular monitoring of the resources of the Basin. This will require enhanced capacities of Member States to regularly capture the data and use planning tools to assess the status of the hydro-ecological functioning of the Basin. The creation of a broad knowledge base on various functional aspects of the Basin will improve capacity of the Member States to make informed and forward-looking decisions for the sustainable management of the Basin and improved livelihoods. Member States will need to be technically equipped with skills to maintain DSS tools and engage in inter-country dialogue on the models and analysis techniques to inform management decisions. The goal of upscaled use of the DSS would be enhanced capacity for informed decisions on the utilization and management of the basin resources and regular production of a "State of the Basin Report".

2

Recommendation 2 (to OKACOM): Develop benefit sharing scenarios or trade offs in supporting coordinated management. This would involve the profiling of ecosystem services to inform sustainable and integrated resource management and deriving equitable benefits by both upstream and downstream basin users. This would include conducting an analysis in a Phase II of the OKACOM Project to ensure that all Member States of the Basin are not compromised in their capacity to benefit from Basin resources at the expense of reserving the benefits from those resources for other CORB Member States. Member States have varying socio-economic priorities which need to be serviced through diverse policy frameworks. In delivering on their responsibilities, CORB Governments need to be adequately resourced in understanding the status and trends in use of CORB resources and the capacity of these resources to contribute to socio-economic advancement while maintaining the integrity of the natural resources to continue supporting communities that subsist on them.

3

Recommendation 3 (to OKACOM): Develop water allocation strategy. Beyond water, as the primary resource within the CORB, there are other ecological and biological resources in the CORB which potentially should be explored to determine their capacity to enhance the status of socio-economic conditions of the CORB communities. With outputs from the ground water assessment, the Strategic Environmental Assessment, assessment of the benefits of transboundary cooperation, and defined concept of development space, OKACOM has the requisite knowledge to put forward a Water Allocation Strategy. In addition, a water accounting tool is proposed to establish the profile of water users and uses within the CORB. This could potentially be an activity for a Phase II of the OKACOM Project.

4

Recommendation 4 (to OKACOM): Continue critical OKACOM activities of joint surface and groundwater monitoring exercises. This would involve:
• seeking a sustained financing source for this activity;
• each member state having a program to continue monitoring the sites for water quality and quantity, and sediment transport;
• identification and development of groundwater monitoring sites. OKACOM undertook a Groundwater Assessment which informed the groundwater monitoring programme as prescribed in the EMF. The findings of this study clearly identified a significant gap in terms of groundwater data availability for the basin. The previous study did not yield any results from boreholes; remote sensing techniques were being applied to complement the limited data;
• OKACOM to work with Member States to establish groundwater monitoring sites and a program to monitor groundwater.

5

Recommendation 5 (to OKACOM): Support the initial capitalization of the CORB Fund. The operationalization of the CORB Fund will require seed funding to effectively attract donors, funders and friends of the Basin to enable the Fund to deliver on its mandate. The demonstration projects designed to engage communities in the CORB has generated sufficient proof of concept. The modelling approach taken in developing the Value Preposition for the CORB Fund will need initial resources through the sinking fund to support the implementation and validate the proof of concept. This could potentially be an activity for a Phase II of the OKACOM Project.

6

Recommendation 6 (to OKACOM): Build capacities for beneficiaries of the CORB Fund. Provisions of technical support initiatives to Basin communities and CBOs should be made through CORB Fund programme management functions. These communities and CBOs will serve as the key delivering partners of interventions targeting livelihoods improvements and ecosystems sustainability. Training can include CBO preparation of proposals development to access the calls of grants from the CORB Fund and others. This could potentially be an activity for a Phase II of the OKACOM Project.

7

Recommendation 7 (to OKACOM): Scale-up and promote climate resilient livelihoods that improve socio-economic development. Efforts should be made to raise awareness of the CORB Fund to engage ICPs to solicit financial support35 and to obtain a sustained source of financing for the CORB Fund for implementing T-PES schemes. In a potential Phase II of the OKACOM Project, the CORB Fund would then be used to:
• replicate community-based tourism projects in Botswana, Namibia and Angola to include more farms producing high-quality produce to cover wider geographical areas and wider population within the CORB. This would include:
o expansion of conservation agriculture demonstrations in Angola to selected communities around Calai along the Cubango and Cuito Rivers in the Cuando Cubango Provincial Administration;
o replicate conservation agriculture practices in Angolan communities living along the Cubango and Cuito Rivers including the planting of fruit trees in agricultural fields, to promote food security and reduce pressure on fishery resource conservation;
o support for the establishment of conservation farmers cooperatives in Calai in Angola;
o ACADIR support in close coordination with the Ministry of Agriculture and Forestry on the Angolan part of the Basin on conservation agriculture;
• replication of transboundary community-based fisheries conservation management36 in Angola. supporting communities along the Cubango and Cuito Rivers with sustainable fish farming skills with equipment and facilities;
• support implementation of an NNF-supported Integrated Natural Resource Management project in Namibia that will support:
o replication of transboundary community-based fisheries conservation management37. This will support communities along the Cubango River with sustainable fish farming skills with equipment and facilities;
o selected communities along the Cubango River with climate smart horticulture production and honey production as alternative livelihoods that promotes food security and reduces pressure on fish resources;
• scale-up of conservation agriculture targeting the upper tourism market in Botswana that is being implemented by the Ngamiland Council of NGOs in close collaboration with the Ministry of Agricultural Development and Food Security.

8

Recommendation 8 (to OKACOM): Sustain the growth of campsites in Namibia and other Member States: This could involve:
• seeking a suitable JVP for the Sikereti campsite in Namibia. With a campsite up to a quality standard, the campsite has the potential to benefit neighboring communities, create demand for more campsites, and generate benefits for the park with future revenues to mitigate the human wildlife conflict;
• seek funds and a suitable JVP for the Khaudom campsite to service the tourism demand game located in deep bushes with good scenery for the tourists;
• seek sustained funding for OKACOM to work with the provincial department of Environment, Tourism and Culture on identifying special areas where a campsite initiative similar to the Sikrete demo campsite can be setup in the Cuando-Cubango basin. This has the potential for community empowerment to manage their natural resources.

9

Recommendation 9 (to OKACOM): Strengthen sustainable land management practices. Member States need to build capacity to successfully meet the implementation challenges of achieving inclusive, pro-poor and environmentally sound sustainable development. In managing water resources, the interface with land cannot be overemphasized through pursuing interventions that will improve livelihoods with enhancing the capacity of the ecosystem to be resilient to diverse challenges. Land degradation, especially soil erosion and depletion of soil nutrients, will pose significant decline to productivity of agricultural land, which in turn aggravates the impacts of climate change and increases poverty. A recommendation is made to upscale best practices to curb land degradation while improving livelihoods. In a potential Phase II of the OKACOM Project, this could can involve several actions:
• develop CORB land accounts using Standard for Economic and Environmental Assessment (SEEA) methodologies to determine the status of the land use packages and the levels of optimal use of land resources. It is anticipated that this exercise will provide OKACOM with factual information around CORB land ownership, tenure, use, and will inform decision-making on land use planning and management. Knowledge of land ownership and use patterns would support activities that address poverty reduction and livelihoods enhancement;
• support countries to develop ecologically sensitive land use plans. With the knowledge generated from the different OKACOM planning tools, such as the SEA, water accounts, the EMF, efforts can be made to demonstrate development of ecologically sensitive land use plans. This can be piloted on at least 3 selected sites within the Basin to guide planning. Effective land use planning can enhance the ability to give communities land rights to support improving livelihoods and sustainable socio-economic opportunities;
• Address in a scaled-up manner to what the Project did with the demonstration projects in the upper part of the CORB. This deals with land degradation from deforestation and scaled-up activities for alternate livelihoods in the form of conservation agriculture.

10

Recommendation 10 (to UNDP and OKACOM): Strengthen the advisory capacity of OKACOM. OKACOM does not have resources to support various positions around OKACOM. Activities in a potential Phase II of the OKACOM Project can include a demonstration project coordinator who will:

• maintain OKACOM institutional staffing with positions such as a Sustainable Livelihoods experts and training;

complete the IWRM plan and implement it;

• undertake land management initiatives;

• completion and operationalize the EMF through joint monitoring of groundwater, sediments, water quality, hydrological flows, socio-economics and biodiversity;

• upscale and replicate the livelihoods demonstration projects;

• operationalize and implement "sustainable development space";

• develop and implement a roadmap to implementation of the SEA, T-EIA guidelines and water demand forecasting;

• develop another groundwater assessment, conjunctive water resources use, water allocation strategy, and a transboundary tourism strategy;

• further operationalize and update the DSS based on new data sets; and

• update the climate change vulnerability analysis and energy issues.